Tracy Chapman is suing Nicki Minaj for copyright infringement.
The singer-songwriter, best known for her song Fast Car, has filed a lawsuit against the rapper with a Los Angeles federal court. In Nicki's unreleased - yet much-publicised - song Sorry, lyrics and the vocal melody from Chapman's classic track Baby Can I Hold You were used, which the legal case describes as "disregard and wilful infringement".
Despite not given an official release, Sorry, which features Nas, was premiered on Funkmaster Flex's Hot 97 New York radio show, and is still available to listen to on YouTube.
Tracy's lawsuit seeks damages and an order for the song to remain unreleased, with the legal files reading: "Chapman, through her own agents and representatives, repeatedly denied Maraj's after-the-fact requests to use the composition." 
The plan for Sorry was for it to be released as part of Nicki's album Queen. Nicki reached out to Tracy on Twitter in a series of now-deleted tweets, one of which said: "Had no clue it sampled the legend #TracyChapman – do I keep my date & lose the record? Tracy Chapman, can you please hit me."
Ultimately, the album was delayed to try and get clearance of the track, a decision that Nicki polled fans about on Twitter.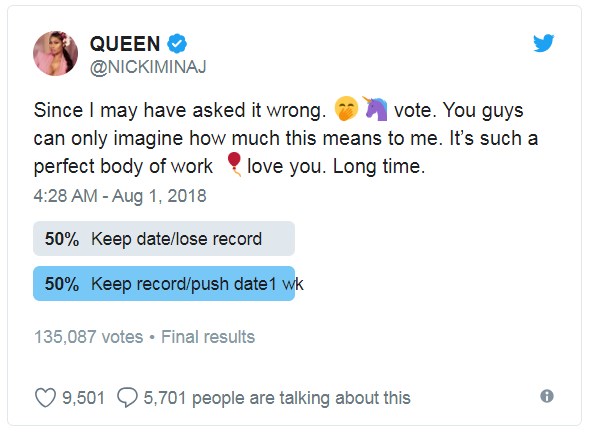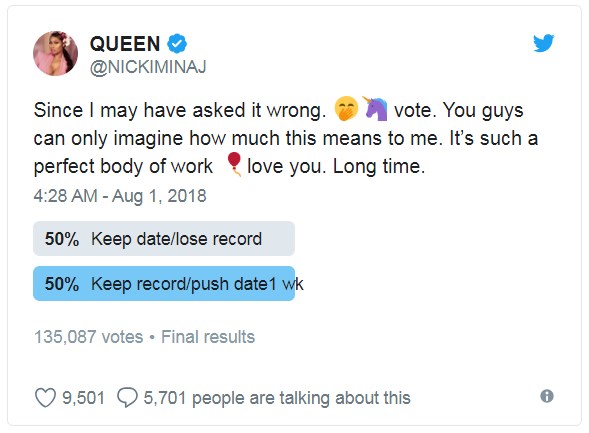 Despite its delay, Queen saw reasonable success, peaking at Number 5 in the UK and Number 2 in the US. View Nicki Minaj's full UK chart history, which includes four Top 40 hits from Queen.
Look back at Tracy Chapman's complete UK chart history, including two Number 1 albums.
Image: Greg Allen/Swan Gallet/Rex/Shutterstock