The Official Top 40 biggest cassette albums of 2023 so far
The year-to-date Top 40 revealed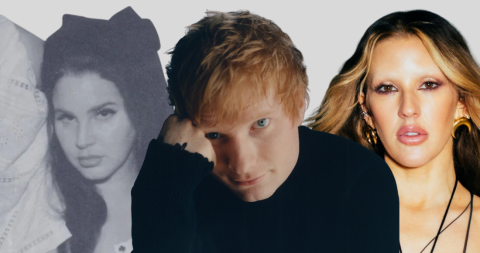 Coming in second place is Irish rockband Inhaler's impressive second album Cuts & Brusies, while Lana Del Rey's experimental and inscrutable chart-topping opus Did you know that there's a tunnel under Ocean Blvd. comes in at Number 3.
The Top 10 contains further Number 1 records; Lewis Capaldi's record-breaking sophomore album Broken By Desire To Be Heavenly Sent (5) and The Lathums' second fellow chart-topper, From Nothing To A Little Bit More (8). 
The upper echelon is completed by LPs including The 1975's Live With The BBC Philharmonic Orchestra, a Record Store day exclusive (6), The Jonas Brothers' The Album (7) and US alt-pop singer Gracie Abrams' impressive debut record, Good Riddance (10).
Further down the list, more Number 1 albums from 2023 make the cut. These include Gorillaz's Cracker Island (13), Enter Shikari's A Kiss For The Whole World (14), Foo Fighters' But Here We Are (15), U2's Songs of Surrender (17) and Metallica's 72 Seasons (18).
These are followed by The Courteener's landmark Number 1 re-release of St Jude (19), Maisie Peters' poptastic The Good Witch (21), The Reyton's What's Rock And Roll (22), country icon Shania Twain's Queen of Me (23) and recent chart-toppers from pop stasr Tom Grennan with What Ifs & Maybes (24), Ellie Goulding's Higher Than Heaven (25) and Niall Horan's second UK Number 1 LP, The Show (26).
The list is rounded up by two more UK Number 1 albums for this year; The Lottery Winners' hard-fought first chart-topper Anxiety Replacement Therapy (29) and Paramore's incendiary This Is Why (31).
The Official Top 40 biggest cassette albums of 2023 so far
| | | | |
| --- | --- | --- | --- |
| POS | TITLE | ARTIST | PEAK |
| 1 | - | ED SHEERAN | 1 |
| 2 | CUTS & BRUISES | INHALER | 2 |
| 3 | DID YOU KNOW THAT THERE'S A TUNNEL UNDER | LANA DEL REY | 1 |
| 4 | TAKE ME BACK TO EDEN | SLEEP TOKEN | 3 |
| 5 | BROKEN BY DESIRE TO BE HEAVENLY SENT | LEWIS CAPALDI | 1 |
| 6 | LIVE WITH THE BBC PHILHARMONIC ORCHESTRA | 1975 | 2 |
| 7 | THE ALBUM | JONAS BROTHERS | 3 |
| 8 | FROM NOTHING TO A LITTLE BIT MORE | LATHUMS | 1 |
| 9 | POWER TO PLAY | MCFLY | 2 |
| 10 | GOOD RIDDANCE | GRACIE ABRAMS | 3 |
| 11 | COUNCIL SKIES | NOEL GALLAGHER'S HIGH FLYING | 2 |
| 12 | SO MUCH (FOR) STARDUST | FALL OUT BOY | 3 |
| 13 | CRACKER ISLAND | GORILLAZ | 1 |
| 14 | A KISS FOR THE WHOLE WORLD | ENTER SHIKARI | 1 |
| 15 | BUT HERE WE ARE | FOO FIGHTERS | 1 |
| 16 | TRUTH DECAY | YOU ME AT SIX | 4 |
| 17 | SONGS OF SURRENDER | U2 | 1 |
| 18 | 72 SEASONS | METALLICA | 1 |
| 19 | ST JUDE | COURTEENERS | 1 |
| 20 | PORTALS | MELANIE MARTINEZ | 2 |
| 21 | THE GOOD WITCH | MAISIE PETERS | 1 |
| 22 | WHAT'S ROCK AND ROLL | REYTONS | 1 |
| 23 | QUEEN OF ME | SHANIA TWAIN | 1 |
| 24 | WHAT IFS & MAYBES | TOM GRENNAN | 1 |
| 25 | HIGHER THAN HEAVEN | ELLIE GOULDING | 1 |
| 26 | THE SHOW | NIALL HORAN | 1 |
| 27 | LIVE AT ALEXANDRA PALACE 3 | ENTER SHIKARI | 15 |
| 28 | UGLY | SLOWTHAI | 2 |
| 29 | ANXIETY REPLACEMENT THERAPY | LOTTERY WINNERS | 1 |
| 30 | LOST AT SEA | ROB GRANT | 146 |
| 31 | THIS IS WHY | PARAMORE | 1 |
| 32 | PHANTOMIME | GHOST | 8 |
| 33 | HOW MANY DREAMS | DMA'S | 3 |
| 34 | WAKE UP & IT'S OVER | LOVEJOY | 5 |
| 35 | MEMENTO MORI | DEPECHE MODE | 2 |
| 36 | THE RECKONING | TOM MEIGHAN | 17 |
| 37 | A FISTFUL OF PEACHES | BLACK HONEY | 6 |
| 38 | IS IT | BEN HOWARD | 17 |
| 39 | CROP CIRCLE 2 | NINES | 2 |
| 40 | HANA | SOPHIE ELLIS-BEXTOR | 8 |