The Official Chat interview with Rita Ora: "I didn't want to mess this up"
On her most personal album yet, Rita Ora opens up her own world for the first time.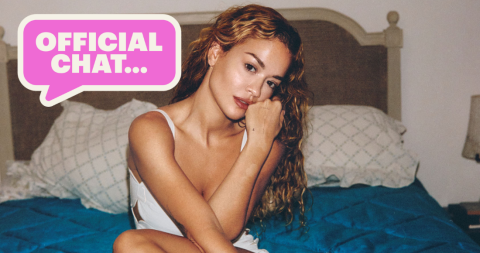 It's never been wise to underestimate Rita Ora.
A decade into the game of being one of the UK's most visible and reliable big pop girls, a bold new chapter for the superstar unfolds on her third album, You & I, her most personal work to date.
She's been hot right now, she's shown us how we do (party) and that she'll never let us down. But now, Rita's own life takes front and and centre in the songs she's written. Taking control of her art, Rita has co-written every single track on You & I and with the help of executive producer Oak Felder (Demi Lovato, Sabrina Carpenter) she's crafted a body of work that shudders from shimmering Eurodance (You Only Love Me), funk-inspired garage (Praising You) and gospel-led acoustic ballads (Notting Hill) while never losing sight of the hooks or melodies that have become a watermark for her work. 
You & I stands strong as Rita's most personable statement yet, letting the curtain fall down on the rich, interior life she's lead over the last few years, including her marriage to director Taika Waititi, which is chronicled in swooning detail on tracks like the frantic EDM banger Don't Think Twice and the 80s-esque synth-balladry of the album's title track and centrepiece. 
"I just needed to start again," Rita tells us. "I wanted to see how far I could go. I felt like I could push myself. I didn't want to settle. And that's what I've done with this album, 100%."
This is a re-introduction to one of Britain's most recognisable pop superstars. This is a star, re-born, in her own words.
Hi Rita, it is so good to finally speak to you
Hi! You too! I love Official Charts. You guys speak the truth. It's really positive. You're so supportive.
Our pleasure, queen. It's been five years since Phoenix and now we have your third album, You & I - you love a long gap between albums, Rita. You're like Kate Bush!
Ha! I wish!
Obviously, a lot has changed since Phoenix and You & I does feel like your most personal album yet - how does it feel letting people into your world?
I'm nervous! I'm overwhelmed with emotion. This has become a massive anchor in my life. Wherever this album is going to go, it's going to be in my life and has really captured this moment in my life. That's why I get emotional about it, because you never know what's going to happen in the future. It's really amazing to get this opportunity to capture this moment in music and say, in my own words, what I've been doing. I've had this incredibly self-reflective moment where, as a songwriter, I've become really aware of my words and how to use them better. 
You've co-written every song on the album, too
Honestly, it felt great. It was emotional. A bit daunting! I didn't want to mess this up. It was a chance to get to know myself better [through my own work]. I just jumped into it. I had the support of my family and my loved ones, I didn't really have a plan, I just went into the studio and saw how it went. 
It sounds like you really took control of your own space and emotions
For me, this is my most artistic album yet. It's not super overshadowed by big production or bold instrumentals, it's definitely more story based. I had to get emotional on this record. It was the best thing for me to do as an artist. It had to be done for so many reasons. 
Of course, there are bops, this is a Rita Ora album
Oh, don't worry honey. The bops are coming. I'm delivering. Sooner than you think!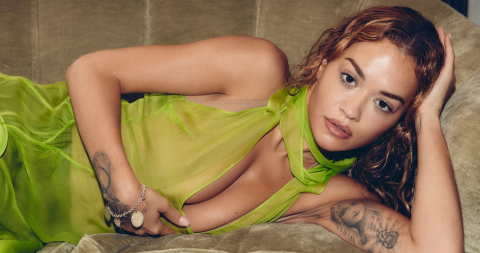 You Only Love Me (bop) was the first song you released from the album, but wasn't it first written and demoed years ago? And then you re-wrote it to reflect your life now
Yeah, You Only Love Me was sent to me a long time ago. My team reintroduced it to me...I actually sort of forgot about it! It's such a great song. But I needed to make it work, lyrically, to where I am today. It just felt really good, it had to be the first single. And we had it in the inbox the whole time! That's just how it goes sometimes. 
One of my favourite songs from the album is Notting Hill, which definitely feels like the most personal song you've ever released. I really feel like I got to know you from it
Me too, George! I played that song to so many people and, not gonna lie, they all cried. 
How was it getting yourself back into the headspace of this moment before your life changed? 
To be honest, I had this amazing co-writer on this track called Rollo. I just wanted to make it feel personal. He said, just get your head back into walking up and down Portobello Market. I was like, you know what? He's got a point! So I did go back there. In my head. I wanted it to be feel simple. The choir wasn't originally on there. It wasn't the plan! It was really beautiful. Just what I needed for it. 
For that teenager walking up and down Portobello, do you think she could have even conceived where you ended up? 
I just miss those moments when you're a teenager and you're just sort of drinking in the park with your friends. You don't worry about your hangover or how you are tomorrow. You just enjoyed being present. There were so many different personalities and different people that I met, I was very nostalgic and got emotional about that girl that I was. It was a great way to go back. Honestly, in my opinion, I think shots should still be two pounds wherever you go. 
I have not paid two pound for a shot in years, Rita!
Portobello Road is fancy and expensive now! It's too overpriced for me! I'm still looking for my bargain!
That Girl is another amazing track people haven't heard yet. It samples Eddie Murphy's Party All The Time, when I realised what you were sampling, I did a little gay gasp
Good! I love that song too. You know everything I do is for the queens. 
Surely this has got to be a single?
Amazing. I'm glad you think so because I wanted it to be! I was thinking of doing a video where you follow a girl dancing, and you want to be her. That was the dream for that song, to pay homage to the kid in all of us. We all still need to have fun!
And obviously, we can't let you go without speaking to you about your amazing Official Charts records you've set over the years. With Let You Love Me in 2018, you became the British female solo artist with the most Top 10 singles in chart history, a record you still hold, by the way!
It was an honour. I just want to get another so no-one can take it away from me! But really, it was crazy. It's just an insane sort of achievement. I actually don't know how to take it? I'm just really grateful that people understand my artistry. I don't really want to think that much about it. I just want to keep delivering. I'd love, love, love to continue and I'm so grateful for everyone that's helped me along the way. I mean, it's been over 10 years now. 
And you've achieved four Number 1 singles - pretty much consecutively and all within two years. You have the same amount of chart-toppers as Geri Halliwell and, as of very recently, Ellie Goulding, pretty good company to keep
That's amazing. It's such an honour to have all these strong women to stand alongside. I think we just need to continue uplifting each other. I know Ellie very well and I'm so happy for her. She works so hard and it's so nice to see good people getting a good reaction. I'm just grateful I can still do this. 
Your first album and stuff like Hot Right Now and How We Do (Party) came out when I finished my GCSEs, so a very formative time 
You know? You and me both! And here we are! Still going. Chatting away!
You & I is out now via BMG. 
Related Singles and Albums