It has been the worst kept secret in music this year, but now it's official: Spice Girls are back.
The group (minus Victoria Beckham, hmph) will embark on their Friendship Never Ends UK tour in 2019, kicking off in Manchester on June 1 - more info including ticket details here. 
To whet your appetite before then, we're revealing the numbers behind their hits, and what an array of hits they are.
Wannabe 
The group's biggest single is, perhaps unsurprisingly, their debut single Wannabe, with 1.61 million combined sales (split between 1.3 million sales and 31 million streams). The track turned them into a global sensation almost overnight, scoring seven weeks at Number 1 in the UK and topping the charts just about everywhere, including America, Germany and Australia. 
As with most of their music, Wannabe was co-written by the group along with Biff Stannard and Matt Rowe. It was completed in 30 minutes, mainly because the lyrics are a series of different lines, skits and raps made up by each member of the group. In fact, so unusual is Wannabe's composition that their label wanted to release Say You'll Be There or Spice album track Love Thing as their lead single.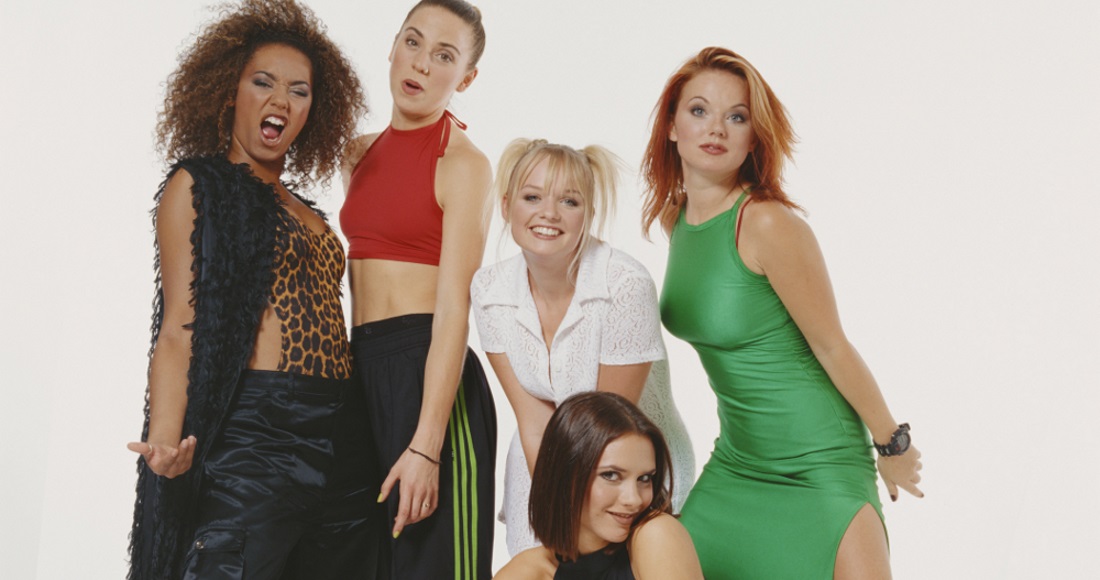 2 Become 1 
To put the scale of Spice Girls' success into perspective, they landed the Official Christmas Number 1 single three years consecutively, joining The Beatles as the only other act to manage this. 2 Become 1 was the first of them and is most enduring, as now-adult fans understand its true meaning. Earlier this month, it became a meme for the clocks changing, marking the end of British summertime. It's sales to date stand at 1.21 million, made up of 1.14 million sales and 7.6 million streams. 
Who Do You Think You Are? 
Where Wannabe made them instant global stars, Who Do You Think You Are? sent them stratospheric. It's 2am on the dancefloor, three tequilas deep. It's Mel B in leopard print. It's Victoria's space age catsuit. It's Comic Relief, Cool Britannia and, of course, that Union Jack dress. The song spent three weeks at Number 1 (as a double A-side with Mama) and has 763,000 combined sales to date.
Viva Forever 
For some, Viva Forever was the last true Spice single as it was released shortly before Geri quit the band, after which things never really recovered. Despite being the fourth single from their Spiceworld album, it reached Number 1 on the Official Singles Chart and ranks as their seventh biggest single overall with 726,000 combined sales. 
Holler/Let Love Lead The Way 
"Holler holler! Let you scream my name!" Victoria Beckham's ad-libs are probably the best thing about this slick but distinctly un-Spice Girls track, taken from from their final, Geri-less album Forever. As a quartet, the group opted to for a more US-friendly R&B approach, but it lacked the carefree spark of their previous efforts. The moment, it seemed, had passed. Still, it topped the Official Chart, bundled as a double A-side with Let Love Lead The Way, and places tenth on their best-sellers with 280,000 combined sales. 
Spice Girls' Top 10 singles on the Official Chart
| | | | |
| --- | --- | --- | --- |
| POS | TITLE | ARTIST | PEAK |
| 1 | WANNABE | SPICE GIRLS | 1 |
| 2 | 2 BECOME 1 | SPICE GIRLS | 1 |
| 3 | SAY YOU'LL BE THERE | SPICE GIRLS | 1 |
| 4 | SPICE UP YOUR LIFE | SPICE GIRLS | 1 |
| 5 | GOODBYE | SPICE GIRLS | 1 |
| 6 | WHO DO YOU THINK YOU ARE | SPICE GIRLS | 1 |
| 7 | VIVA FOREVER | SPICE GIRLS | 1 |
| 8 | TOO MUCH | SPICE GIRLS | 1 |
| 9 | STOP | SPICE GIRLS | 2 |
| 10 | HOLLER/LET LOVE LEAD THE WAY | SPICE GIRLS | 1 |
©2018 Official Charts Company. All rights reserved.
This chart is based on sales, downloads and streaming equivalent sales combined.
Bonus stats for Spice fanatics: Their biggest album track is Never Give Up On The Good Times from Spiceworld (633k streams), just ahead of Move Over (554k streams), which they used for their Pepsi endorsement deal.