Taylor Swift secures 10th Number 1 album with Speak Now (Taylor's Version)
Taylor more than doubles the opening week of her original Speak Now album's release in 2010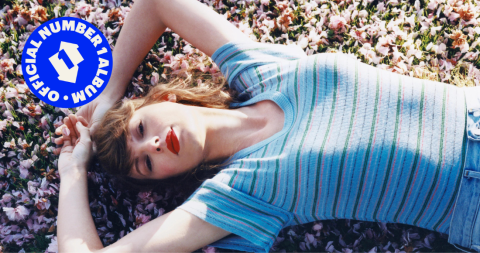 Taylor Swift secures her 10th UK Number 1 album with Speak Now (Taylor's Version) this week. 
The re-recording of her Speak Now record, which peaked at Number 6 upon its release in 2010, outsells the rest of the Top 10 combined to reach the summit. It also more than doubles the opening week of the original Speak Now LP; with Taylor's Version shifting in excess of 67,000 chart units in its first seven days, compared to the 2010 release's 28,200 units, according to Official Charts Company data. 
Speak Now (Taylor's Version) extends Taylor's record-breaking succession of Number 1 albums, too. Taylor is now the female solo artist to have claimed 10 chart-topping albums in the fastest succession; with 10 years and eight months separating her first Number 1 Red in 2012 and 2023's Speak Now (Taylor's Version). Last year, Taylor overtook Madonna to claim the title with her ninth chart-topper Midnights. Madonna still holds the record for the female soloist with the most Number 1 albums, with twelve to her name. 
See the full list of artists with the most UK Number 1 albums here.
Taylor boasts a further five LPs in this week's Top 40: 2022's Midnights (9), 2014's 1989 (10), 2019 release Lover (12), 2017's Reputation (21) and 2020 LP folklore (25).
Speak Now (Taylor's Version) also tops the Official Vinyl Albums Chart, shifting the most copies on wax this week with over 22,500 sales across its opening seven days; over a third of its total. 
See the full list of 2023's Official best-selling vinyl albums so far here.
At Number 2, The Singles: Echoes from the Edge of Heaven earns Wham! a sixth Top 10 album. The hits compilation celebrates 40 years since the release of Andrew Ridgeley and George Michael's debut album Fantastic, and serves as a companion to the duo's self-titled Netflix documentary. The record also enjoys a Top 5 debut on this week's Official Vinyl Albums Chart (2). 
Speaking exclusively to Official Charts, Wham!'s Andrew Ridgeley says: "We're extremely grateful for the love and support our fans have shown through the years. I'm hoping it's reciprocated; I'm trying very hard to bring the fans new content from Wham!; with live recordings and lots more to come!" 
Gabriels claim a career-best with Angels & Queens – Pt 2 this week (3). Fresh from appearing with Elton John during his Glastonbury headline set, the follow-up to 2022's Angels & Queens – Pt 1 (25) also sees the English-American trio, comprising Jacob Lusk, Ryan Hope and Ari Balouzian, top this the Official Record Store Chart; proving the most-purchased album in independent UK record stores this week. 
Dorset-born multi-hyphenate PJ Harvey celebrates her fourth Top 10 album with I Inside the Old Year Dying this week (5). Previously, PJ Harvey enjoyed Top 10 success with 1993's Rid of Me (3), 2011 release Let England Shake (8) and 2016's The Hope Six Demolition Project (1). 
D-Block Europe net a seventh Top 10 album with DBE World today (6). The South London duo's latest mixtape joins 2019's Home Alone (6) and PTSD (4), 2020 release Street Trauma (9) and The Blue Print – Us vs Them (2), 2021's Home Alone 2 (6) and 2022 record Lap 5 (2) in their Top 10 tally. 
DBE World also makes D-Block Europe, comprising Young Adz and Dirtbike Lil Bantz, Official Charts Record Breakers, with the group overtaking The Streets to boast the most Top 10 albums of any British rap act in UK chart history.
Read more on D-Block Europe's Official Chart record with DBE World here.
Following her headline BST Hyde Park, London show last weekend, Lana Del Rey's former Number 1 LP Did you know that there's a tunnel under Ocean Blvd vaults an incredible 50 places back into the Top 40 (17). This week, Official Charts announced Did you know… as 2023's Official best-selling vinyl album of 2023 so far – see the full list here.
West Yorkshire indie-rock five-piece The Pigeon Detectives score their fourth Top 40 album – and highest-charting release in over a decade - with TV Show this week (30). The group, comprising Matt Bowman, Oliver Main, Ryan Wilson, Dave Best and Jimmi Naylor, previously enjoyed similar success with 2007's Wait for Me (3), 2008 LP Emergency (5) and 2011 release Up Guards and At 'Em (30).
Finally, British rockers The Dust Coda earn a second UK Top 40 album, as latest release Loco Paradise (36) joins their 2021 album Mojo Skyline (27). 
Related Singles and Albums