Skindred on Number 1 album race: "We're riding the crest of a wave!"
The self-professed 'weird band' are currently tracking for the top spot, and they're taking nothing for granted
Formed in Newport, South Wales in 1993, Skindred's story is one of sheer resilience. 21 years after the release of their debut studio album Babylon, the reggae metal outfit are on track for their first-ever Number 1 LP this week.
The group, comprising Benji Webbe, Daniel Pugsley, Mikey Demus and Ayra Goggin, currently lead the pack with Skindred's eighth studio album Smile; ahead of the likes of Cian Ducrot and The Sherlocks.
For the self-professed 'weird band' who deem themselves 'the alternative to the alternative,' it's a somewhat unlikely position, but one they're not taking for granted.
Today, we catch up with lead vocalist Benji to talk touring, Smile's sociopolitical statements and how the group are 'riding the crest of a wave' right now.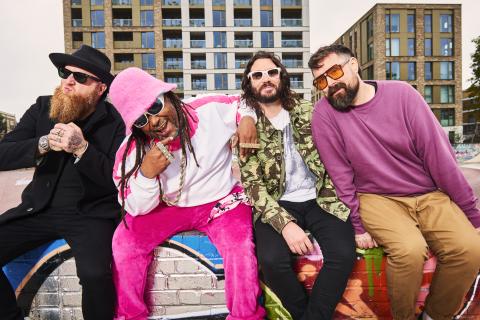 Benji, congratulations on the success of Smile so far. You must have a busy few days ahead of you?
We're out on the road this week doing two shows a day, working as hard as we can trying to get those sales up! It's been crazy, but it's cool to meet the fans and do these more stripped-back shows.
We're getting loads of love. It's exciting times, man – this band's been going 24 years and we will not be deterred.
How does it feel to see Skindred tracking for the top spot this week?
We've been Number 1 for the past two days, and we're just going to push like hell until Friday. We feel like David and Goliath, we're calling on all of our fanbase and friends to give the album a push.
I really do feel like we've got something to say and something to offer the world that hasn't been done before, in the way Skindred does it. The whole bringing black and white together thing, lifting people up and saying 'come as you are.' We hope we're giving people some sort of hope.
We've been doing this for years, and it'd be amazing to have the biggest platform on the planet to do this.
It's been five years since your last record (2018's Big Tingz). When did work begin on this album?
We started writing in 2019, then the pandemic hit. We didn't know if we'd ever play live music again. It was great to get back in the studio and finish this album. It was written during a crazy time; it gave us a lot to talk about.
With the state of the world, the way it was, we had to write about those social issues. I had a volcano of lyrics to write; the pandemic, lockdowns and the Black Lives Matter movement.
Is there a track that particularly stands out from that time, thematically?
There's a song on the album called L.O.V.E. (Smile Please). I wasn't in a great place at all, but I thought 'I'm not going to sing the negative, I'm going to focus on the positive.' The lyrics came from feeling really sh*t, but turning it around.
You can sink or swim, man. Skindred's about swimming. We've been doing this for the last 24 years. We've always been that excellent band, but we just hadn't got the break.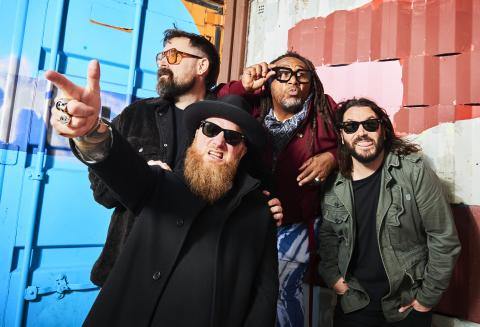 What do you think's the secret to Skindred's longevity?
The beautiful thing about Skindred is that we've had the same line-up since we started. It's that passion and love we've got for it. We started with nothing at all, sleeping on people's settees.
We've been through some sh*t. We've seen weddings, funerals; we've just been on such a rollercoaster together. But the one thing we've got is that we love each other. When we stand on stage, we just want to uplift people and bring them together.
We've been playing the rock festivals for 20 years, and they've always really embraced us. We're always going to be the 'weird' band; we're a reggae heavy metal band from Newport, South Wales. We're the alternative to the alternative, you know?
Do you feel like Skindred are the underdog, in a sense?
I've always said this: Skindred are Formula 1 drivers, but we've been given a LADA to drive. I don't care who you are, you're not going to win in a LADA. You need a Formula 1 car. I feel like now we've got the people behind us, we have that.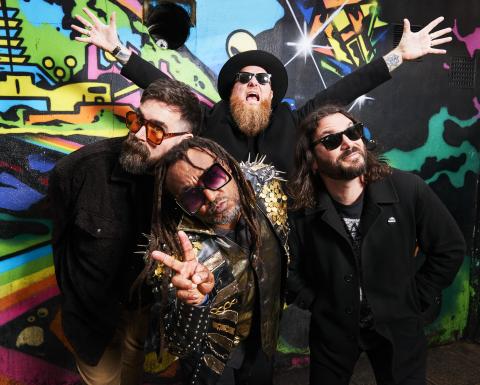 You're taking your headline tour on the road in March 2024. You must be excited to play Smile live?
For us to be headlining Wembley Arena is such a big deal. We've supported people there so many times and always thought 'could we ever do that?' Next year, we get the chance to do it, and it's going to be so good. Skindred's on the crest of a wave, man!
Other than Wembley, what else is on Skindred's bucket list?
We've always said we'd love to headline the Saturday night of Download Festival. There's a campaign going round, #ThePeoplesHeadliners. It really feels like support's building. I'm just so happy to be in this band, I wouldn't be anywhere else.
Skindred's brand-new album Smile is out now via Earache Records.
Related Singles and Albums