Please give a warm welcome to our new chart - the Official Trending Chart! 
The Top 20 rundown, which highlights the hottest new tracks that are making an impact in the UK, will be published every week on OfficialCharts.com starting from tomorrow, February 16.
Devised by us at the Official Charts Company in close consultation with record labels, the chart is based on the first four sales days of each chart week (that's Friday to Monday) and ranks the songs that are showing week-on-week growth on the Official Top 100 Singles Chart. There's more detail on how the chart is compiled at the bottom of this article.
The Official Trending Chart has been designed to highlight hit singles in the early stages of their growth, following the recent shift in release strategies of record labels to "On Air, On Sale". 
The change has meant labels have started to release music for consumers to buy or stream on the same day they're released to media (including radio and TV). The effect on the chart means songs are increasingly making their initial impact lower down the chart and then climbing up over the course of a few weeks.
Before, songs were promoted and played on the radio weeks ahead of their release, meaning singles would often enter higher up the chart before trickling downwards.
For example, Shawn Mendes' recent chart-topper Stitches recorded one of the steadiest climbs to Number 1 in UK chart history, gradually building a profile over four months before eventually reaching the summit in January. Click here to see it's full, week by week chart run.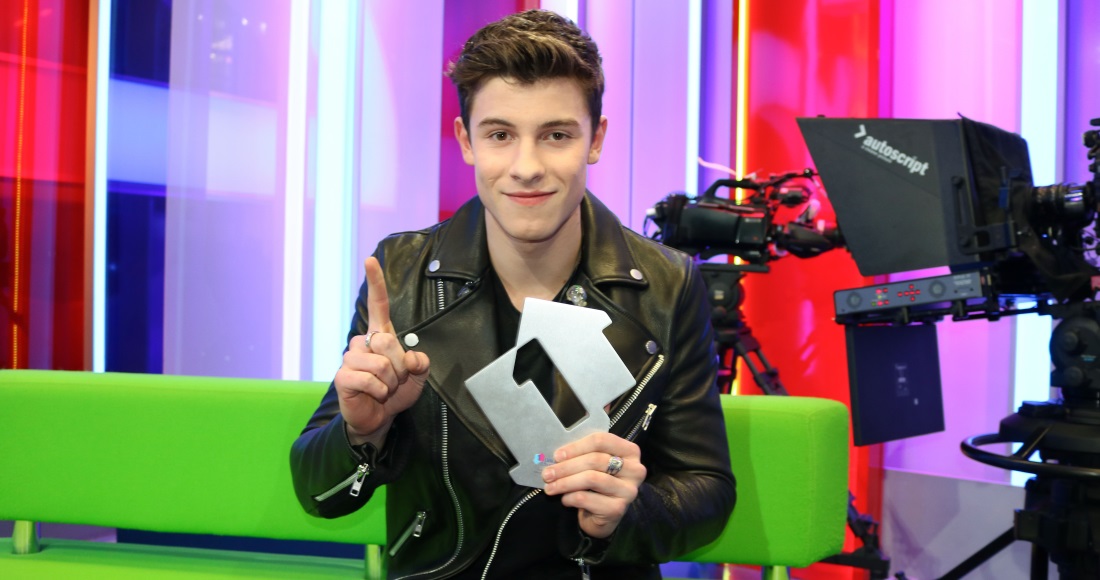 Shawn Mendes with his Official Number 1 Award for Stitches
The "slow burner" effect has become more common since the introduction of On Air, On Sale last summer, with the number of singles debuting at Number 1 in the second half of 2015 almost halving to 7, compared to the average of 14 for the same period across the previous five years.
In contrast, 11 Number 1 singles climbed the Official Singles Chart to Number 1 between July and December 2015, nearly double the average number of climbers seen in the same period between 2010 & 2014 (6). The table below demonstrates: 
| | | | | | | |
| --- | --- | --- | --- | --- | --- | --- |
|   | Jul - Dec 2010 | Jul - Dec 2011 | Jul - Dec 2012 | Jul - Dec 2013 | Jul - Dec 2014 | Jul - Dec 2015 |
| Unique Number 1 singles | 19 | 19 | 19 | 17 | 19 | 15 |
| Tracks entering straight in at Number 1 | 14 | 16 | 13 | 13 | 13 | 7 |
| Tracks climbing to Number 1 | 6 | 4 | 7 | 6 | 8 | 11 |
In 2016 the trend appears to be continuing, and isn't limited to chart toppers. Breakthrough hits such as All My Friends by Snakehips ft. Tinashe and Chance The Rapper, which broke the Top 5 following an eight-week journey from Number 98, and 99 Souls' Destiny's Child and Brandy dance floor mash-up The Girl Is Mine also peaked at Number 5 after first entering just outside the Top 40 seven weeks earlier. Both of these tracks surfaced strongly on the new Official Trending Chart during the chart's pre-launch development and testing process.
Production duo Snakehips, who would have featured highly on the Trending Chart over the past month, welcomed the new rundown. Ollie Lee told us: "I think for people like us, who are relatively unknown, this makes sense because people don't know us nearly as much as the big artists out there. With All My Friends, it took people a while to get to know the track as well as who we are, so to show that it was picking up momentum in that way is great."
Official Charts Company chief executive Martin Talbot added: "This exciting new chart has already been received with huge enthusiasm by the media and record label community, we're looking forward to sharing it now with music fans via OfficialCharts.com. It's clear that this is going to be useful insight into the UK's future hits and breaking new talent each week."
Brian Rose, Universal Music UK's commercial division managing director, said: "Following the success of Global Release Day and the move to On Air, On Sale, the Official Trending Chart adds a new layer of excitement and intel to the changing consumption habits of music fans."
How does it work?
The Official Trending Chart will rank all tracks which are climbing the Official Singles Chart since the previous week's chart, ranking the tracks in order of sales / audio streams (100 streams being equivalent to 1 sale).
It will be based on data collected for Friday, Saturday, Sunday and Monday and published on Tuesday, three days before the Official Singles Chart is unveiled on a Friday.
The chart will limit each artist to just two tracks each – to prevent the chart from being dominated by multiple tracks from a brand new superstar artist's album.
It will only count "new" tracks – in other words, tracks which have never been Top 10, which have been released within the past 24 months, and have 52 chart weeks or fewer to their name.
The first Official Trending Chart will be revealed on OfficialCharts.com tomorrow (Feb 16).