Mark Ronson says Dua Lipa's third album is a "triumphant stomp" on Future Nostalgia sound
Dua's been working hard on a sonic pivot for her next record.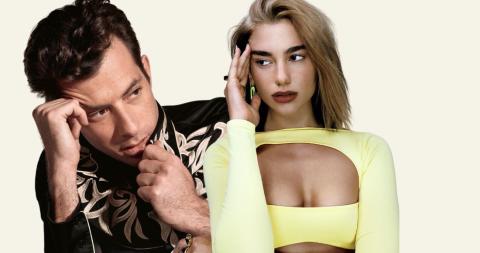 Mark Ronson has been granted a gift from the gay pop gods - getting a very early preview of the material for Dua Lipa's upcoming third studio album.
Of course, Mark and Dua have collaborated numerous times in the past - Dua was the guest vocalist on Mark & Diplo's Silk City project launch single Electricity - and have also joined forced recently for the lead single from Barbie: The Album, the slick and polished Dance The Night. 
And if you think that Dance The Night has a lot in common, sonically, to Dua's breakthrough sophomore, disco-drenched opus Future Nostalgia, well, that's kind of the point. 
But in an interview with Vulture, Mark points out that the song wasn't written for Dua, but for the Barbie film itself, with the lyrics (written by Dua and Carolie Allin) specifically referring to Barbie's existential malaise, and the infectious, Studio 54-adjacent production (courtesty of Mark and Andrew Wyatt) was a request from director Greta Gerwig, who needed a big disco number for the film's opening act.
"I think that [Dance The Night] felt Future Nostalgia–adjacent because her music does the shit that I really love, as far as dance music goes: It has an energy, but it's kind of tough and weird," Mark said, before revealing that he'd had the pleasure of hearing some of Dua's "incredible" third album.
"I think that's why there's the disco ball that smashes in the video, right? This feels like her triumphant stomp on that era of her music into whatever she does next."
We're glad someone has the same critical thinking skills as we do, at least.
While we've not heard any concrete news about Dua's impending new era, Mark's comments definitely track with Dua's own hints at a bold sonic pivot away from the sound of Future Nostalgia last year.
If she's not going to take us back to Studio 54, we at least want to be transported to a Berlin bathhouse. 
Barbie releases tomorrow July 21 in cinemas nationwide, Barbie: The Album is also released July 21 via Atlantic.
Related Singles and Albums