Today brought the sad news that Sir Ken Dodd has died at the age of 90. 
The Liverpool icon, who was one of the UK's most beloved comedians and entertainers of his time, passed away following six weeks of treatment for a chest infection.
"To my mind, he was one of the last music hall greats," his publicist Robert Holmes said.
As well as being famed for his long stand up shows, which he was touring until 2017, Ken also made his mark on the charts, notching up 18 Top 40 hits between 1960 and 1975. 
His first music release, Love Is Like A Violin, reached Number 8 in August 1960, and in 1965 he spent five weeks at Number 1 with Tears. It was his only chart-topping track, but it made a huge impact, shifting 1.52 million copies, becoming the biggest single of 1965 and went on to become one of the UK's best-selling singles of all time.
Tears featured on Ken's debut album Tears Of Happiness, which itself landed inside the Top 10. Check out the UK's best-selling singles of the 1960s here.
View Ken Dodd's complete Official UK Chart history, including 18 Top 40 singles.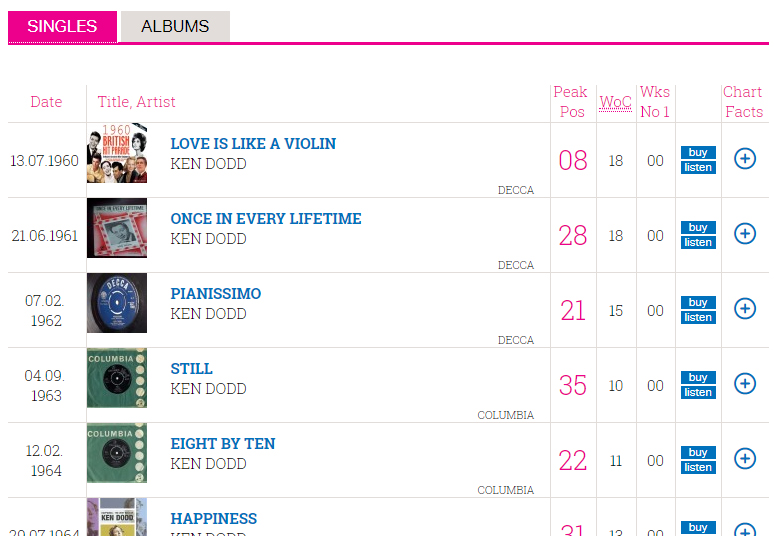 Fellow comedians have been paying tribute to Ken, including David Walliams, who said "comedy flowed through him like a river", while John Bishop simply wrote: "True comedy legend." 
After making his first professional appearance in 1954 at the Theatre Royal, Ken made it into the Guiness Book of Records in the 1960s for telling 1,500 jokes in three and a half hours. 
In 1993 he won the British Comedy Lifetime Achievement Award as well as being voted Top Variety Performer.
Article image: Rex