"When I'm good, I'm good. But when I'm bad, I'm better." That's the life motto US singer-songwriter Elle King as well as a line from her  long-awaited debut album Love Stuff.
Elle's star has been on the rise for nearly a decade. The daughter of actor/Saturday Night Live comedian Rob Schneider, she started gigging when she was 16 before landing a major deal with RCA records in 2012.
Three years later and the resulting album is a collection of bluesy rock-pop lead by current single Ex's And Oh's, which is currently worming its way up the UK Top 40. 
We caught up with the Elle to talk about taking the long path to fame, sex shops and the rubbish men that inspired her record. 
Hi Elle, welcome back to London! You seem like the sort of person who would fit in well in London…
What's that supposed to mean?! No, I can't tell you how much I love being in London – I've never had a bad time here I love hanging out in Shoreditch and Camden. I just drink when I'm here, so I can't really remember where I go.
For people who have yet to discover you, who is Elle King and what does her music sound like?
She sounds like a good time, I think. She's a soulful-rock n' roll artist. That's just what I do! She also plays a lot of banjo and guitar and curses and drinks too much on stage.
The banjo isn't the sort of instrument people pick up these days… how did you learn to play it?
I saw a cute boy playing one in Philidelphia. The banjo is a beautiful instrument. I know it's not the sort of instrument many people my age pick up, but I thought, I've played the guitar for eight years – I can do that! Turns out it's a completely different instrument and it took me ages. I don't like not being able to do things, so I obsessed over it until I learnt to play it. I then wrote a song on it – the first real song I ever wrote – and it got me signed.
You recently supported James Bay's UK tour, which on the one hand is great, but on the other, must be quite a challenge when he's so popular?
The tour has gone so well… we just did three shows in Brixton, which went particularly well actually. I have to say, I've never been on a tour where I've felt so welcome. James is one of the loveliest human beings on the face of the earth. Not only is he so handsome, he's wickedly talented and he's so kind and caring. He made sure everyone was ok – he thinks about the fans, he thinks about the show and how he's it's going to look. I'm so happy for his success and I just feel very honoured to open up for him on this tour.
How do you win over a crowd who are mostly there to see James Bay?
Obviously he's very popular and doing so well, so yes, there's definitely work to be done to win people over when you're supporting a show like that. They don't know who I am, so I've just been going for it as much as I can. I feel like we all have a good time and the audience reaction is great. I talk a lot during my shows so I need the audience to talk back to me.
You're only 26, but you've been playing gigs since you were 16. Have you ever had moments where you've thought about packing in the whole music career thing?
Some things happen overnight, but I feel like most things don't really. Certainly not in my life anyway – I'm not afraid of working hard. I'm always playing catch-up with the rest of the world – I don't know much about pop culture and I don't know a lot of the current music out there. I feel like I wake up and there's this huge worldwide hit. So it feels like it is overnight to me, but I'm most likely just not paying attention.
MORE: The Official Top 40 Biggest Songs of 2015
Is it true your debut album Love Stuff is named ater a sex shop in Florida?
I was drunk in a limousine in Florida with my manager and we went past this sex shop called Love Stuff. I made us get out and take a picture in front of the sign and a drunkenly said 'I'm going to call my album Love Stuff'. We all laughed about it, but here we are and my album is called Love Stuff! I don't actually go into those kind of shops, honestly. I'm a little more prude than people think.
Really?
No not really!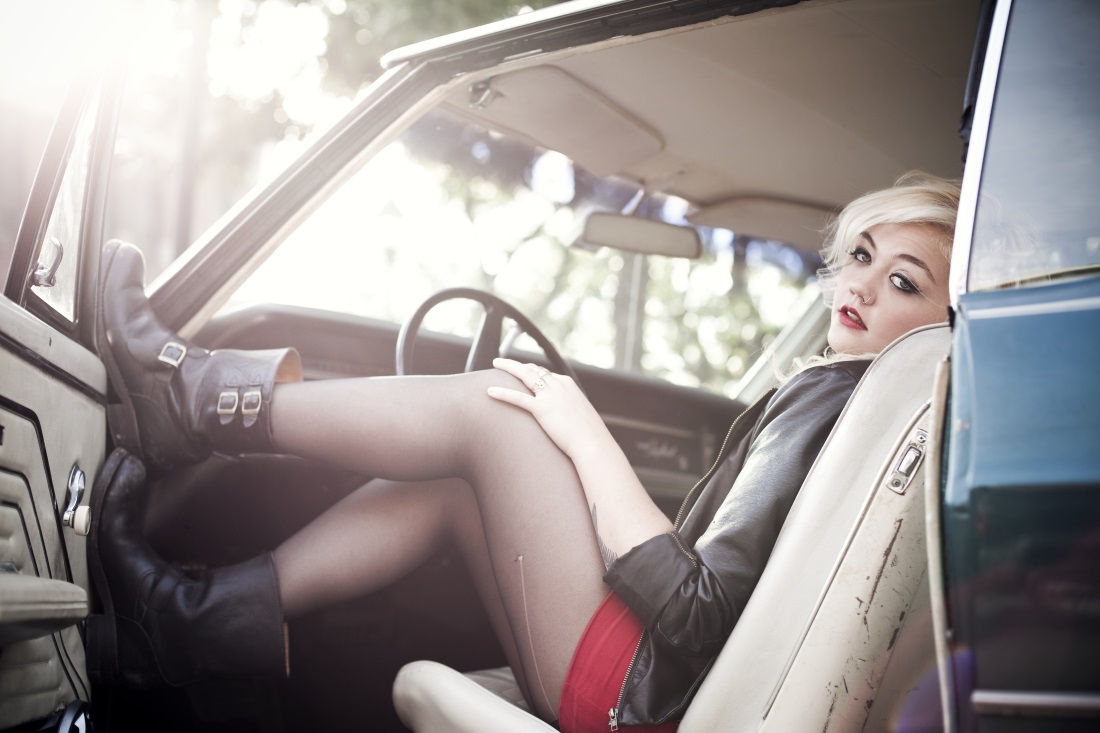 You worked on Love Stuff for three years. Are you still in love with all the songs on it?  
I worked on the album for a really, really, really, really long time. I learnt a lot while making it and I'm very proud of it. I'll always love it – it's my first album and I worked my ass off on it. There's one song I wish wasn't on the album, and I've never played it live. I don't regret the song or anything, I just dance around it. I'm not saying what it is… come to every live show and you'll figure it out. In fact, listen to the album and you can tell which I don't want to play.
The big topic on the album is relationships, and it's sounds like you've been through a lot...
I have been through a lot! I have a problem with love, where I can fall in and out of it really fast. I don't know, I think I'm just a bit of a crazy person. I've lived an interesting life for the young 26 years I've had. I wouldn't change a thing – well maybe a couple of things – but everything has made me who I am today and I don't think I'm doing too bad for myself!
Are all the stories in the songs really true?
All the stories on the album are true… unfortunately!
Elle King's debut album Love Stuff is out now.