How Calum Scott learned to stop worrying and love the banger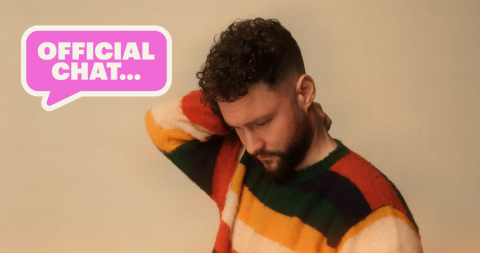 Calum Scott has evolution on the mind. 
Not that he's all of a sudden going to pack in the music career and study Charles Darwin, mind you. The evolution we're talking about is where his artistry is concerned (obviously).
Ever since he broke through with tender re-imagining of Robyn's classic Dancing On My Own, Calum has always - across two albums, 2018's Only Human and 2022's Bridges - seemed to draw inspiration from some of pop's greatest balladeers; Mariah Carey, Celine Dion and George Michael.
But the thing about this triumvirate? They also made bangers, and this is exactly what Calum has gone and done with his brand new single, At Your Worst, out today.
Inspired by his successful link-ups with Lost Frequencies (Where Are You Now? which was BRIT nominated) and Jax Jones (Whistle, a recent Top 20 hit), At Your Worst's uptempo, 80s-inspired production is certainly surprising but it fits Calum like a glove.
Below, we rung him up to talk more about how he learned to stop living and love the banger.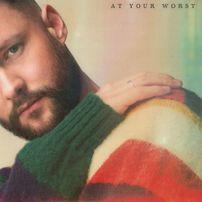 Hi Calum! It's nice to speak to you again - how are you?
I've been good, thank you! I mean, I literally have been around the world on this last tour. In two weeks I'm going to Brazil and that will be the end of what has essentially been 14 months on the road for the second album. It's been amazing, not to toot my own horn or anything. 
Sorry, but you must be knackered after all that, you must not have time to do anything!
I'm literally just doing the last of laundry now, doing the hoovering and watering the plants. I'm trying to come back to normal living again, but I can't complain, can I? I'm living my dream!
At Your Worst is the new single - it's your first solo single in a few years, but it feels very informed sonically by the work you've been doing with dance producers like Lost Frequencies and Jax Jones
Yeah, it has really been inspired by those collaborations. I've always been known as the ballad guy and I've always wanted to be that, to be honest. Most of my musical inspiration really come from that period; Celine Dion, George Michael, Mariah Carey, they're huge voices with huge songs, and that's the direction I always wanted to go in, and you can definitely hear that on my first two albums. 
But when the time came to write this new album, my executive producer Jon Maguire [who recently co-wrote Rita Ora's You Only Love Me - bop!] suggested we attack it in a slightly different way. Let's just try to have fun. Let's just write what we want to write. It was actually quite freeing and liberating for me as an artist, to be honest. 
And what kickstarted the writing of this single?
I was having a bit of a moment before the session! I was taking it out on the wrong people. I came into the room and just said, I know I can be a bit difficult to love and the guys were just like...that's it! It became a real self-love anthem, you know? Loving yourself is so important. So because of that reassuring sentiment, I think the production came naturally around that. Which was a bit of a change for me. Normally I'd say, make it sad!
You've got to embrace the banger, Calum
I'm trying! I said, sod it, I'm going to try something different. I think it sounds amazing, it's got this very 80s groove - it reminds me of Stranger Things. We just went with it, and not much changed [on the track] from the demo. I can actually say that it's a bit more of a bop, it's slightly different for me and I'm glad I'm taking chances like this, throwing caution to the wind. I'm proud of myself!
Well, you have to think Calum  - Mariah did Vision of Love, and then she came out with Emotions, it can be done
I think it's very easy, an artist, to get caught up in worrying about your sound and if you're stuff is different [to what worked before].You don't want to upset anybody that's followed you or is invested in you, and I think that means sometimes you don't change too much. I don't want to be too different but, as you mentioned before, my collaboration with Lost Frequencies was BRIT nominated, so maybe I am more versatile than I give myself credit for. 
Of course, saying that, I'm always going to want to do ballads, but so much of this third album is showing how I've evolved. 
I do have a bone to pick with you though, Calum...
Oh no. What is it? What have I done?
At Your Worst is great, but you've made a song under three minutes! What's going on?!
Listen, I hear you! I've actually been talking to Jon [Maguire] about maybe making something a bit longer for the album. Because you can get obsessed a bit with stuff like; how long is this song? Whose going to play it? But! You'll be pleased to know I am, like I said earlier, really wanting to experiment on this album. Like, I've always wanted to do an albums with some interludes...
Like Janet Jackon's The Velvet Rope?
Yes! I mean, if you're someone whose listening to an album, you're going to be someone who loves music and who wants a record to take you on a journey. But, I am aware the way we listen to music is changing and, at the end of the day, I am signed to Capitol Records, when I walk down the corridor of the label in LA, you can see people like The Beatles. I want to be one of those artists who can put an album together and really care about it. So I'm going to try!
With all that being said, if you came along with a 2 minute Charli XCX song with a dance routine and fireworks...I wouldn't be opposed
Oh right? Maybe that'll be the fourth album then..
Calum Scott's new single At Your Worst is out now via Capitol.