Time flies when you're having fun. In 2015, Alesha Dixon is a permanent fixture on the telly, thanks to high-profile appearances as a judge on Strictly Come Dancing and Britain's Got Talent. She's also an accomplished solo artist, with seven Top 40 hits to her name. But before all that, Alesha was the sassiest MC you were ever likely to meet.
Yep, 14 years ago this week, Alesha was part of R&B trio Mis-Teeq, and no doubt celebrating with a glass of shandy as the band scored their third Top 10 hit, the mighty One Night Stand, entering at Number 5.
So what better way to celebrate than to catch up with Alesha and take a trip down memory lane to relive the raps, the routines and, of course, the solid gold hits!
You've had seven solo Top 40s and eight with Mis-Teeq, are you proud of your chart history?
"Regardless of how people perceive me now, from the small town I grew up in, the music industry might as well have been Mars and for the four or five years we were grafting in the band before we signed to an independent label it was just a dream. To hear my chart history I'm like 'wow, that's a big deal'. At the time if I'd have had one Top 10 that would have been amazing.
"To come out of a girl group and to go on to have a platinum record is a big deal for me. I've achieved more than I could have ever imagined. If someone had asked me at 17 if I could have done what I've done, I never would have known the answer.
"I will always be proud of what I've achieved."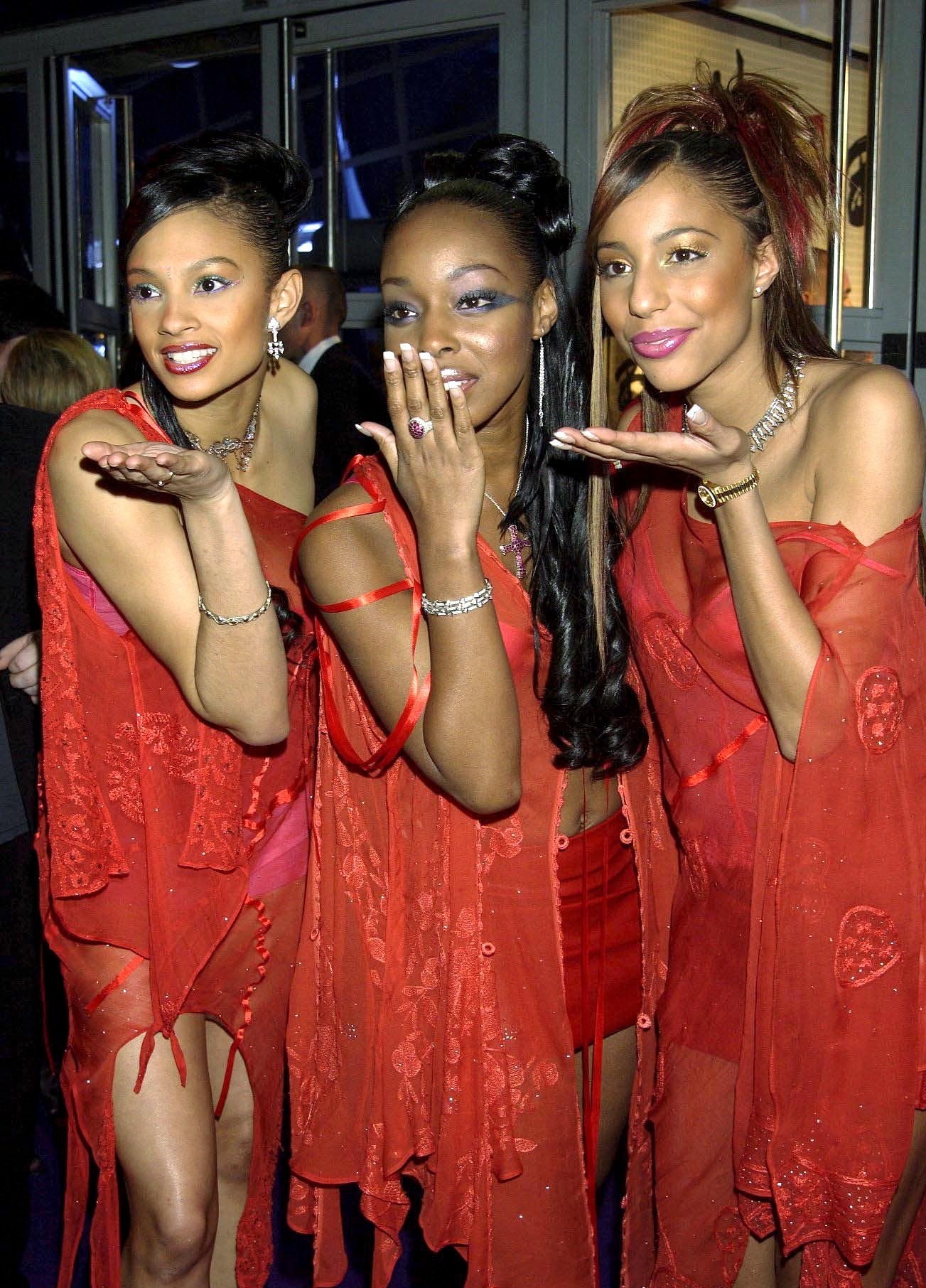 Mis-Teeq arrive at the BRIT Awards, 2001 (REX)
It's been 14 years since One Night Stand. What are your memories of that time?
"I was just a baby. I was so vivacious, so revved-up and enthusiastic and ready to take on the world. Mis-Teeq signed through a tiny little independent label; I was completely aware that we were the underdogs. There were so many bands around at the time that had so much more money thrown into them, so when we were performing at the BRITs and when we were opening the Queen's Jubilee and having platinum records it meant more than I could even put into words. That whole era was just a whirlwind but I remember it so clearly like it was yesterday. The first time I travelled anywhere was when I joined Mis-Teeq, I'd never been abroad! Being in a band helped me see the world, we toured everywhere.
"It was eight years of my life – that's a long long time. If my chapter had ended after Mis-Teeq I think I'd still be really happy because that whole experience was so amazing. We got to do so much and the odds were so against us. We were three black girls signed to a tiny little label and it took on a life of its own. We had a lot of support from DJs and there was a momentum and vibe that meant we were able to be a part of the whole garage era. A lot of artists came out of that time and I'm just grateful that we were one of them!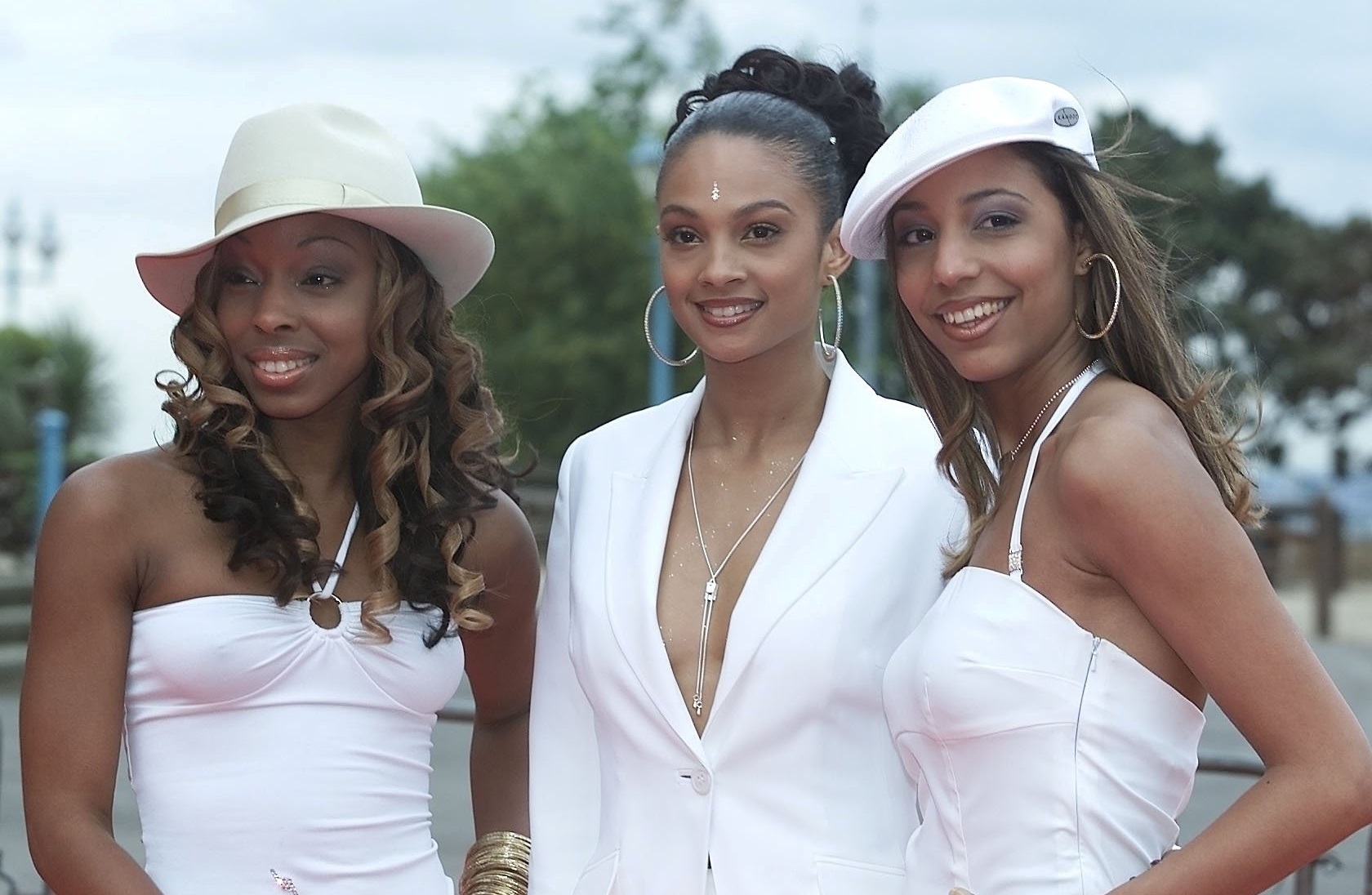 Doing their level best not to avoid wet paint, grass stains and spilling spaghetti bolognese down themselves, Mis-Teeq rock a gleaming ensemble at Dancestar 2001 at London's Alexandra Palace. (REX)
Do you remember when people really started noticing you?
"We had the first single Why put onto a turquoise vinyl – this was a time when DJs were still using vinyl! – and we'd go into nightclubs and the song took on a life of its own. All the DJs were playing it and nobody knew who we were because the video hadn't even dropped. We'd see this turquoise vinyl come out of the DJ bag and we'd go crazy. We'd stand there singing and dancing along to this jam and seeing everyone in the club go crazy for it and not having a clue who we were.
"That was my favourite time because it was the buzz and momentum of the record before any of the hype about us. It was such a beautiful time, those days were really really special, we really felt like everyone was routing for us. All I Want was when people started taking us seriously and that led beautifully into One Night Stand and into the album and from then it just got better and better."
Was it nice to start in a group, having people around you that knew exactly what you were experiencing and how you felt, rather than going it alone?
"Being in Mis-Teeq was like being in college or university and learning as much as you can, learning on the job. My work ethic didn't really change. I always worked hard and put as much of my time and energy into what I did as I could. I was quite a people person and I don't think that's really changed. I always remember thinking in those early days, 'What you put in is what you get out'.
"Before the final line-up of Mis-Teeq was decided on, I had worked with other girls who were super talented but didn't necessarily have the right work ethic or the right attitude, and when the three of us got together that was when it clicked. We could trust one another with our careers. We were all quite strong willed, creative, determined and focused and it just worked."
MORE: Alesha Dixon's full solo Official Chart archive
What's your favourite Mis-Teeq track?
"It's got to be Why, because I've got so many good memories of that time. It reminds me of when we heard it in the club for the first time, when we heard it on the radio for the first time. It was our first Top 10, it was the beginning of everything. If it was another song, Mis-Teeq might not have worked – I owe everything to that record."
MORE: Mis-Teeq's full Official Chart history
Here's how the Top 10 looked the week One Night Stand made its chart debut. Click on the image for the full Top 100: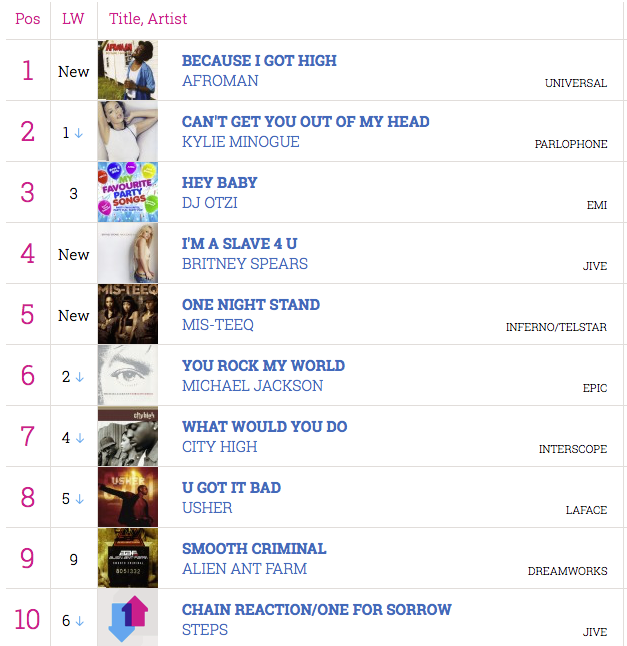 ChartFacts:
Afroman ended Kylie's month-long reign at the top, with his first and only Number 1. He did have one more Top 10, Crazy Rap, in 2002.
I'm A Slave 4 U was Britney's first single to peak at Number 4. Funnily enough, the single straight after, Overprotected, peaked in exactly the same spot, but no Britney single has since!
This time last year…
Meghan Trainor was all about that Number 1, while 1D were back with Steal My Girl. Quick! Click on the pic for the full Top 100: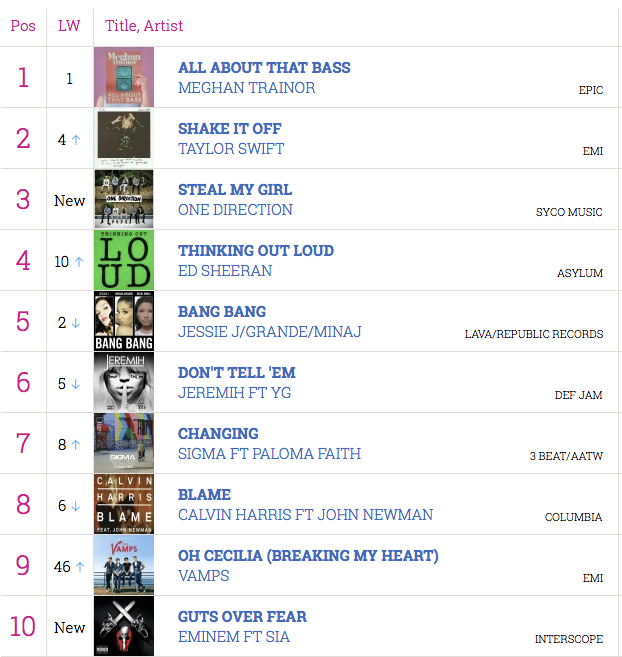 Got a favourite song with a big anniversary coming up and would love to see us feature it? Drop us a line on editorial@officialcharts.com, marking your email Flashback, or hit us up on Facebook or Twitter.
Additional content: Justin Myers