New entries at the top of the chart are always exciting, but just as there's more than one way to skin a rabbit (or so we're told; we have never tried), there's more than one route to Number 1. And 25 years ago, a new worldwide star called Alanis Morrissette was proving the old adage that slow and steady can win the race with her album Jagged Little Pill.
Given the record's enduring success, which Alanis is touring around the world in 2021 to mark its 25th anniversary, it's easy to forget it wasn't an immediate hit out of the gate. Jagged Little Pill was her third album but it served as her international debut, and it didn't exactly set the UK charts alight on its arrival.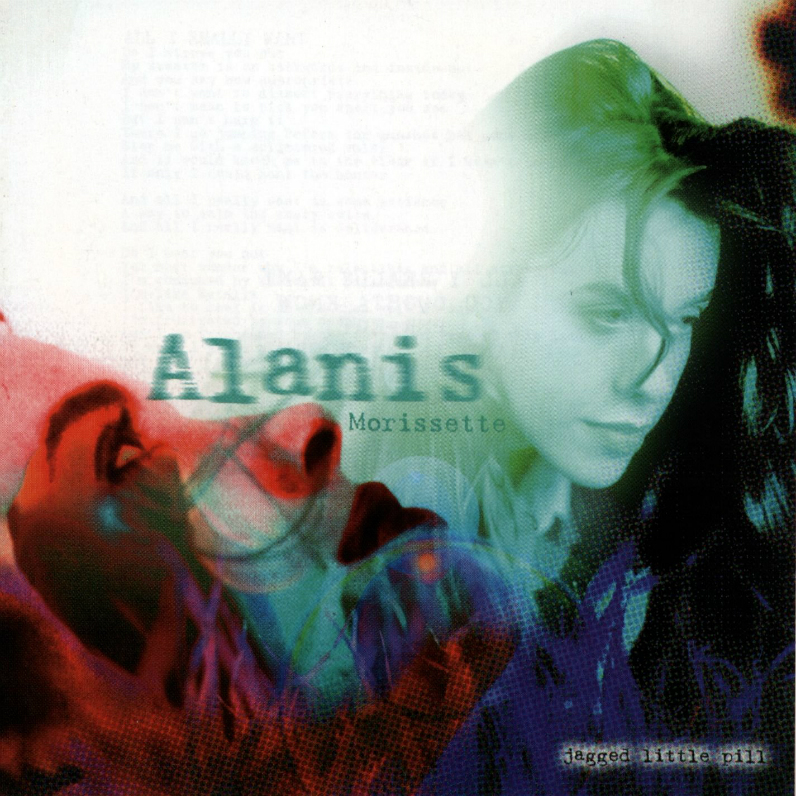 The album was something the public hadn't really heard before: a woman displaying raw anger and a frank portrayal of female sexuality. Reviews were initially mixed: for some it was a landmark moment in alternative rock - Carole King's Tapestry for the '90s - while others thought the album's feminist message quickly grew wearing (sigh).   
Jagged's first single, the fantastically acidic tale of a scorned woman, You Oughta Know, entered the Official Singles Chart at 76 before slowly rising to Number 22. The same week of that peak, in August 1995, her album Jagged Little Pill also limped in at 76 (spooky, eh?), which in modern times would probably mean you'd have to have a very serious chat with your record label.
But not everyone realises they're on to a good thing straight away – artists grow on us. And after a further three Top 40 singles, hype around Alanis had sufficiently increased to take her all the way to the top spot, where she belonged. It had only taken her eight months (!) but her patience was rewarded.
Jagged Little Pill spent 11 weeks at Number 1 (8 of them consecutive) and went on to be the biggest selling album of 1996, shifting 1.627 million copies that year, beating big releases from Spice Girls and Oasis. Its UK chart sales tally now stands at an impressive 2.81 million, making it 10x Platinum.
Alanis Morrissette's biggest singles in the UK
It was a monster album, but only one single from Jagged Little Pill hit the Top 10 – Head Over Feet – and it isn't the set's top seller, or indeed Alanis's biggest single in the UK. That honour goes to Ironic, which, as any dictionary enthusiast/bore will tell you is in itself ironic – because its supposedly ironic lyrics actually aren't. Yet it's called Ironic. Are you still with us? 
Ironic's UK chart sales to date stand at 664,000, which might not seem especially high, but remember: that album was a big seller, passing its first million after a year on sale. Since streaming records began, Ironic has been played 36.5 million times in the UK. 
Despite missing the Top 20, Alanis's debut single You Oughta Know is her second biggest single (296,000), benefiting from new fans discovering the track helped in part, perhaps, by acts like Beyoncé and Britney opting to cover it in live performances.
In third place is the lead single from her follow-up LP Supposed Former Infatuation Junkie, Thank U (275,000). Featuring Alanis wearing nary a stitch of clothing, yet some strategically placed hair, the track became the last of her two Top 10 hits (so far) and and is her highest-charting single in the UK, reaching Number 5 in October 1998.
Despite never charting or being offficially released as a single, haunting ballad Uninvited makes Alanis's all-time Top 10 at Number 8. The track originally featured in Meg Ryan movie City of Angels and was memorably reinvented as a club banger by remix wizards Freemasons. They eventually went the whole hog and covered it themselves, with Bailey Tzuke on vocals, taking it to Number 8 in 2007.
Alanis Morrissette's Top 10 biggest songs on the Official UK Chart
| | | | |
| --- | --- | --- | --- |
|   | TITLE | PEAK | YEAR |
| 1 | IRONIC | 11 | 1996 |
| 2 | YOU OUGHTA KNOW | 22 | 1995 |
| 3 | THANK U | 5 | 1998 |
| 4 | HAND IN MY POCKET | 26 | 1995 |
| 5 | HEAD OVER FEET | 27 | 1996 |
| 6 | YOU LEARN | 24 | 1996 |
| 7 | HANDS CLEAN | 12 | 2002 |
| 8 | UNINVITED | N/A | 1998 |
| 9 | ALL I REALLY WANT | 59 | 1996 |
| 10 | CRAZY | 65 | 2005 |
©2020 Official Charts Company. All rights reserved.
Chart is based on physical sales, downloads and streaming equivalent sales combined. 
Article image: Shutterstock