Addison Rae is finally coming! Viral star to release of EP featuring I Got It Bad
She's got it bad.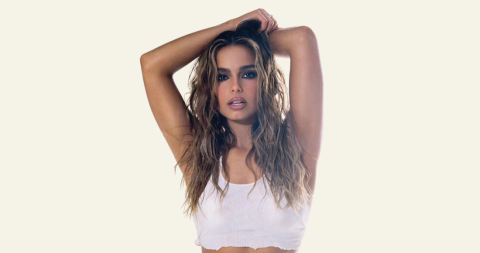 In news that will thrill certain corners of pop music fandom (Gay Twitter), viral TikTok star, Netflix rom-com actress and occasional pop connoisseur Addison Rae is finally about to unleash her debut EP.
Following a whole day of speculation by the girls, gays and theys on socials yesterday, Addison revealed that her self-titled debut EP will be released this Friday (August 18) via Atlantic Records.
"dug up a few of the leaks from the lost album," Addison wrote, before confirming the name of the EP will be...Addison Rae. Stunning. Inspired.
dug up a few of the leaks from the lost album 💗AR 8.18 pic.twitter.com/ZcWNzlYCHo

— Addison Rae (@whoisaddison) August 14, 2023
For those uninitiated among you, however, here's a quick catch-up; Addison Rae first came to prominence as one of the first TikTok creators to cross over into the mainstream cultural conversation. Originally popping off on the video sharing platform choreographing easy-to-learn dance routines, Addison quickly amassed a following in the tens of millions (as of right now, she has over 88 million TikTok followers, making her the fourth most popular account on the site) and, like any good mogul, started to diversify her brand.
She stepped into acting, signing with talent agency WME and quickly becoming the face of Netflix's Gen-Z focused remake of the teen rom-com classic She's All That, He's All That, which became the most-watched film on Netflix on the week of its release.
But the most tantalising arm of Addison's burgeoning empire has always been her musical aspirations. Addison's adoration of pop music - from her love of Paris Hilton's kitschy debut single Stars Are Blind to engaging in writing sessions with Charli XCX and Benny Blanco -  is clear, and her debut single Obsessed was, in the best way possible, the kind of track that would have really popped off in 2007. 
NEW COUNTDOWN ON ADDISON'S WEBSITE ENDS AT MIDNIGHT THIS FRIDAY!!! #ADDISONISCOMING https://t.co/lqiITWSm87💓 pic.twitter.com/V6jo6EMhsC

— Addison HQ (@AddisonRaeHQ) August 14, 2023
Just one viewing of her (misunderstood at the time!) performance of the spiky track on Jimmy Fallon is enough to make you see that this is an artist who has studied pop stardom as performance art; eschewing the more personable approach to pop that other viral stars like Jax, Caity Baser and Gayle have used to great effect. Addison's role as a pop star comes from studying acts like Paris and Britney Spears at their height, music with a purposeful artifice that can be just as gratifying as relatability if done right. 
The release of Obsessed was, at the time, supposed to lead to more music being released, but nothing ever appeared. One of the tracks in contention for release, I Got I Bad, has been particularly mythologised in pop circles since the demo was leaked. A bouncing, juddering synth-pop tune produced by Wolf Cousins's Oscar Gorres (Maisie Peters, Troye Sivan) and co-written with Leland (Troye Sivan, Selena Gomez) all about falling for a bad boy despite your best intentions, it seemed destined to enter the pop canon as a lost classic, a curio from a pop career that faltered before it ever really got started.
That is...until now.
Fans initially noticed that Addison's official website had quickly been cleared of content, and now simply displays a countdown, with a background etched with lyrics taken from several songs known to have been recorded by the star; I Got I Bad included, as well as 2 Die 4 and (Nothing On) But The Radio, originally recorded by Lady Gaga in the early 2010s. 
As of the time of writing, the tracklist for the EP has yet to be confirmed, although Charli XCX has heavily hinted at being featured on a new version of 2 Die 4. Did someone say mothers?
So, sit back, relax and hopefully, we will see Addison Rae save pop, in her own special way. 
Addison Rae drops her self-titled debut EP this Friday via Atlantic.