Noel Gallagher has announced details of his new album with the High Flying Birds, called Who Built The Moon?.
The collection, which is said to be more experimental and adventurous than his previous records, will be released on November 24 via Sour Mash. Watch an advert for the record below: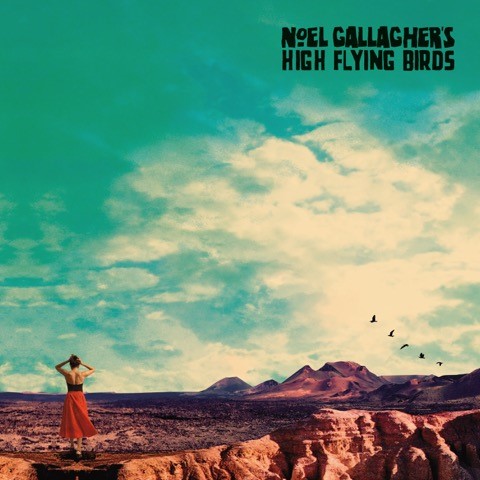 Who Built The Moon? track listing: 
1. Fort Knox
2. Holy Mountain
3. Keep On Reaching
4. It's A Beautiful World
5. She Taught Me How To Fly
6. Be Careful What You Wish For
7. Black & White Sunshine
8. Interlude (Wednesday Part 1)
9. If Love Is The Law
10. The Man Who Built The Moon
11. End Credits (Wednesday Part 2)

Bonus track:
Dead In The Water (Live at RTÉ 2FM Studios, Dublin)

The album is the result of a two-year collaboration with renowned DJ and producer David Holmes, who as well as releasing his own electronic records, has worked on big movie soundtracks including the Ocean's Eleven trilogy. Other collaborators on the record include Johnny Marr on If Love Is The Law and Paul Weller, who plays the organ on Holy Mountain.

David Holmes said: "People are going to be surprised. I think people love Noel and they're desperate for him to make a really big, bold, up-tempo beast of a record – a lot of Noel's music is quite mid-tempo. This one is fun."
Describing the process of working with Holmes on album track Holy Mountain, Gallagher said: "David played me the sample, so I worked out the chords and we demoed just a few, short minutes of it, taking it away on tour and playing with it. When it became a song back in Belfast it was so joyous, I just had to do it justice. What's more joyous than being in love, baby? So, I wrote a song about love and it's one of the best things that I've ever done."

Who Built The Moon? is Gallagher's third album with the High Flying Birds, following 2015's Chasing Yesterday. Both the band's previous records have reached Number 1 on the Official Albums Chart.
MORE: All the big album releases still to come in 2017 
Gallagher is supporting the record with a 12-date UK and Ireland arena tour, which kicks off in Brighton in April 2018. Tickets go on sale on Friday, September 29 at 9am. See the full list of dates below: 
Sun 22 April 2018 - Brighton, Brighton Centre
Tue 24 April 2018 - Glasgow, The SSE Hydro
Wed 25 April 2018 - Aberdeen, BHGE Arena
Fri 27 April 2018 - London, The SSE Arena Wembley
Mon 30 April 2018 - Nottingham, Motorpoint Arena
Tue 1 May 2018 - Birmingham, Birmingham Arena
Thu 3 May 2018 - Newcastle, Metro Radio Arena
Fri 4 May 2018 - Manchester, Manchester Arena
Sun 6 May 2018 - Cardiff, Motorpoint Arena
Mon 7 May 2018 - Leeds, First Direct Arena
Wed 9 May 2018 - Belfast, The SSE Arena
Thu 10 May 2018 - Dublin, 3Arena