We're now halfway through 2017 and already we've had some big records from the likes of Ed Sheeran, Zara Larsson, Harry Styles and Drake, to name but a few. But what about the rest of the year? Well, there's loads still to come...
Liam Gallagher
Life comes at you pretty fast, especially on Twitter. One minute Liam was dismissing the idea of a solo album, tweeting: "Solo record are you f**king tripping dickhead im not a cu** LG X", but by August 2016, he was saying something new. "It's official I'm a cu** LG X", quipped the former Oasis frontman. And it's coming –  As You Were arrives on October 6.
The album's lead single Wall of Glass reached Number 21 on the Official Singles Chart, boosted by a performance at Ariana Grande's One Love Manchester benefit gig. It also peaked at Number 1 on the Official Vinyl Singles Chart following a series of limited edition releases. A second track, Chinatown, was released in July.
On production duties for several tracks is Greg Kurstin, the man behind Adele's Hello and Sia's Cheap Thrills, among many, many others. 
Foo Fighters
Concrete & Gold is Foos' ninth studio record and will be out on September 15. Tantalisingly, the album is tipped to feature "the biggest pop star in the world" on backing vocals for one track – it's anybody's guess, but Adele and Taylor Swift have already been ruled out.  
Some guests have been confirmed though, including Boyz II Men's Shawn Stockman, Paul McCartney, and The Kills' Alison Mosshart. We'll have to wait a little longer to see who that mega star is who "has been around a long time".
Better known for his pop productions, Greg Kurstin is clearly exploring his rockier side – he's producing the entire album, in addition to working on some of Liam Gallagher's solo material.
Niall Horan
As 1D continue their hiatus, Niall's been showing his folkier side with two solo singles This Town and Slow Hands – so what can we expect from the album?
Inspired by childhood faves Fleetwood Mac and Crosby, Stills & Nash, Niall has been working with session musicians to create an album with a "folk-with-pop feel". Niall claims that "some of the songs are heavier than others", which sounds to us like Niall is going to be doing some serious rocking out.
The as-yet-untitled solo debut has been available for pre-order via a ticket pre-sale, so it looks like an official announcement is imminent.
Zayn
The follow-up to Zayn's solo debut Mind Of Mine is coming later this year, with his PARTYNEXTDOOR collaboration Still Got Time give us a taste of what to expect.
A recent snippet of a Nicki Minaj collaboration suggest the trapper is going to be on the album, and producer Malay said in an interview Zayn will sing in Urdu on at least one track. Oh, and the boss of Zayn's label (RCA) has been praising the collection, saying it shows a "lot of growth". 
Zayn says he's hoping to show he's "an alright songwriter" adding that Album 2 is "more about the melodies and the singing than it is specifically about the message of the lyric of the song". 
Charli XCX
Following her recent mixtape Number 1 Angel, Charli is back to work on her next album proper. "It's going to be the most pop thing, and the most electronic thing I've done," said Charli in a recent interview.
Top 40 single After the Afterparty and her new track Boys are both expected to be part of the project, and known collaborators include PC-music star SOPHIE and legendary pop producers Stargate. Given that Charli wrote some songs for Blondie's last album Pollinator, could we see some tracks originally meant for Debbie Harry making an appearance? 
MORE: The Official Top 40 biggest albums of 2016
Noel Gallagher
Noel Gallagher's High Flying Birds have enjoyed incredible success since Oasis called it a day, and the most famous big brother in pop is primed for more.
The band's third album should be pretty much done – according to an interview with 6 Music last year, Noel's deadline was to get the lot finished by the time he went to Glastonbury back in June.
The famously loose-tongued Noel also let slip in an interview with Russell Brand that it's slated for a November release. Fingers crossed.
Sam Smith
His 2014 debut In the Lonely Hour was a huge success on both sides of the Atlantic, and the campaign for the follow-up is getting into gear.
Sam confirmed back in April that he'd been working with Timbaland, and as he was posting pics from the studio as recently as June, you could be forgiven for thinking we had some time to wait yet. But with Sam being spotted shooting a video in mid-July, it looks like new music is nearer than we thought.
The Killers
Brandon, Dave, Ronnie and Mark kicked off the campaign for their fifth studio album Wonderful Wonderful with the brash lead single The Man, and by headlining British Summer Time Hyde Park in London. What a way to begin! As their previous four studio albums all hit Number 1, could there be a teensy bit pf pressure on them this time?
Their record label is certainly keen for a chart-topper – Virgin EMI's MD told Music Week: "Our ultimate aim is to give them a No.1 album. We are going to go gung-ho." No sweat then.
Justin Timberlake
We can't complain too much about how long it's been since Justin Timberlake's last album – he did release two in 2013, after all. JT returned last year with Can't Stop The Feeling, from the Trolls soundtrack, and it seems the follow-up to The 20/20 Experience will be along the same lines.
Talking to Variety, Justin said: "If 20/20 sounded like it literally surrounds your entire head, this stuff feels more like it just punches you between the eyes". Justin has worked with – who else? – Pharrell and it'll be coming out… well, when Justin is ready. Senoritas, we feel for you.
Christina Aguilera
Xtina's first album in five years is likely to be on its way in 2017. 
Christina's been in the studio on and off since 2015, with known collaborators to include Da Internz, Elle King and fellow The Voice coach Pharrell Williams. Christina's going deep on this one, saying: "It's genuine and it's heartfelt and I'm very excited to pour my heart out into this record fully".
No confirmed title or release date yet, though last year she teamed up with Nile Rodgers on the disco-infused Telepathy for Netflix show The Get Down. A full album of these wouldn't go amiss, would it?
MORE: Christina Aguilera's Official Top 20 biggest songs
In February, Christina tweeted that "finishing touches to my heart" were being made, and she told a delighted crowd in Mexico that the album was definitely coming in 2017.
Kelly Clarkson
For her new record deal, Kelly's taking it back to where it all began – the R&B and soul sound that brought her fame on American Idol. It sounds like she's thinking big, as in a recent interview she reminisced: "I sang all these Aretha things, I love Tina, I love Mariah, I love Whitney".
According to Atlantic Records' COO, Kelly's new tracks "have so much attitude" that she's "not walking through the door, she's kicking it the f**k open". Get your locksmiths on speed dial – Kelly's on her way!
Sia
What better way to celebrate a new record deal than to get extra festive! Sia's first release for Atlantic will be a Christmas album – and with all original songs, not covers. Atlantic have very justly said they're excited to showcase her "extraordinary gifts as a singer and songwriter". As you'd expect, this one is out toward the very end of the year.
Shania Twain
Da-da-da-daaah-da-da-da – let's go girls! No, seriously, Shania is coming back, a whopping FIFTEEN years since last album Up!. Taking inspiration from the changes in her life over the cast decade and a half, Now is a mixture of melancholy ballads and uplifting anthems. It's out on September 29.
We were invited to an album showcase for the LP, and heard seven varied tracks, including the lead single Life's About To Get Good. The song talks about moving on from her failed marriage, while promotional release Poor Me deals with her husband's affair head on: "I wish he'd never met her, then everything would be the way it was." This one will be raw and personal, yet uplifting all at the same time. Like going on a juice cleanse, perhaps.
MORE: Look back through Shania Twain's complete Official UK Chart history
Pink
She's been pretty busy musically and maternally, but it's been five years since Pink's last solo album, but the wait is almost over.
Following the birth of her second child Jameson Moon, Pink released two Grammy-nominated songs, Just Like Fire from the Alice Through The Looking Glass soundtrack, and Setting The World On Fire, a Kenny Chesney collaboration. Plus, earlier this year, Pink guested on Stargate's Waterfall featuring Sia.
But now it's time to get her own house in order: she recently confirmed that her new single will be called What About Us, and it's out August 8.
Miley Cyrus
Rootsy pop is on the menu for Miley's new album, which is called Younger Now and is out on September 29. It's the follow-up to Miley Cyrus and Her Dead Petz, which was released as a free download following her 2015 VMAs hosting gig.
The first single Malibu went Top 20, and it looks like we can expect more in the vein of that "breezy love song" on the album, which very probably means Miley's finally hung up her deelyboppers and put her tongue away (sadly).
Of the new album Miley said: "This record is a reflection of the fact that yes, I don't give a f*ck, but right now is not a time to not give a f*ck about people. I'm ­giving the world a hug and saying, 'Hey, look. We're good — I love you.' And I hope you can say you love me back."
Miguel
After lending his more than able assistance to Dua Lipa's Lost in Your Light earlier this year, Miguel is now preparing for a full comeback. No word on a release date yet, but Miguel's said in an interview that it's going to be "purposeful".
He told Blag magazine: "Here's the thing, the music I'm creating, it doesn't all have a message, but you better believe that with the visuals that are coming, it's purposeful. I'm trying to find my way to address what I see as wrong or at least supplement what I feel we need."
Sean Paul
It doesn't really feel like his Duttyness has been away too long, thanks to his mega collab with Sia, Cheap Thrills, plus his cameo on Clean Bandit's Christmas Number 1 Rockabye, but it's been nearly five years since Sean Paul last scored a new entry on the Official Albums Chart.
There are plenty of new tracks out there – the Top 10 hit No Lie feat. Dua Lipa, Tek Weh Yuh Heart featuring Tory Lanez, and Body with Migos – so we already have a good indication of what's to come. It's just a case of it actually coming.
MORE: See all Sean Paul's UK hit singles and albums
Fergie
After it was confirmed by the band that she'd definitely moved on from the Black Eyed Peas, Fergie Ferg is finally coming back! On Instagram, Fergie apologised for the delay of her long-awaited second solo album. "I've got a kid and a husband and I just need to sleep and I just really cared about it." Fergie promises this record will be personal and will include reggae, pop, hip-hop and retro influences. But we have been waiting a while…
Thankfully, it looks there's light at the end of the tunnel. Following the singles MILF$ and Life Goes on, the Black Eyed Pea parted with her label Interscope, and will now release her next record with BMG. Oh, and the title? What else? In homage to Fergie's debut, it's Double Dutchess.
Wolf Alice
Wolf Alice's debut album My Love Is Cool was a breath of fresh air in 2015, and now the alt-rockers will go up against Shania Twain on September 29 when they release their sophomore effort Visions of a Life.
We've heard two songs from the album so far, the lead single Yuk Foo (we see what they did there), and Don't Delete The Kisses. Justin Meldal-Johnsen, who's worked with Beck, Air and Goldfrapp is on production duties, so there's no danger of a sophomore slump.
Tinashe
Tinashe's been quite the pop presence of late, notably on Snakehips' All My Friends, Britney's Slumber Party, and Tinie Tempah's Text From Your Ex, but her debut album Aquarius was released way back in 2014 – so we're long overdue a follow-up
Fans have had a taste of what's to come with recent mixtape Nightride, and full album Joyride should be on its way in 2017. According to Tinashe, the album "feels like an adventure, a journey, a ride. The album is inspiring, exciting, dangerous, adventurous, explosive!"
Camila Cabello
Fresh from waving off the rest of Fifth Harmony, Camila is expected to release her debut album, called The Hurting. The Healing. The Loving. in September.
The album's lead single, the Top 20 hit Crying In The Club, was co-written by hitmaker Sia, and trailed by a fiery performance on Britain's Got Talent. Other confirmed songs include I Have Questions, Havana featuring Young Thug, and OMG, a collab with someone who is appearing here, there and everywhere, Quavo.
Sky Ferreira
Coming four years after cult hit debut Night Time My Time, Sky's next album was announced a while back with a Playboy photoshoot which Sky herself directed. Since then, though, we've heard little.
Masochism promises to be a big progression for Sky. Speaking to Billboard, Sky said: "I think the album will be a little heavier. It's not going to be an electronic album completely – it's going to be a blend of everything."
While we patiently await her new LP, we've had nuggets of greatness to enjoy in the meantime. Sky appeared on a Primal Scream song, and new track Easy appears on the soundtrack to Baby Driver, which she also starred in.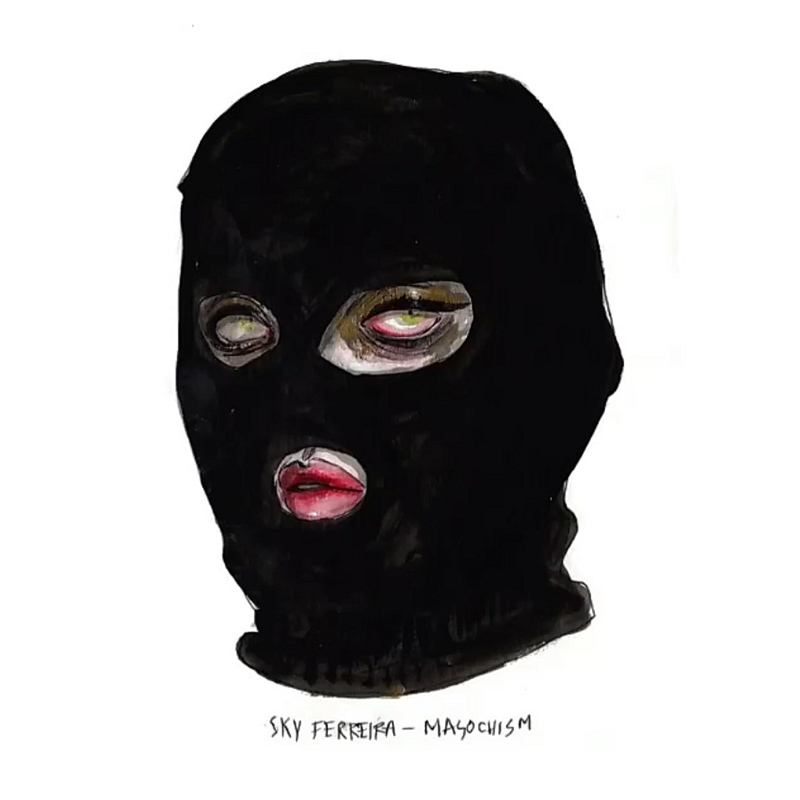 Kylie Minogue
She's spent the last couple of years making Christmas her own, but 2017 will see Kylie return to planet pop. 30 years after releasing her very first single in Australia, Kylie will release her 14th studio on BMG, after 16 years at Parlophone. The head of her new label said the vibe for the album is "a great, big, classic Kylie pop record".
So far, details of what's included yet, but DJ/producer/songwriter Sigala told us he's been working on a single for Kylie with The Invisible Men, and Kylie herself was pictured at their studio recently. Read the full interview here. 
Which upcoming albums are you excited for in 2017? Tell us in the comments box below: