Football and music aren't natural bedfellows, so when the two come together, the results usually land somewhere on the spectrum between bizarre and hilarious. 
Footie songs have been a staple of every major tournament for decades, and this year's World Cup is no exception - songs by Will Smith (!), Jason Derulo and J Balvin have been released to celebrate the competition. 
When it comes to the Official UK Chart, no year better represents the profusion of football anthems than this week in 1998, when a string of tracks in support of the World Cup in France had flooded the chart.
New at Number 1 20 years ago this week was 3 Lions '98, an updated version of their their chart-topper from two years previous. Written and recorded by David Baddiel, Frank Skinner and the Lightning Seeds, the song's lyrics had been re-worked to reflect the current England squad - although two players mentioned, Paul Ince and Paul Gascoigne, were controversially not selected in the end.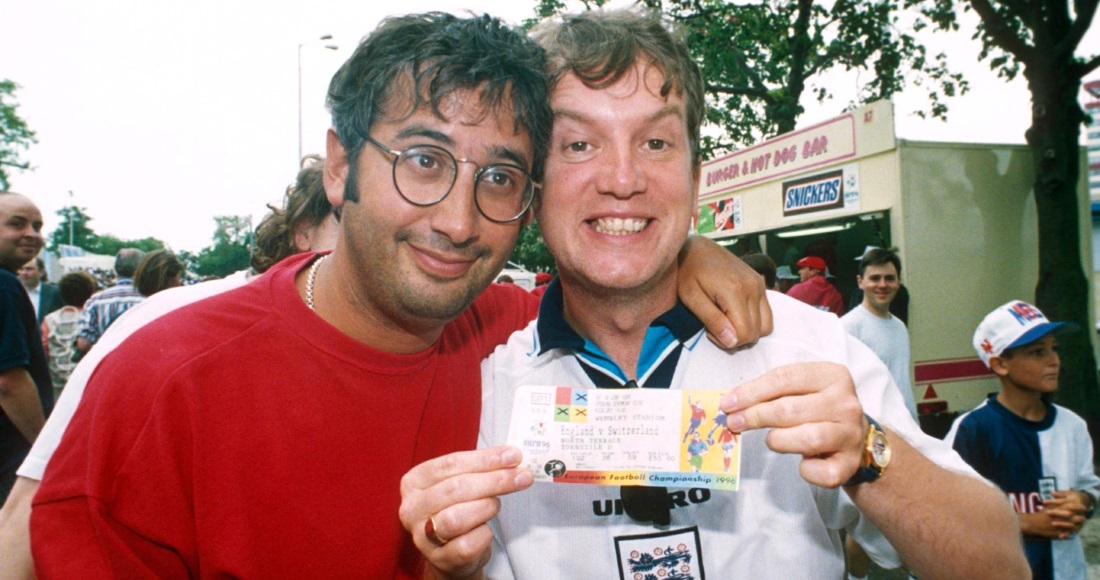 David Baddiel and Frank Skinner (Rex)
It might not have been England's official World Cup anthem (more on that later), but its wistful tone and lyrics about England's proud but difficult history with the game – "30 years of hurt", for instance - ensured it would be a massive success once again, shifting 232,000 copies in its opening week. In fact, it's the only football song to sell over one million in the UK - its total sales (excluding streams) stands at 1.6 million. 
3 Lions '98 denied fellow football anthem, Fat Les' Vindaloo, a shot at the top spot, spending three weeks at Number 2. The band, made up of Blur bassist Alex James, actor Keith Allen, and artist Damien Hirst, would have two more shots at chart glory before calling it a day in 2002. 
Three Lions 20 years on: "It was certainly trite and twee, but ingratiating too"
Elsewhere, Euro-friendly Carnavale De Paris by British house DJ Dario G entered at Number 5, while Scottish band Del Amitri were at 16 with Don't Come Home Too Soon, released to mark the Scots' qualification for the competition. Unsurprisingly, this hit the top spot on the Official Scottish Singles Chart. 
Further down, dropping to 19 from its Number 9 peak was that year's official England team song, recorded by England United - a supergroup made up of Echo and the Bunnymen, Ocean Colour Scene, Space and... Spice Girls. Struggling to remember it? It's not available to download or stream, we're guessing because it was pretty much panned upon release. It's also pretty much the last thing Geri did with the group before she left.
The final footie anthem in the Top 40 came from art-punk loudmouths Chumbawamba who, riding off the success of their Number 2 hit Tubthumping, put forward the chant-along Top Of The World (Ole, Ole, Ole), which peaked at a modest Number 21 - the band's final Top 40 hit.
While football songs dominated, the Official Singles Chart 20 years ago this week still featured a handful of notable new entries, including Five's summer jam Got The Feelin' at Number 3, Fatboy Slim's The Rockafeller Skank at 6 Des'ree's highest charting single Life at 8.
Listen to the UK Top 40 from this week in 2002 on our streaming channels! Subscribe to our weekly Flashback playlist on Spotify, Deezer, Apple Music.