Few independent artists have made as much impact on the international music scene in recent years as Australian singer-songwriter Courtney Barnett. 
Her first full album, 2015's Sometimes I Sit & Think, Sometimes I Just Sit, was released to huge acclaim, Melbourne-based Barnett finding herself claiming four awards at Australia's ARIAs (equivalent to the UK's BRITs), quickly followed up by nominations for the US Grammys and the UK's BRIT Awards. The album has now been certified gold in Australia and approaching silver certification in the UK, where it has generated more than 15m track streams. 
Her uniquely deadpan vocal delivery, and witty, lyrical story-telling singled her out as a new spokesperson for a young audience of insecure Millennials, facing up to the gender wars with wit, humour and (occasionally) frustrated aggression.
A selection of her song titles and lyrics illustrate just what an unusual voice this is - Nobody Really Cares If You Don't Go To The Party, An Illustration Of Loneliness, Pedestrian At Best, Crippling Self Debt & A General Lack Of Self Confidence right through to that debut album Sometimes I Just Sit & Think, Sometimes I Just Sit. 
Since that 2015 album, she has produced one of the best albums of 2017 - the Lotta Sea Lice collaboration with former War On Drugs member Kurt Vile, led by the glorious slacker anthem Over Everything - and just last month her superb new album Tell Me How You Really Feel, packed with new guitar pop classics such as Nameless, Faceless, City Looks Pretty and Charity. 
In an era dominated by urban sounds and beats driven dance-pop, 30-year-old Barnett is a refreshing reminder of the kind of guitar-pop which brought the likes of Lemonheads, Juliana Hatfield, Breeders, even Nirvana to the fore in the Nineties. 
OfficialCharts.com caught up with her in London, a month after Tell Me How You Really Feel took her into the UK Top 10 for the first time (straight in at Number 9) and following a week in which she headlined London's Roundhouse and joined a bill headed by Australian royalty Nick Cave (with Australian pop queen Kylie making a guest appearance) at Victoria Park's All Points East festival. 
The success of your debut album - 4 ARIAs, Grammy and BRIT nominations - must have changed things significantly for you.
It's a very privileged position to be in to talk about yourself and talk about your work. I guess it can be overwhelming sometimes. It's nice to be recognised for the work you do and artistically to have people connect with what you're talking about its incredible. Everything is good, you know.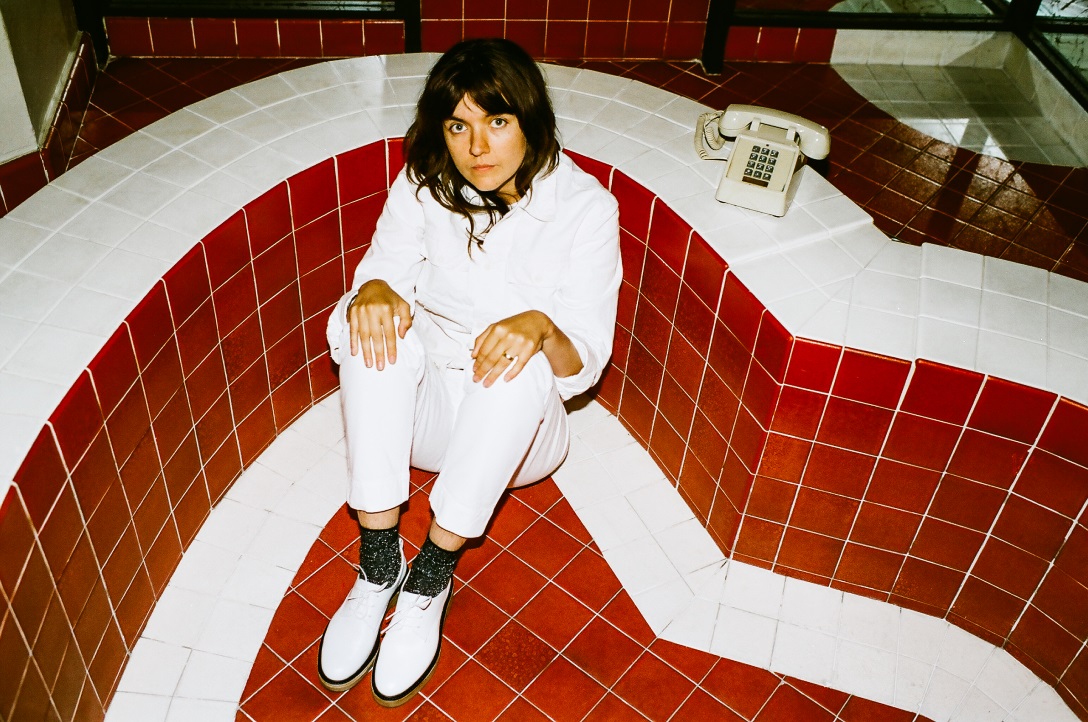 Image: Pooneh Ghana
Earlier this month you found yourself on stage with Australian royalty - Nick Cave and Kylie Minogue - that must have been quite a moment? 
I wanted to watch St Vincent, but I ran out of time. Right after my set I had to have a shower and I had to eat some dinner so I didn't pass out. So I missed St Vincent, which was a bummer and I watched Patti Smith and Nick and "our Kylie", as we call her in Australia.
Since making the last album you've been pretty busy, making Lotta Sea Lice with Kurt Vile and now your own new album. Both of them very different musically - how different is the process?
I think it's just having lots of different influences. I didn't really majorly set out to differentiate them or anything, it just kind of happened like that. Maybe it was what I was listening to at the time. I just try to make music I enjoy listening to so it's always a bit varied. 
There is a lot of variety in your music, even on individual albums too. On your new album, there are some upbeat, extremely melodic, guitar pop songs sitting alongside pretty heavy, grungey rock tracks. Does that just reflect your own musical tastes?
Yeah, I think so. I don't want to make an album of songs that are exactly the same, just as I wouldn't want to listen to that. And I think every song needs its own personality and the emotion behind the lyrics kind of guides the songs, the musicality of them. They are just so individual.
Lyrically, a lot of your songs talk to a generation of women and people's insecurities. It was also really noticeable how many young women there were at your Roundhouse show. Are you aware of that following?
Ah, that's so cool. It is important for sure. Looking around the audience and the front row, it was great. I think it's just that kind of visibility, women and girls have always gone to shows and always will, it's just about creating that safer environment and everybody knows that they're welcome, safe and looked after. 
Comparisons have been drawn between your songs and those of Bob Dylan, Jonathan Richman, The Breeders, and musically there is a link with melodic pop-guitar rock acts of the Nineties such as the Lemonheads, Juliana Hatfield and Breeders. Who are your inspirations? 
Somewhere amongst all that, but so much other stuff too, such a varied bunch of music and art and film, just everything. I mean I grew up with Nirvana. Stuff like the Lemonheads and Breeders I didn't discover until I was in my early twenties, but it has that thing of being kind of nostalgic before you even know it. It felt like I'd been kind of waiting waiting to discover it. 
But I listen to lots of music, like Sharon Jones - you know, stuff that has no real connection to my music. I've also been listening to a lot of Prince. You know, whatever moves you, it doesn't have to sit in a category of guitar, singer-songwriter, indie world.
You also must hear a lot of music because of your label, Milk Records. How do you balance the label and your professional music?
Well, Jen Cloher [Courtney's partner] runs the majority of the label, she really holds it afloat. I do other little bits and pieces here and there, but I can't take credit for a lot of that stuff. But also we don't operate as a typical label, we do it on our own terms. People send us demos and that's really great, but we're not out scouting and listening to everything. We only work with a handful of great Melbourne artists that we love. 
Does the fact that you've done all this on your own label mean the sense of achievement feels even greater?
It's an incredible sense of achievement - when you work so closely on something and know how much effort and stuff goes into it. But even then, I still have a big team of really great people who do so much amazing stuff. It's not like I do it myself, or our label does it all, it's just such a big team effort. 
But it still feels so good, it's different from having a bigger bigger bigger team, of people who you have never met. That would be crazy and I don't know if I could do it that way. People just trying to reach targets. Everyone that I work with is so emotionally invested and it means a lot for people. I think it's about finding what works, for you as an artist. I think I've found my sweet spot.
Article image: Pooneh Ghana