25 years ago this month, 24-year-old Sannie Carlson – that's Whigfield to you and me – ended Wet Wet Wet's incredible 15-week residency at Number 1 with Love Is All Around and, with europop classic Saturday Night, broke a new chart record too.
We spoke to Whigfield back in 2014 about her memories of being the dragon-slayer of pop and what she's been doing since.
Whighfield doesn't think about Saturday Night as much as the rest of us.
"I can't believe it!" she told us of the track's then 20th anniversary. "I don't think about it much – it's kind of weird. It's like somebody else's life. I don't feel the real age when you see yourself in the mirror – I don't feel any older than 26. I guess if I'd stopped everything and become a mum and stayed at home it would've been different, but when you live a fast life, the time seems to fly."
Saturday Night had been around since 1991 and nobody wanted to release it.
"Saturday Night was just part of a few demos that had been put down that year. We tried to release it in so many countries but nobody wanted to pick it up until this very very tiny record label in Valencia, Spain – these two guys they had a record store and they picked it up. One of the main DJs on one of the main radio stations in Spain, Los Cuarentas Principales (Spanish for ''Top 40', fact fans!) started playing it every Saturday night, and it just kind of went from there."

MORE: Whigfield's complete Official UK Chart history, including five Top 40 singles
The "dee dee na na" in the intro was a mistake
"People think it was meant on purpose, but it was actually a bad take. Larry, the producer, put it in the song because he thought it was catchy."
Whifield still remembers where she was when she found out Saturday Night had reached Number 1 in the UK.
"I was driving round going from one gig to another in Portugal and my manager called me up and said" "You're going to receive a phone call from the BBC in five minutes so pick it up! The next morning when I was flown into the UK and I got out of the plane, there were, like, ten photographers and that was weird. Even when Saturday Night had been a big hit in Spain I could easily walk around. The guy I was dating at the time was a Spanish DJ and was much more famous than I was, so if we were in a restaurant people would come up and ask for his autograph and wouldn't even look at me! So that was pretty funny."
She enjoyed knocking Wet Wet Wet off Number 1.
"I made them dry, dry, dry! I remember an interview they did after and they said "Oh actually we're happy she came along, we're tired of being Number 1" and I was like yeah, right whatever."
Saturday Night was Number 1 for four weeks before being knocked off by Take That's Sure.
"Oh, I thought 'good for them'. I remember I did Top Of The Pops and Take That were standing right in front of me on the stage and Robbie came over and said hi and we were hanging out in the rooms waiting before we went to go on – they were quite nice. In fact, I remember Jason Orange trying to hit on one of my dancers."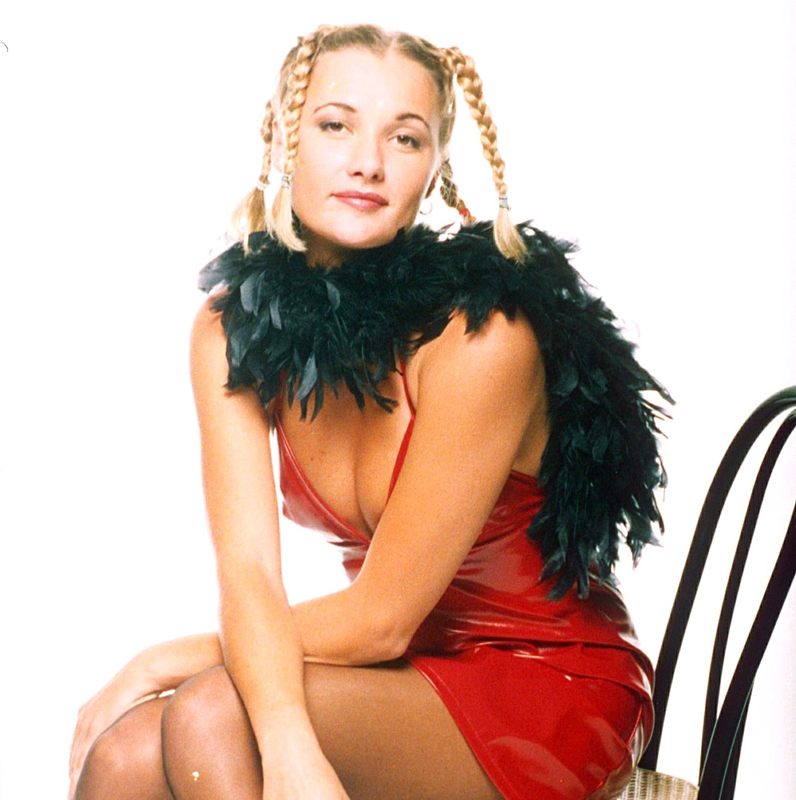 Shutterstock
Whigfield set a chart record as the first female solo artist to debut at the top of the Official Singles Chart.
"I went into the Guinness Book of Records. My grandmother used to cut bits out of newspapers and she couldn't believe it, she was so proud."
The Saturday Night dance wasn't her idea.
"We still don't know who was the first person to come up with it. We've been contacted by several people who claim it was them, but the story we think is true is that a gym instructor would do it on the beach in the summer and then tourists on the beach would just copy him and take it round the clubs – that's how it actually went around. I remember I did some promotion in this place north of Madrid and when I was doing the track saw everybody doing this thing and they all jumped at the same time… I hadn't even known about the dance until then."
She never actually did the dance herself.
"I still remember the dance, but I didn't do it. I thought it was kind of nice that it was just the people doing it. I did a photo session for a magazine and they made me do it. I remember the session because the guy who did my makeup not only had horrible breath, he did the worst makeup I have ever had slapped on my face. The whole thing was just so cheesy."
Saturday Night going on to sell over a million copies in the UK. Last week it was streamed 138,000 times.
"I guess it's still selling because it's a unique song, so different from anything else out there. Should I do a remix or re-release it? No, it's such a hard song to redo that I wouldn't do a remix, because it might end up worse and, I think I'd rather do a brand new hit."