The Official Christmas Number 1 is a British tradition, and the most important chart race of the year for music fans up and down the country. 
After 71 years, securing that Christmas Number 1 is still considered the ultimate accolade in pop, and the stuff entire careers are built around. 
Previous years have seen a wide variety of songs claim the festive crown; wintry ballads, huge charity singles, dance bangers and quirky novelty numbers that, let's be honest, could only hit the top spot at Christmas. 
The first ever Official Christmas Number 1 was won by Al Martino's Here In My Heart in 1952, while last year, the 70th anniversary Official Christmas Number 1 was secured by LadBaby, Ed Sheeran and Elton John's Sausage Rolls For Everyone.
This meant LadBaby broke a long-standing UK chart record, becoming the first act to ever achieve four consecutive Christmas Number 1 singles (joining We Built This City, I Love Sausage Rolls and Don't Stop Me Eatin'). And to make it even better, all the proceeds from the single went towards food bank charity the Trussell Trust.
Previously, both The Beatles and Spice Girls had held the record for the most consecutive Christmas Number 1s in UK chart history; The Beatles with I Want To Hold Your Hand (1963), I Feel Fine (1964) and Day Tripper/We Can Work It Out (1965) and Spice Girls with 2 Become 1 (1996), Too Much (1997) and Goodbye (1998).
LadBaby and The Beatles are now tied for the most Official Christmas Number 1s - with four each in total.
But will LadBaby return this year? With a fifth consecutive Christmas Number 1, Mark and Roxanne Hoyle would both extend their own record-breaking run and become the first act in UK chart history with five Official Christmas Number 1s.
Or will we perhaps see the crowning of a new artist with the most coveted Official Charts Number 1 of the year?
The 2022 Official Christmas Number 1 will be announced on Friday, December 23. The full Christmas Top 40 will be counted down on BBC Radio 1's Official Chart Show with Jack Saunders from 4pm.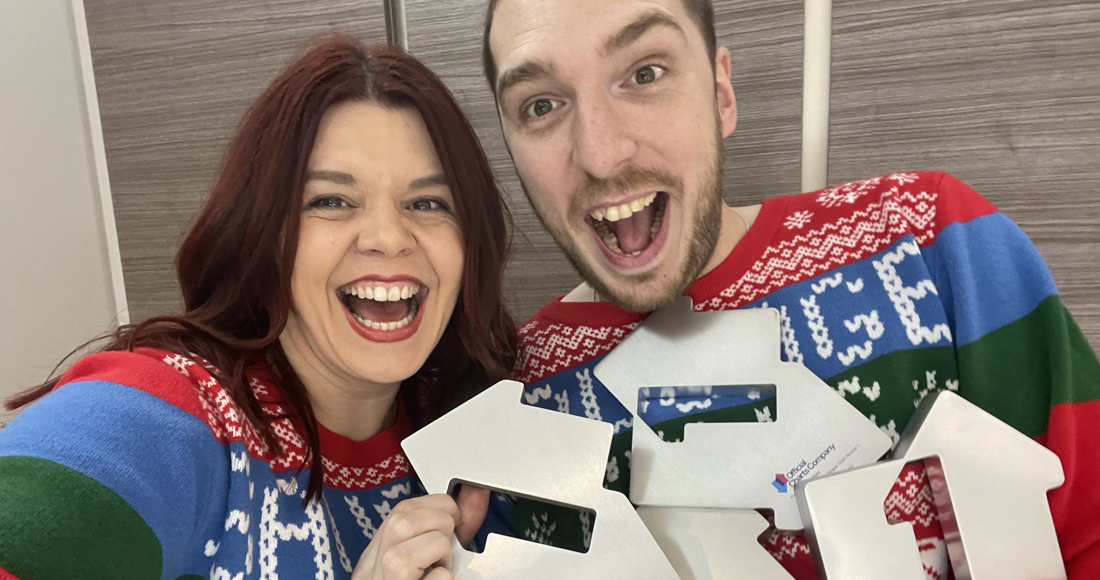 LadBaby with their record-breaking four Christmas Number 1 awards (Credit: Official Charts Company).
Make sure you're following Official Charts on Twitter, Instagram and Facebook for updates throughout the race. Join in the Christmas Number 1 conversation using #XmasNo1 and #OfficialChart.