Oasis vs. Blur, The Sex Pistols vs. Rod Stewart, Bob The Builder vs. Eminem… when two popular songs are battling for Number 1 on the Official Singles Chart in the same week, someone inevitably has to settle for second place. 
The story doesn't have to end there, though. Just because a single lost out on a big chart battle, it doesn't mean it hasn't been more popular in the long run. Below are songs that turned the tables on their chart rivals: they may have lost out on the Number 1, but they ended up shifting more overall.
Mariah Carey vs East 17
Now we're kicking things off with a biggie. Missing out on Christmas Number 1 in 1994 to East 17's Stay Another Day was a tough hand to be dealt for Mariah Carey's All I Want For Christmas Is You. To add insult to injury, she's been pipped to the post twice more, in 2017 and 2018. There's a saving grace for Mariah however.
In the near quarter of a century since Mimi blessed us with her festive bop, the song has amassed 712,000 more downloads than Stay Another Day, and has been streamed a whopping 76 million more times. Overall, All I Want For Christmas Is You's combined sales stand at 2.19 million compared to Stay Another Day's 1.10 million.
MORE: 2018's biggest streaming hits by year of release
Katy Perry vs Olly Murs and Alexandra Burke
It's two for the price of one for Katy Perry as her 2010 single Teenage Dream has turned the tables on the two singles that beat it to Number 1 during its two-week stint at Number 2.
Katy's summer smash was released the same week as Olly Murs' debut single Please Don't Let Me Go, with Olly's highly-anticipated track scoring sales of 93,239 to the 86,042 achieved by Katy. The following week, Alexandra Burke's Start Without You romped to Number 1 with sales of 73,306, keeping Katy at bay on 61,835.
Katy said in the song to "never look back" but she'll be glad we have. Teenage Dream is now BRIT Certified Platinum with 781,000 combined sales while Please Don't Let Me Go is on 487,000, with Start Without You managing 312,000.
MORE: The Top 40 biggest songs and albums of the decade by female artists
Taylor Swift vs Kelly Clarkson
Our lives really would suck without Kelly Clarkson having her only UK Number 1, although we imagine Taylor wasn't so pleased that Love Story missed out; she would have to wait another eight years to bag her first chart topper on the Official Singles Chart.
My Life Would Suck Without You charged to the top spot, with a lead of nearly 18,000 sales, although Taylor did score her first Top 10 hit in the process, so it's not all bad news. It gets even better for Taylor too. Since 2009, her Shakespeare-inspired single has been downloaded 712,000 times to Kelly's 400,000. Swifty sweeps up on streams too: Love Story's 56.3m swallows My Life's 18.3m.
MORE: Taylor Swift's Top 20 songs on the Official UK Chart
George Michael vs Gary Barlow
Gary Barlow's second Number 1 single Love Won't Wait raced out of the blocks in May 1997, claiming the top spot with 92,027 sales. George Michael debuted at Number 2 with Star People '97 on 83,937. As of May 2019, Star People has two million more streams and a lead of 2,000 downloads and is now a bigger hit overall.
Another silver lining stat for George was that Star People is one of six Top 3 singles on his album Older, one of only three albums in UK chart history to achieve this.
MORE: Artists with the most Number 1 singles on the UK chart
Corinne Bailey Rae vs Madonna
Corinne Bailey Rae's vinyl revival bop Put Your Records On was a new entry in at Number 2 in February 2006, 10,000 CD and download sales behind Madonna's Sorry. But fast forward 13 years and the tide has turned. Corinne's bridesmaid hit has now sold 70,701 more downloads while it's streaming figure of 40.5 million swamps the 3.4 million achieved to date by Madge's 12th chart topper. Overall, Put Your Records On is BRIT Certified Platinum with combined sales of 656,000.
MORE: Madonna at 60: 60 incredible chart facts
Justin Timberlake vs t.A.T.u.
All The Things She Said was definitely running through JT's head in 2003 as his second single Cry Me A River was stuck behind t.A.T.u.'s headline-grabber for two non-consecutive weeks. Justin will be crying tears of joy now (maybe) knowing that his breakup track now has 54.7m streams, 33 million more than the Russian duo's Number 1 hit in the UK. JT has a 104,000 lead on downloads, too.
MORE: The acts with the most Number 2 hits on the UK's Official Singles Chart
S Club 7 vs Sonique
S Club 7's Reach has been a staple of school leavers' assemblies over the years, an effect that has led to it just overtaking its chart rival of three weeks, It Feels So Good by Sonique. 
Sonique's club anthem debuted at Number 1 with over 70,000 sales more than S Club, keeping them firmly in the runner-up slot for three consecutive weeks. However, while Sonique still leads on CD sales and downloads, S Club's 10 million lead on streaming means Reach is now a bigger hit by 85 combined chart sales.
MORE: All the Official Singles Chart Number 1s
Maroon 5 vs Example, Pixie Lott, One Direction, Dappy and Sak Noel
Try saying that aloud three times at speed. Moves Like Jagger really does have a unique chart history. The song holds the record for the most weeks (7) at Number 2 without ever reaching the top spot, being held back by six different songs that debuted at Number 1 ahead of it: Example's Stay Awake, All About Tonight by Pixie Lott, One Direction's What Makes You Beautiful, No Regrets from Dappy, Sak Noel's Loca People and We Found Love by Rihanna & Calvin Harris.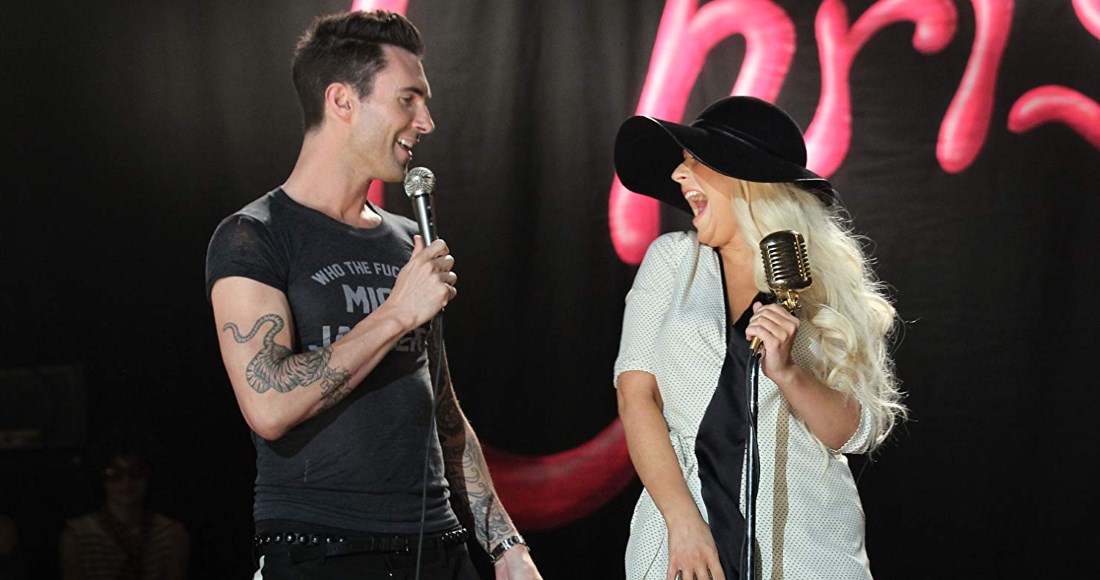 Impressively, the smash hit featuring Christina Aguilera has now sold more than all of them. Moves Like Jagger has paid-for sales of 1.54 million, over five times that of Example and Sak Noel and three times of Pixie and Dappy. Even more remarkable is that One Direction's debut single is also a million seller, yet falls short of Moves Like Jagger.
Moves Like Jagger also has more paid-for sales than We Found Love, but with 15 million extra streams to its name, the latter is still a bigger hit, just, leaving Maroon 5 trailing by 32,700 combined sales. Looks like there's one more table to turn.
MORE: The best-selling singles of all time on the Official UK Chart