Brought to you by DPMUSIC LTD
Singer-songwriter Kris James is at that exciting, teeth-gritting moment in the trajectory of a burgeoning music career when you're on the cusp of breaking through to the masses. "Wow! I really hope so," he tells us during a chat over the phone. "I still worry every day. There are lots of sleepless nights, but I believe in what I'm doing - and I know I'm a good songwriter." 
It's a crossroads Kris has found himself at before, as part of boyband The Scheme and a '50s-styled rockabilly group (more on that below). But this time, he says, things are different. Part of London's blossoming Tileyard studios community – Mark Ronson, Sigala and many more regularly record there – Kris launched himself as a solo artist this year with Eyes Open and is promptly following it up with Anymore, produced by Tom Walker and Patrick Wolf collaborator Tom Fuller. Soundwise, think OneRepublic-meets-Train with an '80s twist.
With Anymore out now and his debut album scheduled to follow next summer, here are the essential need-to-knows about Kris James.
Kris's new single Anymore is about getting away from, well, everything.
"I'm always writing songs, but because of the nature of the music business, there are so many other things you have to do – you have to play the game. If you're not seen, you're quite quickly forgotten. When my last single did quite well, the label said to me, 'You have to release your next single in 12 weeks'. I was like, 'Oh my goodness, I don't even have anything demoed!'. Putting it together quickly was a great experience though – I'm really pleased with how it's turned out.
"I like travelling, but I don't get much time to do it. Anymore is about escaping the rat race of life and getting yourself on holiday and spending a week with the person you love – or your best mate! It's uplifting, but believable.
"My favourite holiday? I love Thailand for the beaches and definitely New York for a city break. I also went to Shanghai recently and I loved it. It was manic. You can get the best clothes made for you out there for pennies."
His previous life in boybands has taught him a lot about the music industry.
"The first group I was in was a 50s-styled boy band. There was no songwriting involved. It was: here's the studio, there's the writer, there's the producer – record the song. We were like little puppets, but it was ten years ago, and I was very young – things were so different then. Now it's come full circle, people want music from artists who have had a hand in it. They want real music and for everything to be live. That's so much more what I'm about.
 "Looking back, I sort of knew I wouldn't have great success in the bands because I always wanted to break out on my own. They gave me confidence about the music industry and knowing how everything works."
The last three songs he listened to were…
"All I Am by Jess Glynne, No Stylist by French Montana and DJ Snake's Taki Taki. Realistically, I'm either in the gym – which these sorts of songs are great for - on in the studio, where we're just seeing what's going on in the music landscape. Personally, I love acts like Coldplay, The 1975 and this Australian artist called Betty Who. I'm also obsessed with classical music from movie soundtracks."
The first album he bought was a big one.
"It was Coldplay's Parachutes, and I played it to death! I remember my mum would blast The Carpenters and Gloria Estefan's albums when I was a kid, and I loved that. Coming from Liverpool, The Beatles were obviously a big part of my household, too."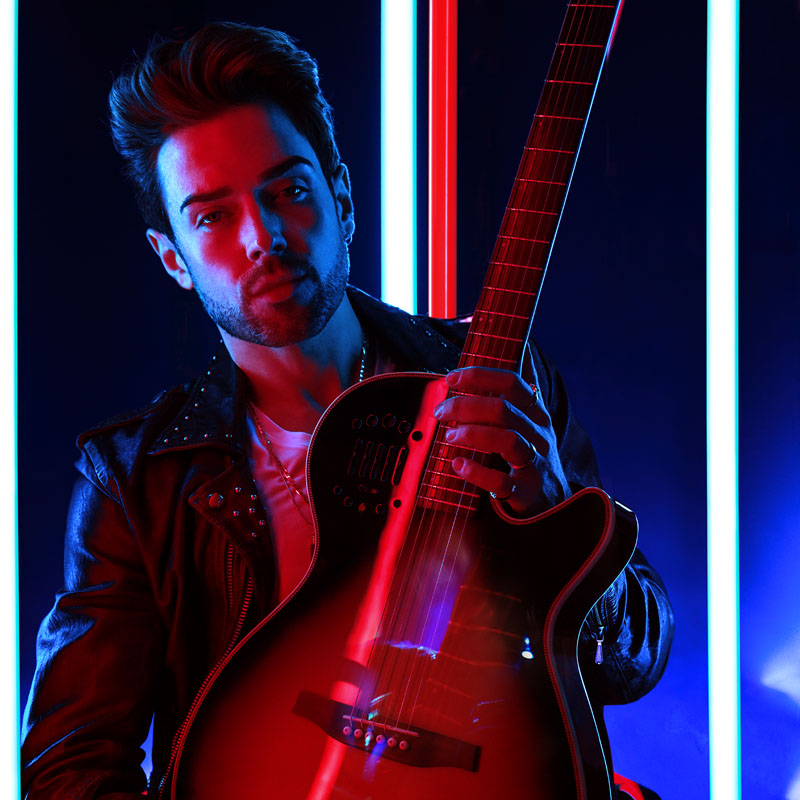 His karaoke song is a stone cold classic.
"I grew up around bars and pubs – there was always a karaoke machine nearby – and that really got me into singing. I've got quite a musical family as well. My karaoke song is so embarrassing though… it's Sweat (A La La Long) by Inner Circle. I know for a fact that when that song comes on anywhere in world I'll get up and sing it."
He's a *bit* particular about his food.
"It's true, I'm a weirdo about food. I'll only eat organic food. I know it sounds ridiculous. I used to be a chunky kid, and when I was realised I wanted to be in showbusiness I lost weight, so now I'm very fussy about what I eat and where it comes from. I never get invited to dinner! I'm thinking about turning vegetarian or vegan. The more I learn about the meat industry, the more I think how messed up the food chain is."
His debut album is ten years in the making.
"I'm still adding to the album now. Half of it has been written since The Scheme split up, and half of it is made up of songs I've written over the past ten years. Because it's been written over such a long time, we've gone in and re-written some of the tracks, so it's a brand-new body of work. I want the album to be called The Highs and Lows of Love and Life. All the songs are about getting through life – when you're happy, sad, in love, out of love. I want to write about things that people believe in.
"There's a couple of amazing power ballads with that electro sound. The album is going to have that '80s feel to it – lots of synths. I love that sound and I'm really keen for people to remix the songs. It's a ten-track record – but hopefully with a hidden song in there too! Every song is being treated like a potential single, so they're taking months to complete. That way, if it's the only album I ever make, at least I'll be happy for the rest of my life."
Kris James's new single Anymore is out now.