Brand new act The Shires are set to break new ground this Sunday, becoming the first British country group to score a Top 20 in the 59-year history of the UK's Official Albums Chart.
Comprising Crissie Rhodes and Ben Earle, The Shires have not even been together for two years – yet they are about to go where no British band has ever ventured, with their debut album Brave.
While a sprinkling of British acts have scored the odd hit single with a country tinge, including Lena Martell (whose One Day At A Time was a Number 1 single in 1979) and Jimmy Nail (who scored several hits in the early Nineties), never has a fully fledged country group achieved a Top 20 album.
It won't be the first barrier that Rhodes (from Bedfordshire) and Earle (from Hertfordshire) have broken down, having already become the first British act to sign to Decca Nashville last year.
As the duo continued their promotional tour of the UK this week, Ben took time out to talk to OfficialCharts.com about their potentially record-breaking week.
So, you may become the highest charting UK Country act the Official Albums Chart has ever seen this Sunday? How does that feel?
Yeah, it's great. Our aim always was to make country cool, try and change the image of it being about the rhinestones and the cowboys and all that stuff. We really wanted to do for country what Mumford & Sons did for folk. Before Mumford & Sons, folk wasn't cool. That was always our ambition.
But in terms of the reality of it, when we first met, we knew we wanted to do this, but whether we thought we could really do it, deep down? We still can't believe it. The midweek chart came out earlier this week and it said number 9 and we were just like, "What? This can't be right."  We don't really feel the pressure of it or the responsibility. It's just really nice to be opening up the door for country in the UK. Hopefully a lot of other acts will follow us.
Were you aware of how few British country acts there had been – that there had never been one in the Top 20 before?
When someone told us that we couldn't believe it. We knew country acts from the UK were rare, but that never had one been in the Top 20 is just a bit weird. It's why I find it such a strange that we're in this positon, to potentially, hopefully be the first.
What kind of acts have inspired you?
We both love Lady Antebellum, they have a song called Need You Now. That's a song that has been really important to me personally because it was the song that got me into country. In terms of what they do and the success we dream of having, Lady Antebellum are it for us. The songs they write and their harmonies, are absolutely beautiful.
Also a band that Crissie introduced me to when we first met, the Civil Wars, we're huge fans of them. There are so many acts – Brad Paisley we absolutely love as well. And obviously Dolly. [laughs] Seeing her at Glastonbury was another piece of the jigsaw. That really shows that it's a really exciting time for country. We're at the C2C festival at the O2 on Sunday, we'll be there when we find out the final chart position when we're there and we're going to be surrounded by all our fans, our friends in the industry, our fans and friends who are artists – it feels like a big country week at the moment.
And of course Taylor Swift has shown that it is possible to move from country into the mainstream and become one of the biggest artists in the world. Do you see yourselves as core country or see yourself crossing over?
We generally just try to make music that we love. We're obviously heavily influenced by Nashville and by country, but we know we're not from there. What country is for us is about the honesty and the story telling, those are the two things that really ring true for us.
I don't know what the future holds in terms of where we will go with our sound, but I think we'll always be country at our core because that's what we love about music. We always focus on the song and that honesty and whatever comes out, comes out. If our tastes start to change and we start listening to other stuff, then maybe.
Taylor Swift is really the artist over the last few years who has put the ball up for anyone to hit in terms of making country cool. I mean she has just made it so cool. She's an absolute star. We saw her on the Red tour at the O2 and she was just out of this world. So hats off to her, she's the one who should be held up there, because she's incredible. The new stuff as well. I know a lot of the purist country fans have gone, "Oh, she's gone pop," but it's great. I think it still has that country sensibility.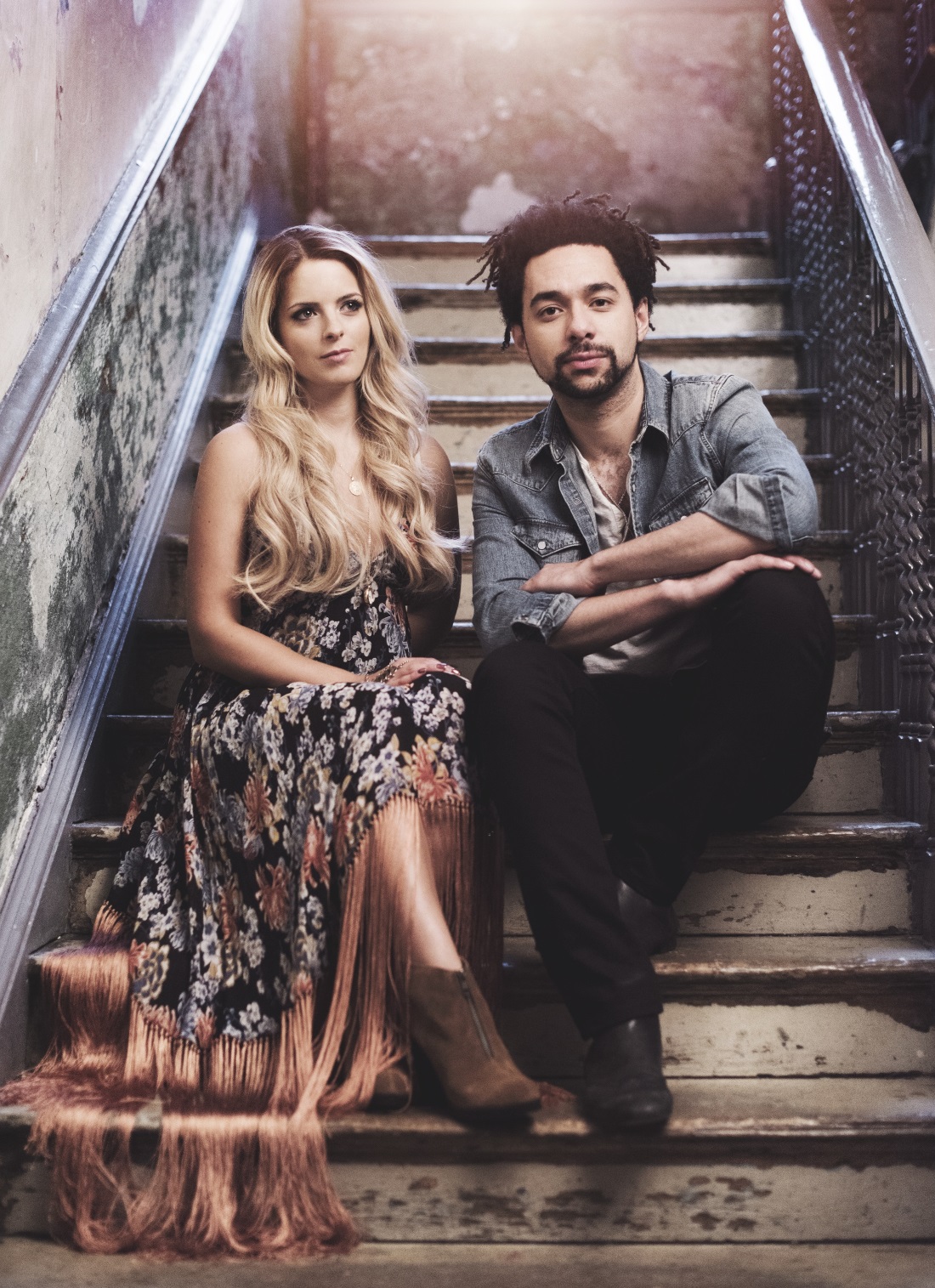 Can you tell us how The Shires came about?
Crissie had been into country her whole life - singing songs with her granny, by artists like Loretta Lynn, Dolly Parton, Patsy Cline. Mine was much more recent - about three years ago, I heard that song Need You Now and I just wrote a few country songs.
And I put out a Facebook post saying there must be a female country singer around here who wants to sing these songs with me. A mutual friend of ours tagged our status and we got together the next day, started singing the songs, started writing.
We did it the really old fashioned way – we did some demos, did a few gigs locally, met someone at a gig who knew someone, who became our manager. Then he said give me a year I'll try and get you a record deal - and we had a deal with Decca, four months after we met our manager.
So it has happened quite quickly…
Yes, it will be two years in May since we met. But for both of us it feels like a long time, because we've both been doing things individually before - I was doing my song-writing, struggling away at that and Chrissie was singing at weddings and functions, she was really busy with that. So we've been busy for quite a few years, it doesn't feel like an overnight thing.
But we had a bit of a checklist of things we would really love to do to do. One of them was to record an album in Nashville, one was to meet Bob Harris, one was to play a huge gig. And we've done all those things and more, in the last 20 months. It really has been a whirlwind in that respect.
You have recorded a version of Islands In The Stream, but you've generally steered clear of covers on your album. Writing your own material is very important, isn't it?
If you're going to make country music, you need to start with the songs. One thing we always focussed on was having great songs. We love writing. We do like doing the covers, putting our own spin on them, but there's nothing better than being able to say what you want to say in a song. And that's what Nashville is all about. It's all about the song. That's why we love it.
And you recorded your album in Nashville, how was that?
It was incredible. There was nothing quite like it. We had a band there, they listened to the original demos (some of them were fell demos and some of them were dictaphone ones) and then went in to play it all live. We did 15 songs in 3 days which was just incredible. Friday Night and Made In England, we did the vocals there, but the rest of the vocals we did in Sweden, because our producer is Swedish.
But there's nothing better than having a Nashville band playing on your album. For me, that was the most special moment of the whole process.
So what are your plans for the rest of 2015?
It keeps changing every day. We've got the tour, a few festivals in the summer – some of them I dreamed of playing as young kids. We'd love to be able to eventually go to the States and promote the album there. We had such a great response when we were out there writing and recording, it would be incredible just having our album out there.
Brave is out now.