Christmas music gets the party going, but some of the festive season's biggest hits don't mention so much as a snowflake, let alone a big jolly bloke in a red suit and some serious beard issues. 
A mere 12 Official Christmas Number 1s have been about the festive season, with the rest of them simply being the big songs that everybody loved at that time of year. In recognition of the fact that there's more to Christmas than jingle bells, we count down the best selling songs associated with the most wonderful time of the year, be they a Christmas Number 1 or a seasonal fave.
Here are some highlights before we list the full 20:
Do They Know It's Christmas?
Despite its rather sad overtones, our top seller has the honour of being both Christmas-themed AND a Christmas Number 1. Band Aid and their clanging chimes of doom might not feel the obvious festive favourite, but it's sold 3.8 million copies since its release in 1984, spawning three successful cover versions. It's the only Xmas hit to sell over 3 million units. Amazing.
MORE: Get your baubles in a twist with our Christmas quiz
Bohemian Rhapsody
Holding the great honour of scoring the Christmas Number 1 twice with the exact same version, Queen's masterpiece topped the Christmas chart in 1975 and 1991, following the death of lead singer Freddie Mercury. 2.53 million copies later, and it's one of the biggest selling songs of all time.
MORE: See all Queen's massive hit albums and singles
Mull of Kintyre
The '70s were a time when all kinds of records could get to Number 1, and 1977's Christmas Number 1 was the mega-selling Mull of Kintyre from Wings, led by none other than former Beatle Paul McCartney. With over two million copies sold, it's Macca's top selling single, more than any of his Beatles hits. What's the Christmas connection? Well, bagpipes and a Beatle – perfect for any grandparents as they trim the tree.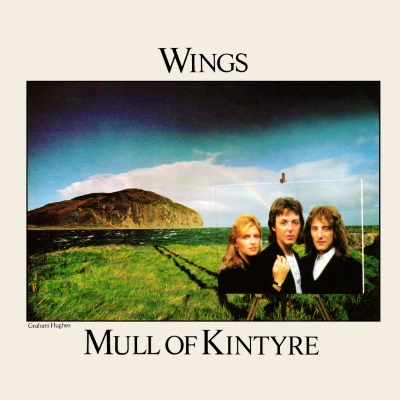 MORE: Take a look at Wings' UK chart history
Mary's Boy Child – Oh My Lord
In fourth place, a real Christmas smash packed with glitz, campery and an uplifting Christmas message, one of two times Mary's Boy Child hit Christmas Number 1. Boney M's disco-lite version from 1978 – see what we mean about the '70s – is the biggest, though, with 1.88 million sales. Harry's version is at 16, on 1.18 million.
MORE: See all Boney M's UK hit singles and albums – including two million-sellers
Last Christmas
Wham's classic was thwarted by Band Aid in 1984 in the Christmas Number 1 and holds the distinction of the biggest selling Number 2 single of all time, with 1.82 million sales. Rumours that sales are so high because people bought this song and then the very next day they gave it away are unfounded. (The whispered "Merry Christmas" is the ONE when it comes to iconic Christmas lyrics, isn't it?)
Christmas Day 2017 marks one year since George's untimely passing, and a campaign is in place to finally give Last Christmas its well-deserved #XmasNo1. Only time will tell to see if it happens.
MORE: All Wham's big ones are in their chart archive
I Will Always Love You
The biggest selling Christmas Number 1 from a female solo artist, Whitney's gorgeous version of Dolly Parton's ballad was taken from the movie The Bodyguard and topped the charts for an incredible 10 weeks. 1.64 million of you swayed to this one next to the Christmas tree, overcome with emotion – and perhaps brandy.
MORE: We will always love Whitney's hits – relive them all in her archive
Hallelujah
This relatively Christmassy Leonard Cohen cover from Alexandra Burke holds the distinction of being The X Factor's most successful winner's single of them all and ruled the festive rundown in 2008. The first X Factor single to be released on download right after the final, Hallelujah has sold 1.3 million copies and its nearest competition for Christmas Number 1 was another cover of the same song, this time by Jeff Buckley.
MORE: See all Alexandra's hits in her archive
All I Want For Christmas Is You
Were you worried she wouldn't be here? Don't worry, Mariah Christmas is never far away. Beaten to Christmas Number 1 by East 17's Stay Another Day, Mariah hit the million-sales mark in 2013, after returning to the Top 40 every year since 2007. Now *that* is a commitment to Christmas we can get behind! 1.17 have this one in your collection.
MORE: Look back over Mariah's UK hit singles and albums
2 Become 1
While the girls look pretty cold in the video, this isn't a Christmas-themed song as such, but thanks to topping the seasonal chart in 1996 at the height of Spice Mania, Spice Girls' 2 Become 1 is as traditional a Christmas favourite as roast turkey and arguing over the soft centres in Quality Street.
MORE: The Top 40 biggest songs of 2017 on the Official Chart
The Official Top 20 biggest selling Christmas songs
| | | | |
| --- | --- | --- | --- |
|   | TRACK | ARTIST | YEAR |
| 1 | DO THEY KNOW IT'S CHRISTMAS? | BAND AID | 1984 |
| 2 | BOHEMIAN RHAPSODY | QUEEN | 1975/1991 |
| 3 | MULL OF KINTYRE/GIRLS' SCHOOL | WINGS | 1977 |
| 4 | MARY'S BOY CHILD/OH MY LORD | BONEY M | 1978 |
| 5 | LAST CHRISTMAS/EVERYTHING SHE WANTS | WHAM! | 1984 |
| 6 | I WANT TO HOLD YOUR HAND | THE BEATLES | 1963 |
| 7 | I WILL ALWAYS LOVE YOU | WHITNEY HOUSTON | 1992 |
| 8 | DON'T YOU WANT ME? | HUMAN LEAGUE | 1981 |
| 9 | I FEEL FINE | THE BEATLES | 1964 |
| 10 | WE CAN WORK IT OUT/DAY TRIPPER | THE BEATLES | 1964 |
| 11 | HALLELUJAH | ALEXANDRA BURKE | 2008 |
| 12 | MERRY XMAS EVERYBODY | SLADE | 1973 |
| 13 | GREEN, GREEN GRASS OF HOME | TOM JONES | 1966 |
| 14 | FAIRYTALE OF NEW YORK | THE POGUES FT KIRSTY MACCOLL | 1987 |
| 15 | EARTH SONG | MICHAEL JACKSON | 1995 |
| 16 | MARY'S BOY CHILD | HARRY BELAFONTE | 1957 |
| 17 | DO THEY KNOW IT'S CHRISTMAS? | BAND AID 20 | 2004 |
| 18 | ALL I WANT FOR CHRISTMAS IS YOU | MARIAH CAREY | 1994 |
| 19 | ANOTHER BRICK IN THE WALL (PART 2) | PINK FLOYD | 1979 |
| 20 | 2 BECOME 1 | SPICE GIRLS | 1996 |
©2017 Official Charts Company. All rights reserved.
Take a look at every Christmas Number 1 ever in our gallery of amazing artwork: