Shania Twain's Come On Over album proved the old adage that slow and steady really can win the race. After debuting at Number 15 on the UK's Official Albums Chart in March 1998, the record finally took the Number 1 spot some 74 weeks later, this week in 1999.
The UK were slow to warm to Shania's sound - country music didn't have a big audience and a glance over the Top 40 at the time shows little else was comparable to its sound. By contrast, Shania was a superstar in the US. At the time, her 1995 album Woman In Me was America's best-selling country music album ever released. The album didn't chart in the UK until 2000, long after Come Over Over's release.  
Such was the UK's aversion to country music that Come On Over was remixed to give it more of a pop and world feel. All 16 songs on the exclamation-heavy tracklist remained, but new artwork was shot, and only one song was kept in its original form, the country fiddle of Rock This Country! proving too sublime to mess around with. As with the original album, Shania and her then husband Robert Lange solely worked on the revised version for an international audience.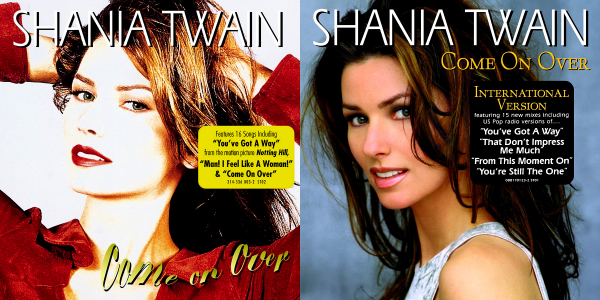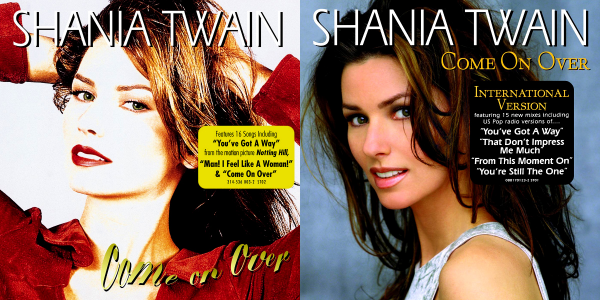 The original Come On Over artwork vs. the international version.
They certainly succeeded in their mission. The result of the new mixes sent sales of the album and its singles stratospheric. A reworked version of That Don't Impress Me Much peaked at Number 3, and Man! I Feel Like A Woman! managed the same. The album's final single Don't Be Stupid (You Know I Love You), pushed the album's country-meets-dance melding to the max, so much that the dance edit released as a single doesn't appear on the album - or even on streaming platforms today. Look at Shania's full Official UK Chart history here.
In total, Come On Over has racked up 3.4 million in pure sales (physical and downloads) in the UK, making it the country's 15th best-selling record ever. Its biggest sales week was the penultimate week of 1999, when it shifted 278,000 copies in seven days. Internationally, the collection has reportedly sold more than 40 million, including 20 million in the US.
Come On Over is still proving popular in the streaming era: since records began in 2014, Come On Over has notched up 84 million plays across all its tracks in the UK. The album's most popular song is Man! I Feel Like A Woman!, with 22 million plays. That won't be surprising news to most; its rallying "let's go girls!" intro is still frequently referenced today. Meanwhile, the most popular album track is the title track, which was released as the record's tenth single (of twelve!) in America.