Even if you weren't a huge Oasis fan, in the Nineties there was a good chance you knew at least one of their songs.
The lovable Mancunian rogues, with sparring brothers Liam and Noel Gallagher at their core, were everywhere. Their faces leered from magazines, songs blasted out from cars, university halls, boozers, and back bedrooms, and their rousing rock dominated the charts.
While debut album Definitely Maybe showed they were a force to be reckoned with, their true ascent to megastar status came with the release of their swaggering, anthemic follow-up, (What's The Story) Morning Glory?, reissued to vinyl this past week.
Upon release on 2 October 1995, (What's The Story) Morning Glory? sold 268,554 copies in its opening week, crashing straight in at Number 1, beating Janet Jackson's Design of a Decade to the top spot. Within ten weeks it had sold a million copies, and spent 35 straight weeks in the Official Albums Chart Top 5, with ten of those weeks at Number 1. See Oasis' full chart history here.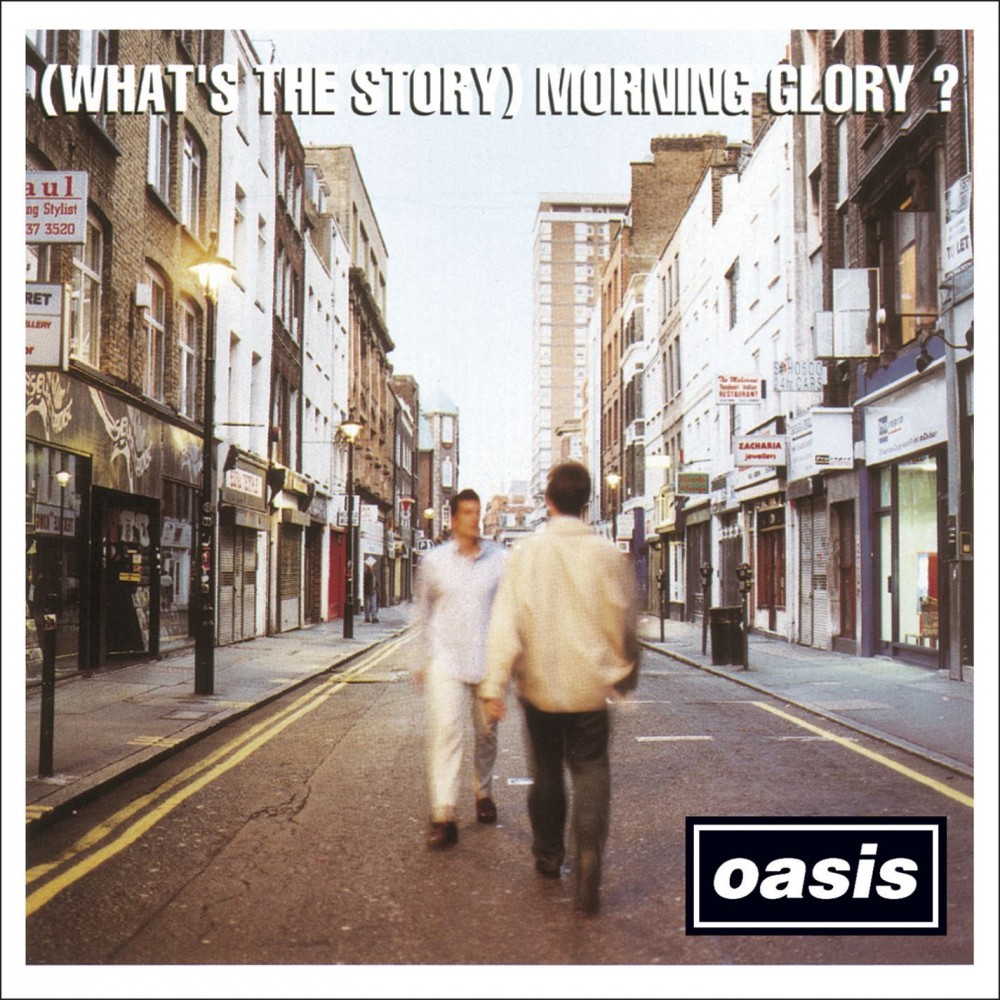 The artwork for the album was shot on Berwick Street in London's Soho, and, no, none of the guys on the cover (there are three, not two, if you look closely) are members of Oasis.
Four singles were released, starting with chart-topping Some Might Say in June, and followed by the very controversial Roll With It, beaten to the top by Blur's Country House in the famous battle of Britpop. The iconic Wonderwall came next, also stalling at 2, and the campaign ended with Don't Look Back in Anger in February 1996, with Noel Gallagher on lead vocals, topping out at Number 1.
Wonderwall is not only the album's top selling track, but it's the band's biggest song of all time. It's sold 1.41 million copies (physical sales and downloads) and is also (What's The Story) Morning Glory?'s most streamed track, clocking up  217 million listens on streaming services.
In second spot is Oasis' other million-seller, Don't Look Back in Anger, which had the highest first-week sales of any WTSMG single – 227,000. In total, it's shifted just over a million – hitting the milestone in 2017 – and has managed 157.5 million plays since 2014.
Third most downloaded and streamed (What's The Story) Morning Glory? track was never actually a single! The popularity of the album's closing song, the dreamy and epic Champagne Supernova, has certainly endured – it's logged 274,000 downloads and notched up 85.2 million streams. Another album track claims fourth most popular of the digital age: She's Electric sold 127,000 downloads and accrued 46.4m streams.
Roll With It has a pure sales tally of 550,000 – 163,000 in its first week alone – and 29.8m plays, while the album's lead chart-topper Some Might Say outpaces it on streams (31.8m) but has a sales total of 482,000.
By March 1996, after five months on sale, the (What's The Story) Morning Glory? album had passed the two-million mark, and just over a year later it hit three million copies sold. And it wasn't done there: it may have taken a while longer, but in June 2010, (What's The Story) Morning Glory? clocked up four million copies sold, becoming one of the biggest albums of all time. It's the third bestselling studio album of all time, behind the Beatles' Sgt Pepper and Adele's 21. (What's The Story) Morning Glory? has a current sales tally of 4.8 million.
Main image: James Morgan/Shutterstock