What is your favourite album of 2018? For some it's an easy question to answer, but for the rest of us, where to begin? One approach is to soak up the critics' rundowns of the year's best. 
More end-of-year music lists are incoming, but one thing is clear already: there isn't one obvious standout album from the pack. However, there are a handful of records featuring in most of the Top 10s. 
One is Idles' Joy as an Act of Resistance, the second set from the Bristol band that was a surprise hit when it was released in August - the collection peaked at Number 5 and was that week's bestselling album on vinyl. The album takes pole position on BBC 6 Music's EOY list and features in the Top 10 by Mojo, Q Magazine, NME, Rough Trade and PopMatters.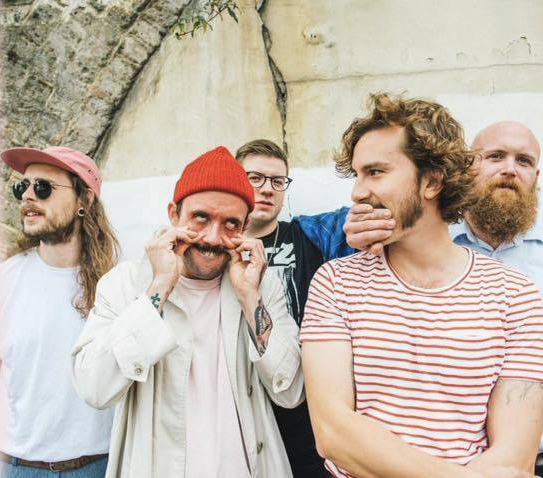 Another making several appearances is Kamasi Washington's Heaven and Earth, which places top of Mojo and Fopp's lists. The second album by the US jazz saxophonist was met with rave reviews back in June, where it entered at 13 on the Official Albums Chart. 
Billboard's pop-dominated list features Ariana Grande's Sweetener at the top, following by Cardi B's debut Invasion of Privacy and Kacey Musgraves' country-pop collection Golden Hour, while Independent has awarded its album of the year to Christine & The Queens' second collection Chris. 
Look over the Top 10 end-of-year album lists below, and click on the links to see their full rundown. 
1. The 1975 - A Brief Inquiry into Online Relationships
2. Arctic Monkeys - Tranquility Base Hotel & Casino
3. Idles - Joy as an Act of Resistance
4. Sunflower Bean - Twentytwo in Blue
5. Pusha T - Daytona
6. Shame - Songs of Praise
7. Kali Uchis - Isolation
8. Cardi B - Invasion of Privacy
9. Mitski - Be the Cowboy
10. Christine and the Queens - Chris
1. Idles - Joy as an Act of Resistance
2. Khruangbin - Con Todo El Mundo
3. Kamasi Washington - Heaven and Earth
4. Arctic Monkeys - Tranquility Base Hotel & Casino
5. Low - Double Negative
6. Gabe Gurnsey - Physical
7. Beak> - >>>
8. Sons of Kemet - Your Queen is a Reptile
9. The Orielles - Silver Dollar Moment
10. She Drew The Gun - Revolution of the Mind
1. Cardi B - Invasion of Privacy
2. Kacey Musgraves - Golden Hour
3. Camila Cabello - Camila
4. Pistol Annies - Interstate Gospel
5. Ariana Grande - Sweetener
6. Travis Scott - ASTROWORLD
7. Pusha T - Daytona
8. Lady Gaga & Bradley Cooper - A Star Is Born
9. Kurt Vile - Bottle It In
10. Drake - Scorpion
1. Ariana Grande - Sweetener
2. Cardi B - Invasion of Privacy
3. Kacey Musgraves - Golden Hour
4. Pusha T - Daytona
5. Janelle Monáe - Dirty Computer
6. Various Artists - Black Panther soundtrack
7. Travis Scott - ASTROWORLD
8. Camila Cabello - Camila
9. J Balvin - Vibras
10. The Carters - Everything Is Love
1. Arctic Monkeys - Tranquility Base Hotel & Casino
2. Let's Eat Grandma - I'm All Ears
3. The 1975 - A Brief Inquiry Into Online Relationships
4. Robyn - Honey
5. Parquet Courts - Wide Awake!
6. Christine and the Queens - Chris
7. Idles - Joy as an Act of Resistance
8. Janelle Monáe - Dirty Computer
9. Paul Weller - True Meanings
10. Anna Calvi - Hunter
1. Kamasi Washington - Heaven & Earth 
2. Idles - Joy As An Act of Resistance
3. Low - Double Negative
4. Courtney Barnett - Tell me How You Really Feel
5. Young Fathers - Cocoa Sugar
6. Christine & The Queens - Chris 
7. Janelle Monae - Dirty Computer
8. First Aid Kit - Ruins 
9. Jon Hopkins - Singularity 
10. Nils Frahm - All Melody
1. Kamasi Washington - Heaven & Earth 
2. Arctic Monkeys - Tranquility Base Hotel & Casino
3. Rolling Blackouts Coastal Fever - Hope Downs 
4. Janelle Monae - Dirty Computer
5. Christine & The Queens - Chris 
6. Idles - Joy As An Act of Resistance
7. Ryley Walker - Deafman Glance
8. Courtney Barnett - Tell Me How You Really Feel
9. Spiritualized - And Nothing Hurt
10. The Breeders - All Nerve
1. Christine & The Queens - Chris 
2. Arctic Monkeys - Tranquility Base Hotel & Casino
3. Janelle Monae - Dirty Computer
4. Kacey Musgraves - Golden Hour
5. Various Artists - Black Panther soundtrack
6. Colter Wall - Song Of The Plains
7. Mac Miller - Swimming 
8. Tamino - Amir
9. Gaika - Basic Volume
10. Shame - Songs Of Praise 

1. Mitski - Be the Cowboy
2. Kacey Musgraves - Golden Hour
3. DJ Koze - Knock Knock
4. Robyn - Honey
5. Snail Mail - Lush
6. Rosalía - El Mal Querer
7. Earl Sweatshirt - Some Rap Songs
8. Low - Double Negative
9. Tierra Whack - Whack World
10. Yves Tumor - Safe in the Hands of Love
1. Low - Double Negative
2. Rolling Blackouts Coastal Fever - Hope Downs
3. Ty Segall - Freedom's Goblin
4. Spiritualized - And Nothing Hurt
5. Yo La Tengo - There's a Riot Going On
6. Janelle Monáe - Dirty Computer
7. Gruff Rhys - Babelsberg
8. Beak> - >>>
9. Christine and the Queens - Chris
10. Sons of Kemet - Your Queen is a Reptile
1. Shame - Songs of Praise
2. Everything Is Recorded - Everything Is Recorded by Richard Russell
3. Idles - Joy as an Act of Resistance
4. Khruangbin - Con Todo El Mundo
5. Rolling Blackouts Coastal Fever - Hope Downs
6. Daniel Blumberg - Minus
7. Goat Girl - Goat Girl
8. Mark Peters - Innerland
9. Courtney Barnett - Tell Me How You Really Feel
10. Oh Sees - Smote Reverser
1. Janelle Monáe - Dirty Computer
2. Kacey Musgraves - Golden Hour
3. Phonte - No News Is Good News
4. Mitski - Be the Cowboy
5. KT Tunstall - WAX
6. Courtney Barnett - Tell Me How You Really Feel
7. Father John Misty - God's Favorite Customer
8. Tracey Thorn - Record
9. Fantastic Negrito - Please Don't Be Dead
10. Soccer Mommy - Clean

Radio X
1. The 1975 - A Brief Inquiry into Online Relationships
2. Arctic Monkeys - Tranquility Base Hotel + Casino
3. Richard Ashcroft - Natural Rebel
4. Biffy Clyro - MTV Unplugged (Live At London Roundhouse)
5. Blossoms - Cool Like You
6. CHVRCHES - Love Is Dead
7. The Coral - Move Through The Dawn
8. Courteeners - St Jude - Re:Wired
9. Editors - Violence
10. Florence And The Machine - High As Hope
1. Young Fathers - Cocoa Sugar
2. Kacey Musgraves - Golden Hour
3. Idles - Joy as an Act of Resistance
4. Janelle Monáe - Dirty Computer
5. serpentwithfeet - soil
6. George FitzGerald - All That Must Be
7. Deafheaven - Ordinary Corrupt Human Love
8. Lotic - Power
9. Noname - Room 25
10. Maribou State - Kingdoms In Colour

Stereogum
1. Kacey Musgraves - Golden Hour
2. Snail Mail - Lush
3. Ariana Grande - Sweetener
4. Cardi B - Invasion of Privacy
5. Beach House - 7
6. Flasher - Constant Image
7. Soccer Mommy - Clean
8. Low - Double Negative
9. Father John Misty - God's Favorite Customer
10. Mitski - Be the Cowboy