The Beatles' 1968 self-titled album is being reissued to commemorate its 50th anniversary.
Often nicknamed The White Album, The Fab Four's ninth UK studio album was originally released on 22 November 1968. Now 50 years on, the first Beatles record to feature all four members on lead vocals is being expanded with previously unreleased demos and session recordings on November 9.
The White Album's reissue has been newly mixed by Giles Martin - the son of The Beatles' original producer George Martin - in stereo and 5.1 surround audio, and will released on digital, CD and vinyl across Super Deluxe, Deluxe and Standard variants.
MORE: Artists with the most Number 1 singles on the UK chart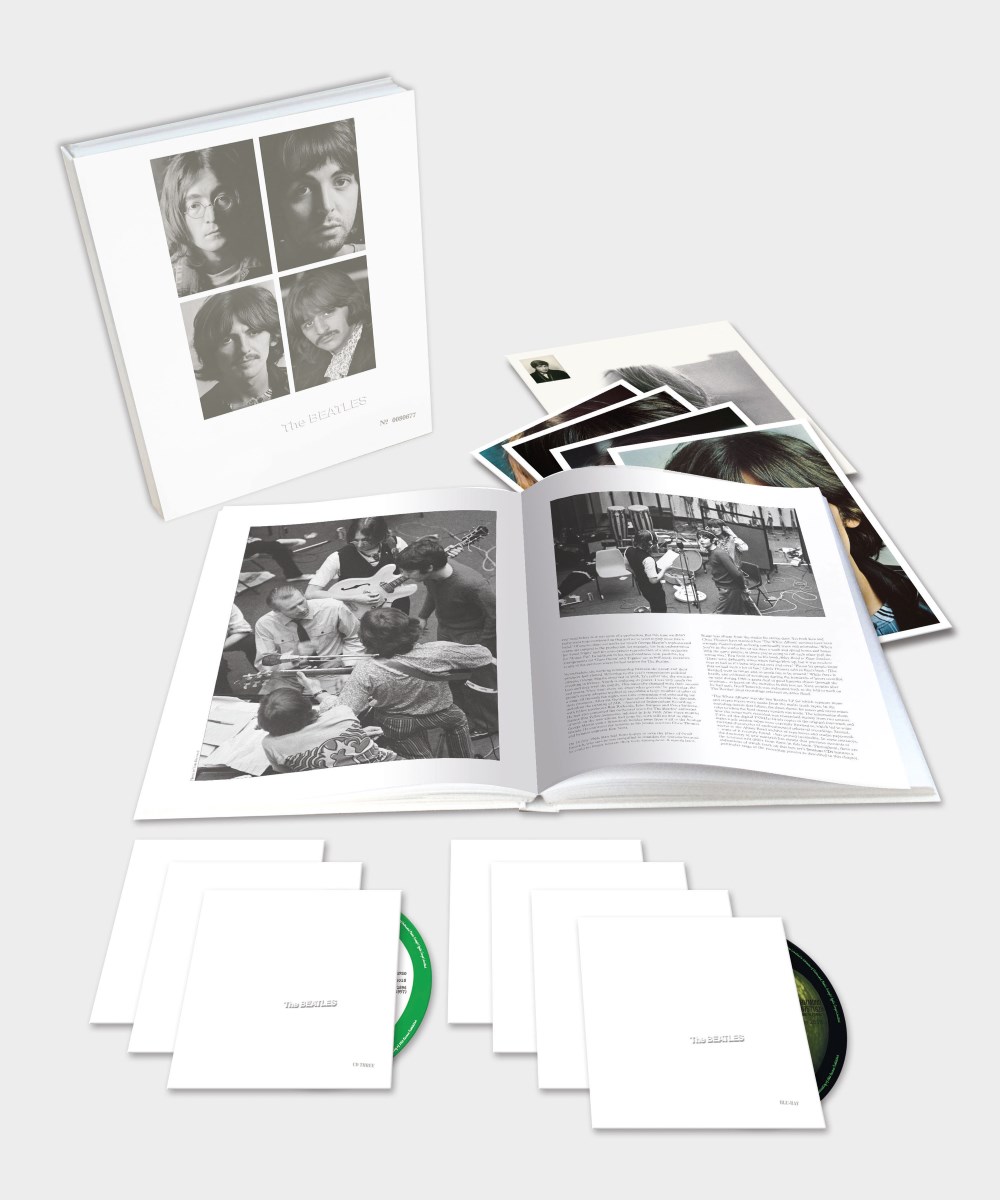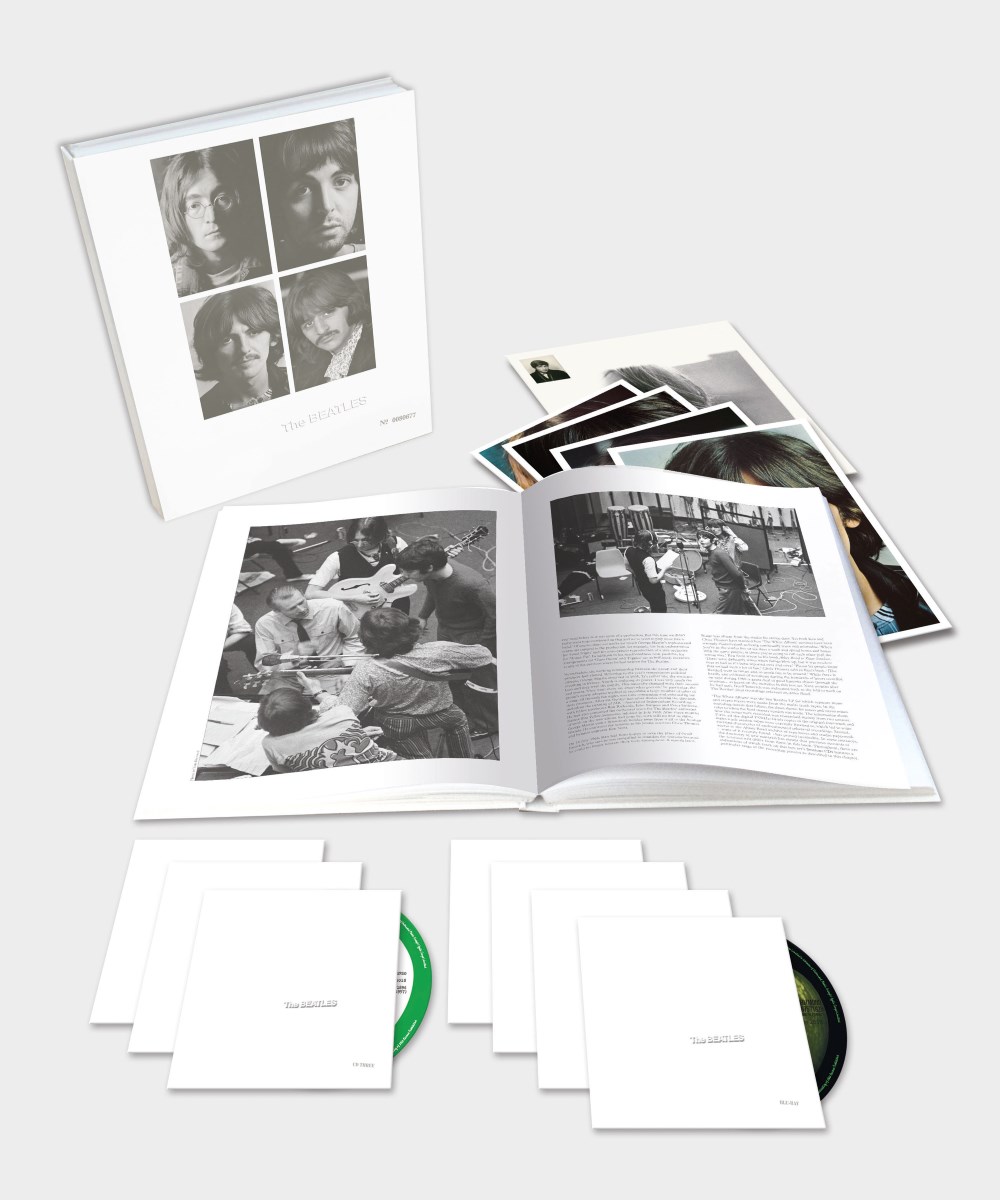 "In remixing 'The White Album', we've tried to bring you as close as possible to The Beatles in the studio," explained Giles Martin in the written introduction for the new edition. "We've peeled back the layers of the 'Glass Onion' with the hope of immersing old and new listeners into one of the most diverse and inspiring albums ever made."
The Beatles ninth UK Number 1 album and the Christmas Number 1 LP of 1968, the remastered edition features a whopping 27 acoustic demos and 50 session takes.
The White Album's anniversary edition comes just over a year since Sgt. Pepper's Lonely Hearts Club Band returned to Number 1 on its golden anniversary. The third best-selling album of all-time, Sgt. Pepper's broke the record for the longest span between an album first reaching Number 1 in June 1967 and returning to the summit in June 2017.
MORE: The Official Top 50 biggest selling Beatles singles revealed
The super deluxe tracklist to The Beatles' The Beatles is as follows:
CD 1: The BEATLES ('White Album') 2018 Stereo Mix
Back in the U.S.S.R.
Dear Prudence
Glass Onion
Ob-La-Di, Ob-La-Da
Wild Honey Pie
The Continuing Story of Bungalow Bill
While My Guitar Gently Weeps
Happiness is a Warm Gun
Martha My Dear
I'm so tired
Blackbird
Piggies
Rocky Raccoon
Don't Pass Me By
Why don't we do it in the road?
I Will
Julia
CD 2: The BEATLES ('White Album') 2018 Stereo Mix
Birthday
Yer Blues
Mother Nature's Son
Everybody's Got Something to Hide
Except Me and My Monkey
Sexy Sadie
Helter Skelter
Long, Long, Long
Revolution I
Honey Pie
Savoy Truffle
Cry Baby Cry
Revolution 9
Good Night
CD 3: Esher Demos
Back in the U.S.S.R.
Dear Prudence
Glass Onion
Ob-La-Di, Ob-La-Da
The Continuing Story of Bungalow Bill
While My Guitar Gently Weeps
Happiness is a Warm Gun
I'm so tired
Blackbird
Piggies
Rocky Raccoon
Julia
Yer Blues
Mother Nature's Son
Everybody's Got Something to Hide
Except Me and My Monkey
Sexy Sadie
Revolution
Honey Pie
Cry Baby Cry
Sour Milk Sea
Junk
Child of Nature
Circles
Mean Mr. Mustard
Polythene Pam
Not Guilty
What's the New Mary Jane
CD 4: Sessions
Revolution I (Take 18)
A Beginning (Take 4) / Don't Pass Me By (Take 7)
Blackbird (Take 28)
Everybody's Got Something to Hide
Except Me and My Monkey (Unnumbered rehearsal)
Good Night (Unnumbered rehearsal)
Good Night (Take 10 with a guitar part from Take 5)
Good Night (Take 22)
Ob-La-Di, Ob-La-Da (Take 3)
Revolution (Unnumbered rehearsal)
Revolution (Take 14 – Instrumental backing track)
Cry Baby Cry (Unnumbered rehearsal)
Helter Skelter (First version – Take 2)
CD 5: Sessions
Sexy Sadie (Take 3)
While My Guitar Gently Weeps (Acoustic version – Take 2)
Hey Jude (Take 1)
St. Louis Blues (Studio jam)
Not Guilty (Take 102)
Mother Nature's Son (Take 15)
Yer Blues (Take 5 with guide vocal)
What's the New Mary Jane (Take 1)
Rocky Raccoon (Take 8)
Back in the U.S.S.R. (Take 5 – Instrumental backing track)
Dear Prudence (Vocal, guitar & drums)
Let It Be (Unnumbered rehearsal)
While My Guitar Gently Weeps (Third version – Take 27)
(You're so Square) Baby, I Don't Care (Studio jam)
Helter Skelter (Second version – Take 17)
Glass Onion (Take 10)
CD 6: Sessions
I Will (Take 13)
Blue Moon (Studio jam)
I Will (Take 29)
Step Inside Love (Studio jam)
Los Paranoias (Studio jam)
Can You Take Me Back? (Take 1)
Birthday (Take 2 – Instrumental backing track)
Piggies (Take 12 – Instrumental backing track)
Happiness is a Warm Gun (Take 19)
Honey Pie (Instrumental backing track)
Savoy Truffle (Instrumental backing track)
Martha My Dear (Without brass and strings)
Long, Long, Long (Take 44)
I'm so tired (Take 7)
I'm so tired (Take 14)
The Continuing Story of Bungalow Bill (Take 2)
Why don't we do it in the road? (Take 5)
Julia (Two rehearsals)
The Inner Light (Take 6 – Instrumental backing track)
Lady Madonna (Take 2 – Piano and drums)
Lady Madonna (Backing vocals from take 3)
Across the Universe (Take 6)