After being in the game for over 25 years, everyone's favourite manband Take That have been through a lot, surviving departures, splits, reunions and, of course, plenty of hits.
The boys have scored 12 Number 1 singles and 7 Number 1 albums – we look back at a career packed with baby oil, Lulu, BRIT Awards and Official Chart records...
Their big debut – covered in jelly
It wasn't always plain sailing for the lads. Take That's first single Do What U Like failed to chart in 1991, despite an eye-popping video which saw the boys strip and smother each other in jelly. Warning: contains extreme scenes of mopping jelly from bare bottoms:
Their first Top 10 
The band's determination paid off with It Only Takes A Minute, their spin on Tavares' 1975 single. Looking moody in a boxing gym and pulling off some serious shapes was enough to give them a Number 7 hit.
Covers have always been a winner for the boys – Could It Be Magic hit Number 3, while Relight My Fire and How Deep Is Your Love were both Number 1s.
MORE: Look back at the week Take That's It Only Takes A Minute peaked at Number 7
The big breakthrough 
They'd tasted success, but it was second album Everything Changes that really did change everything – and the band took off in a big way.
Nominated for the Mercury Prize, Everything Changes spawned six Top 3 singles. The only other album to match that feat is George Michael's Older. 
High-budget gloss, tight production and an ever increasing legion of fans meant Pray was the band's first Number 1. They kind of put our Instagram holiday snaps in the shade tbh – and they didn't even need filters.
MORE: The albums that spawned the most Top 10 singles
Their first world tour and global success
After three successful tours and widespread fame across Europe, Take That finally went global in 1995, embarking on their first world tour to support third album Nobody Else, backed by huge worldwide smash Back For Good.
MORE: The UK's biggest selling love ballads, including Take That's Back for Good
What. A. Song. Back For Good sold a whopping 254,000 copies in its first seven days and became their only US Top 10, topping the charts in Australia, Canada, Denmark, Germany and Ireland. The song secured Top 10 status in tens of other countries including France, Japan, the Netherlands and Zimbabwe. Global domination was in full swing, that was until...
Robbie's departure
In June 1995, after a few controversial incidents, including being papped partying at Glastonbury with Liam Gallagher, Robbie Williams was told to behave himself or leave the band – and he chose freedom. Life goes on, though, and so did Take That, who ploughed on with the tour, scoring another Number 1 with Never Forget (which Robbie actually still appears on, just to confuse things even further).
Split
Valentine's Day 1996 is not one most Take That fans will remember with much affection. Eight months after Robbie quit, the band called it a day, announcing a cover of Bee Gees' How Deep Is Your Love as their farewell single, giving them their first chart-topper as a quartet. Spoiler: it wouldn't be their last.
MORE: Which is Take That's best studio album? Vote!
Reunion
In 2005, ITV documentary For The Record featured all five members – with Robbie filmed separately – reminiscing about their career and proved there was still a huge appetite for the band. While Robbie declined to hook back up with his bandmates, the remaining four announced the Ultimate Tour, which was an almost immediate sell-out, ended up running to 32 dates, and saw the guys perform all their greatest hits to legions of adoring fans.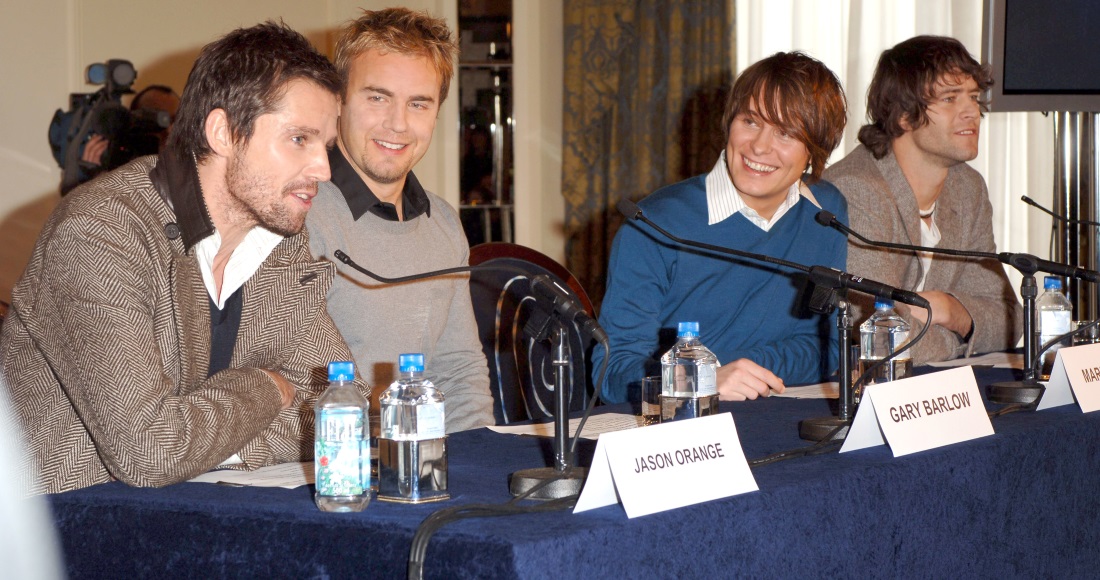 The return to pop dominance
The nostalgic trip down memory lane was going great, but fans wanted more, and the band were only too happy to oblige, with their first material in a decade. 
Take That's Beautiful World era was a resounding success; comeback single Patience was a four-week chart topper and Shine also sent put the band's Number 1 haul into double figures.
At the 2007 BRIT Awards, they picked up Best British Single for Patience and scored Best Live Act and Best British Single for Shine at the following year's ceremony. Shine also nabbed the band an Ivor Novello Award in 2008. That mantelpiece must have been getting pretty crowded…
MORE: Flashback to Take That's biggest selling album Beautiful World
That huge streak of TWENTY Top 20 singles
Believe it or not, Take That managed a superb streak of twenty Top 20 singles in a row from June 1992 to March 2009, starting with It Only Takes A Minute and ending with Up All Night. By the way, million-selling Rule The World may not have been a  Number 1, but it is the biggest selling boyband single of the century so far. 
MORE: The biggest selling boyband hits of the century so far
Robbie returns
After 15 years of bad blood, Gary Barlow and Robbie Williams made nice, recording hit duet Shame and, even more amazingly, Robbie came back to the band – for one album only.
Take That's Progress album was only the second ever to shift over 500,000 copies in a single week and is now the fourth fastest-selling album of all time. It's one of the UK's biggest selling albums ever.
A revived lineup also scored BRIT Award for Best British Group, and the fastest-selling tour EVER, when 1.34 million tickets sold out within 24 hours. As a result, Take That now hold the record for the longest residency at Wembley Arena in history, with eight shows under their belt.
MORE: The UK's 60 biggest selling albums of all-time
Four become three
Take That fans are pretty resilient, and they've had to be – another shock came in 2014. Jason Orange decided he was moving on, and the band became a three-piece for the first time. First release as a trio, These Days, went straight in at Number 1. This means Take That are the only band in UK history to have Number 1 singles as a quintet, quartet and trio. And who said three's a crowd?!
MORE: Take That's Official Top 40 biggest selling singles
Let It Shine
When you're as big as Take That, the next step is surely a musical based on your back catalogue, right? Take That thought so too, and along with Tim Firth, came up with The Band, whose stars were to be selected on BBC One's Let It Shine, a new TV talent show hosted by Graham Norton and Mel Giedroyc.
Winners AJ, Curtis, Nick, Sario and Yazdan will now be singing Take That's biggest hits when the musical tours the UK later in the year.
MORE: Look back at Take That's full UK chart history featuring 28 Top 40 hits
Want more Take That? Look back at all of the band's UK single and album artworks in our gallery below.