It was the best of times, it was the worst of times. 2005 brought us great joy and terrible sadness.
10 years ago this week, Sugababes' Push The Button was sitting pretty at the top of the Official Singles Chart. It was the track's second week at Number 1, and quite a controversial one, as it blocked Robbie Williams' Tripping from the top spot.
It was to be the band's final chart-topper with the effortlessly cool and laidback Mutya Buena. Only two months later, just before Christmas, Mutya announced she was offski, leaving Heidi and Keisha as a duo for all of 10 seconds before they recruited a new member, Amelle Berrabah. 
Skip forward exactly two years to 2007 and we find Sugababes at the top yet again – this time with About You Now, their first and only Number 1 in their third incarnation.
So to celebrate these milestones, let's delve a little deeper and serve up some serious Sugababes stats. If you're ready for me, boy, of course…
Push The Button
Push The Button stayed at Number 1 for three weeks, until it was knocked off by Arctic Monkeys' debut single I Bet You Look Good On The Dancefloor. Funnily enough, the third Sugababes lineup would cover this track as a B-side to Red Dress and perform it live at the NME Awards.
471,000
Push The Button sold 471,000 copies, 195,000 of which were your actual physical CDs, but it's not their bestselling single. That honour goes to…
About You Now
The band's first Number 1 since Mutya's departure was co-written by Cathy Dennis, who was behind mega hits like Britney's Toxic and Kylie's Can't Get You Out Of My Head.
539,700
About You Now has shifted almost 540,000 copies in total, making it the band's top seller.
4
About You Now spent four weeks at Number 1 – no girl group has managed longer at the top spit since, although Little Mix same pretty close with Black Magic earlier in 2015, notching up a three-week stint.
4
There have been four official lineups of Sugababes. The original, founding formation ended when Siobhan Donaghy left the group in 2001. She was replaced by Heidi. In 2005, as we know, Mutya decided to get her freak on elsewhere and was replaced by Amelle. In 2009, Keisha went on her merry way and Jade Ewen was drafted in.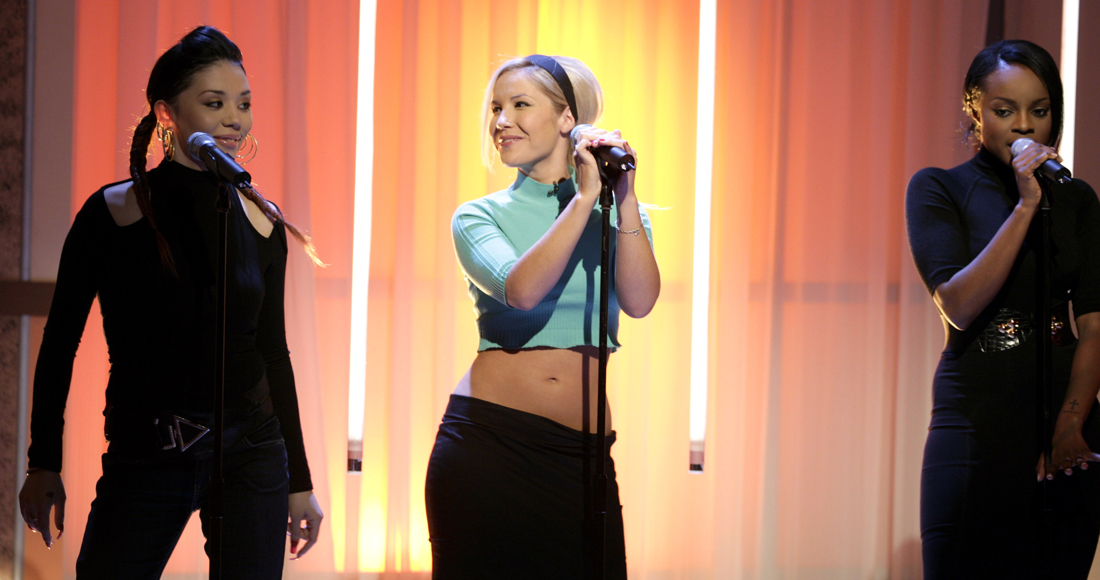 2005: A more innocent time, when Mutya was still in the band. Here they are in Loose Women promoting Push The Button. (Ken McKay/REX)
8
Sugababes were nominated for eight BRIT Awards during their time together. Both Push The Button and About You Now were among their four nominations for Best British Single. And they did actually win one – they took home Best British Dance Act in 2003.
6
Team Sugababes have had six Number 1s, with all but one belonging to what we affectionately call Sugababes 2.0. Their first Number 1 was Freak Like Me in 2002. Take a look at the Babes' chart archive for a full rundown of every chart-topper.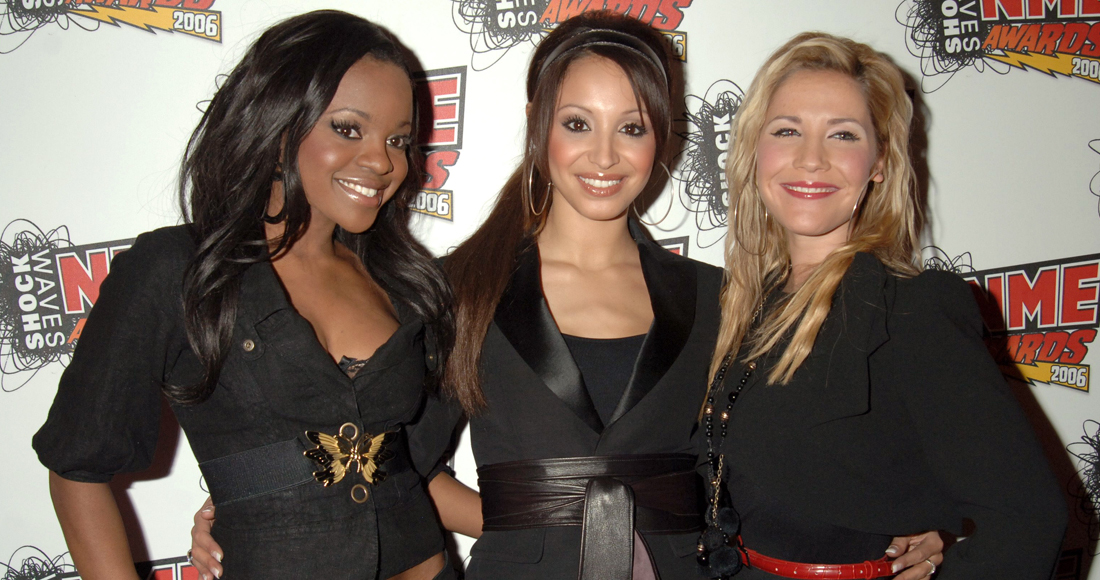 2006: Nope, Mutya doesn't have a new head. The band welcomed Amelle in late 2005 and went on to score four more Top 10s with this lineup. (Richard Young/REX)
26
Sugababes have 26 Top 40s under their belt – 18 of those went Top 10. Their very first hit was 2000's Overload, which reached Number 6, and their most recent was Wear My Kiss, which peaked at Number 7.
8
Apart from Number 1, the chart position most favoured by the Sugababes is Number 8 – they've peaked there four times, with In The Middle (2004), Caught In A Moment (2004), Easy (2006) and About A Girl (2009).
2009: All change for the final time. Keisha made way for Jade Ewen and this trio had two more Top 10 hits. (Beretta/SIMS/REX)
Albums
Only their first and last albums missed the Top 10, and of those that made it, only one missed the Top 3. They reached the top spot twice, with Taller In More Ways (the last album with Mutya, in 2005) and its follow-up Change (2006).
After Sugababes
In 2011, the original lineup of Mutya, Keisha and Siobhan and called themselves Mutya, Keisha and Siobhan – you can see what they did there, can't you?. They released a single, Flatline, in 2013, which missed the Top 40.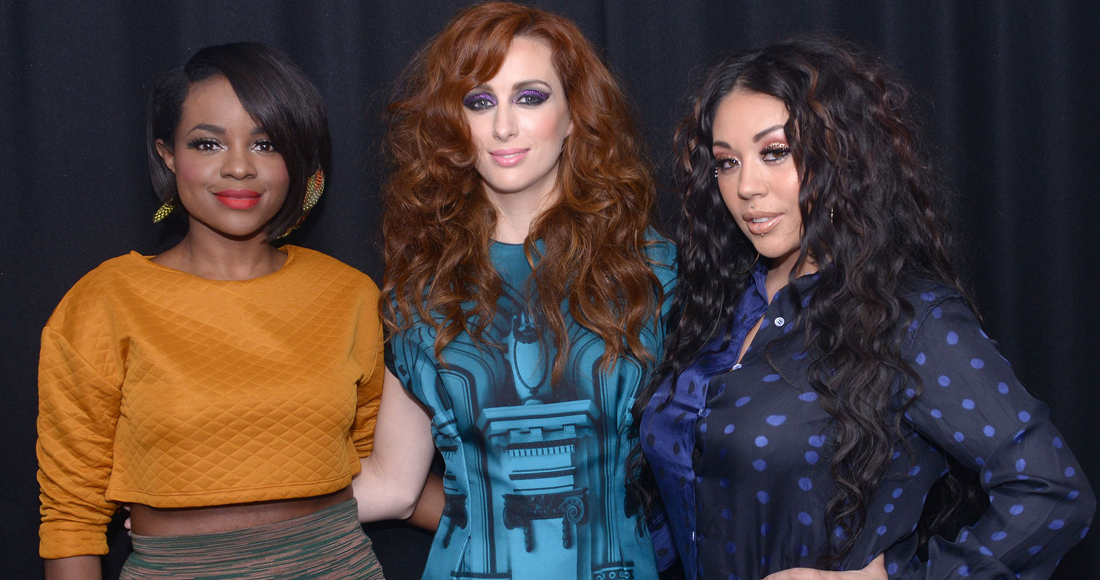 2013: Look who's back! Yep, the original three patched up their differences and got back together for a tour and single. (Rob Cable/REX)
Amelle enjoyed a Number 1 all on her own – well, kind of – when she featured on Tinchy Stryder's Never Leave You in 2009.
The rest of the Top 10
Here's how the Top 10 looked in 2005. Click on the image to see the full Top 100.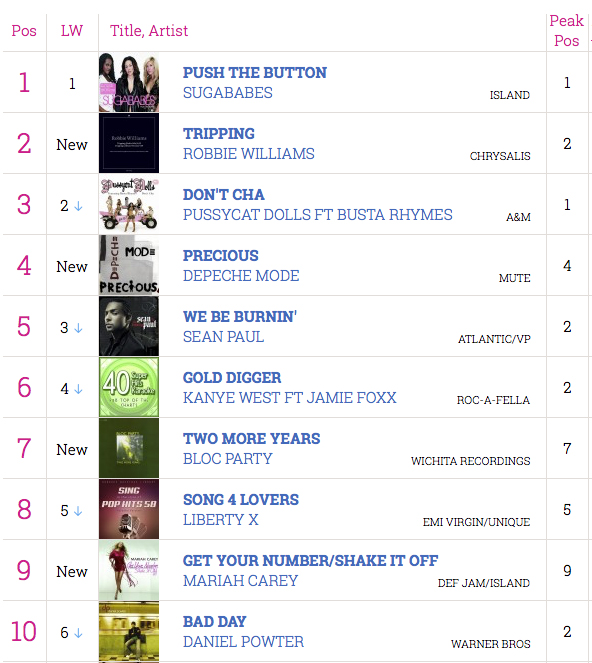 And in 2007? Things looked a little bit like this. Again, get busy on the image with your best clicking finger to see the full Official Singles Chart Top 100 for that week.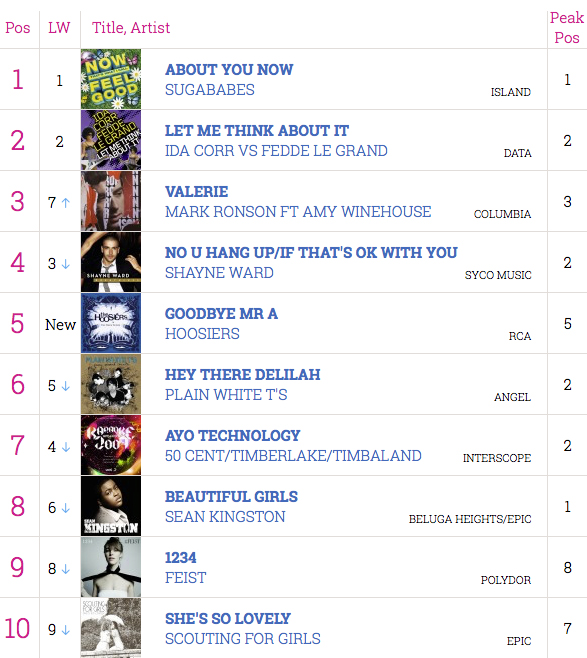 ChartFacts:
Sugababes would go on to cover Plain White Ts' Hey There Delilah (6) on a Radio 1 Live Lounge
Sean Kingston (8, with Beautiful Girls) would collaborate with the fourth lineup of Sugababes on their final album Sweet 7.