ICYMI: Steps are back to celebrate their 20th anniversary, and they're not doing it by halves.
To mark two decades since the band released their debut single, 5,6,7,8, the group have recorded a brand new album called Tears On The Dancefloor, the first taster of which we'll hear this Friday (March 10) when they release its lead single Scared Of The Dark. Listen to a preview of the song below: 
Thank you @BBCRadio2 for giving our new single #ScaredOfTheDark its FIRST PLAY! It'll be available to download/stream from midnight tonight! pic.twitter.com/VQVNZVpw2r

— Steps (@OfficialSteps) March 9, 2017
Shortly after yesterday's big announcement, we jumped on the phone with Faye Tozer to find out more about the album and what Steps in 2017 will sound like...
So Faye, Steps are back! How does it feel now that the news is officially 'out there'?
"Oh my goodness, it's been absolutely manic. I think we're all a bit overwhelmed. The buzz that's happening today… I don't think we expected this."
We knew Steps were planning something to mark 20 years, but the news of a proper album and arena tour seems to have caught everyone by surprise.
"When we started discussing this whole 20th anniversary thing, we knew we just couldn't go out and do the old songs again. We'd been asked for new music since the last tour and we all agreed it was right thing to do now. We're all so, so proud of this album. We've taken our time and chosen songs from our personal taste and what we believe the fans want to hear from us. I think we've done it."
You're doing this reunion properly as well, no messing about. It's been 2 years in the making and it's a big undertaking; did you or any of the band have reservations about it?
"Honestly, no. We all wanted to celebrate our 20th year, and picking a new team, recording the songs, organising the promotion and getting everyone in the same room at the same time takes a long time. We have children now and we have to work out where they're going to go!"
Your new single Scared Of The Dark is out this Friday (March 10). Please describe it in three words and one emoji.
Oh god! Okay, erm… the smile-iest smiley face with the grinning teeth, because that's how happy it makes us feel, and three words to describe it: floor filler classic.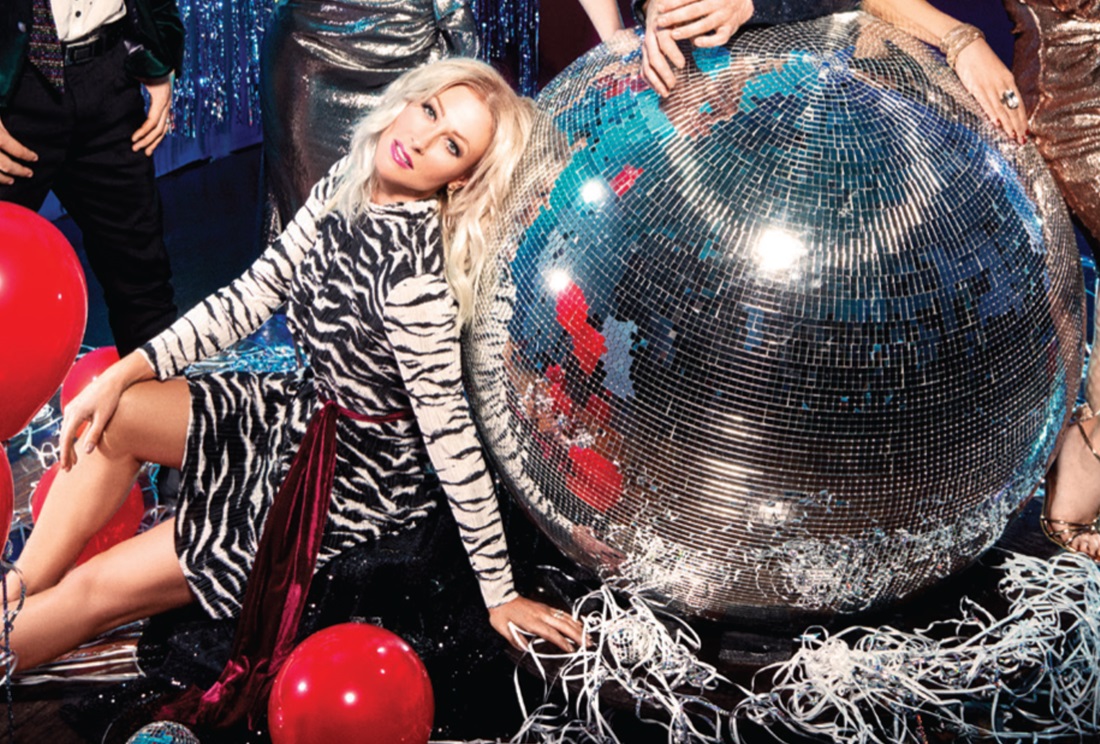 That's a bold description, Faye...
"I think so because it has the essence of classic steps. It's got an amazing melody, it's dramatic and it's got a great dance beat behind it. So yes, I dare to use those words!"
It sounds like a banger to be fair.
"It starts with a bit of drama and then it kicks off. It's great."
What are your hopes chart-wise for the single? Obviously the way singles are released and consumed has changed a lot since you were racking up Top 10 hits... 

"In this generation of putting music out there, you need to lead with something, and this is a really strong song. I do believe that all the songs on this album are pretty incredible. Now we'll get to see what our audience likes because it's a download generation. Hopefully they like most of it because we really love it."
MORE: Look back at Steps' complete Official UK Chart history
Can you tell us about another song on the album that's amazing?
"I mean they're all amazing, she says, humbly! [Faye then has an extended conversation with the rest of the band and managers listening in] I've got different people mouthing different things to me! Okay, there's a song on the album Neon Blue, which was written especially for us by Carl Ryden and Fiona Bevan, who has worked with The Saturdays and David Guetta. It's a real nostalgic song that's encouraging people to get back on the dance floor with us again. It's a real homecoming type of song.
"We're going to be releasing the album on vinyl as well, which we've never done before! I've just invested in a record player so I'm excited by it anyway."  
You've got some great writers on the album - TMS, Ina Wroldsen, Steve Mac and Fiona Bevan. Was there a plan going in to recording this album about how to evolve the Steps sound for 2017?
"It was mainly our new management Fascination who have brought the music to the table for us to pick and choose from. Lots of people submitted songs and it was a really interesting process, picking what feels right for now. Then we had to put our trust in the producers to bring out sound up to date."
Who's produced the album?
"The Alias have, and they've done a cracking job."
What do you think Steps have to offer in 2017? Is it purely nostalgia, or are you trying to pick up new fans? 
"It all kind of evolved as it went along and as the songs were chosen. Songs were picked up, dropped, picked up again, changed. We started recording six months ago, and the first two songs we recorded didn't make the cut in the end because they weren't 'Steps' enough, if you know what I mean."
Does the new music take cues from any of your classics?
"We did take reference from previous records. I'd say the music is along the lines of Deeper Shade Of Blue and that sort of ilk. Maybe a bit more dance-y, actually. There aren't any ballads on this album. We think we know what the fans want...
No ballads?! Amazing.
"There are a couple of midtempos I suppose, but this is all about getting people on the dance floor again."
Looking back, are there any Steps singles you'd prefer never to listen to again?
"I don't think we had much control back then, but really, I don't think we had  major clangers. What do you think?"
We loved them all tbh. What about choreography? We hear you're learning moves to the new songs at the moment…
"We are! I'm excited to see what our 'tag' will be with the new single. That's going to be so fun. We'll be shooting a video as well, which we haven't done for 15 years. Deeper Shade Of Blue was always my favourite. That and It's The Way You Make Feel."
Both great routines. We always struggled with Better Best Forgotten.
"That's a hard one actually! It's quite jumpy, isn't it? It was basically a cardio workout, rather than just the usual standing and gesticulating. I hope we've nothing like that planned for this new single..."
Steps release their new single Scared Of The Dark on March 10. The album, Tears On The Dancefloor, follows on April 21. Tickets for their UK arena tour go on sale March 10 at 9am.