A host of stars from the music world have joined forces for a new BBC Music single God Only Knows, with all proceeds going to Children In Need. 
The track, which is a cover of The Beach Boys' 1966 Official Singles Chart Number 2 God Only Knows, will be available to download from midnight tonight (October 7) and is the first collaboration in history between all three major record labels; Sony, Warner and Universal Music.
26 global musicians join The Beach Boys' co-founder and God Only Knows writer Brian Wilson to form The Impossible Orchestra, alongside the Tees Valley Youth Choir and the BBC Concert Orchestra.
Check out the full list of artists who feature on God Only Knows below:
Sir Elton John, One Direction, Stevie Wonder, Pharrell Williams, Jake Bugg, Lorde, Emeli Sandé, Chris Martin, Kylie Minogue, Paloma Faith, Sam Smith and Florence Welch, Chrissie Hynde, Brian May, Dave Grohl, Alison Balsom, Martin James Bartlett, Danielle de Niese, Nicola Benedetti, Eliza Carthy, Baaba Maal, Jamie Cullum, Jaz Dhami, Zane Lowe, Lauren Laverne, Katie Derham, Gareth Malone, Jools Holland, the Tees Valley Youth Choir and the BBC Concert Orchestra.
"It's a song that has been and will forever be part of pop history and to be singing it alongside my idols was overwhelming" adds Sam Smith."All of the artists did such a beautiful job I can't thank them enough," Brian Wilson says, "God Only Knows is a very special song. An extremely spiritual song and one of the best I've ever written."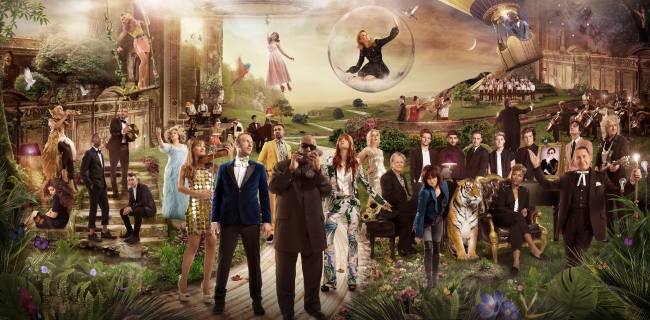 The accompanying video for God Only Knows, directed by Francois Rousselet (Iggy Azalea, Kanye West, Madonna) was broadcast across all BBC channels earlier this evening. The short shows a seemingly disused and decayed Alexandra Palace Theatre brought to life by a magical performance of the track.
On working with The Impossible Orchestra Queen's Brian May said, "Working on God Only Knows made me appreciate its musical construction more fully. It was like getting a glimpse into the mind of its creators. It's a unique piece, and the experience of being a part of this new production was a great pleasure."
"God Only Knows is such an iconic song, it's one of those classics that is eternal, if anything it only gets better with time," adds Kylie Minogue.
Chart Facts
Back in 1997, the Children In Need cover of Lou Reed's Perfect Day was the first Children In Need single to reach Number 1, spending two weeks at the top. The song returned to Number 1 for a third week 5 weeks later.
Perfect Day is also one of 152 singles in the history of the charts to sell more than one million copies.