Sigala's certainly got the magic touch – his new single Give Me Your Love is setting the charts alight, matching the success of its predecessors Easy Love, Sweet Lovin' and Say You Do.
The track, which features John Newman and Nile Rodgers' found itself at Number 4 in the Official Chart Update, and even managed to top the Official Trending Chart. No biggie. What was rather a massive deal was working with Nile Rodgers. Although the two never met in person, the Chic legend was happy to lend a hand... well a guitar, after an advice-filled phone call.
OfficialCharts.com sat down with Sigala to see how that daunting conversation went down, plus we got him thinking about his dream collaborators.
Hi Sigala! Give Me Your Love is perhaps your biggest collab yet! Working with Nile Rodgers and John Newman doesn't happen every day. How on earth did this trio come about?
It is definitely the most exciting collaboration so far – not to put down any of the other guys I've worked with as they're all amazingly talented!
I've loved John's music for a long time and all of the collaborations he's done because it shows how awesome his voice sounds on everything. I've got huge respect for him; he writes his own stuff, plays keyboard and guitar, he's involved in the production – that's why it was so amazing to work with him.
MORE: Check out Sigala's complete Official Singles Chart history
Nile has obviously worked with mega-established acts like Daft Punk and Duran Duran but also up-and-comers such as yourself, Laura Mvula and Adam Lambert. What was working with him like?
It is a shame that I've actually never met him yet! We had funky guitars on the track already but they didn't sound as half as good as the ones on the final version. *laughs* I'd not really used guitars before so wanted to make a feature out of it. We had the crazy idea to get him on it and we joked about the idea… but we never expected him to say yes.
It turned out that John had been working with him previously and we sent him the track and he loved it. We then had a call and it was great speaking with one of my musical heroes.
A lot of artists now release music on streaming and digital services at the same time, but you've opted to hold off on the download release for a few weeks. Why was that?
I trust the label to let them do what they think is best. Since the first single exploded and got to Number 1, they've proved to me they know what they're doing! *laughs* As long as the music can get out there, I don't mind how. I'm just grateful I'm able to release music every three months or so. I'm really fortunate in that I can keep pumping them out!
You've worked with some big names – we bet your bucket list has a few ticks on it now! If you could pick three artists dead or alive that you would love to work with, who would you choose and why?
Freddie Mercury is my musical hero and I grew up on listening to his music from my parents so he would be top of the list. I was always trying to learn his crazy songs, and I failed most of the time!
Working with Stevie Wonder would be absolutely awesome as well and he's still about so you never know! I'd love to work with Chris Martin from Coldplay too.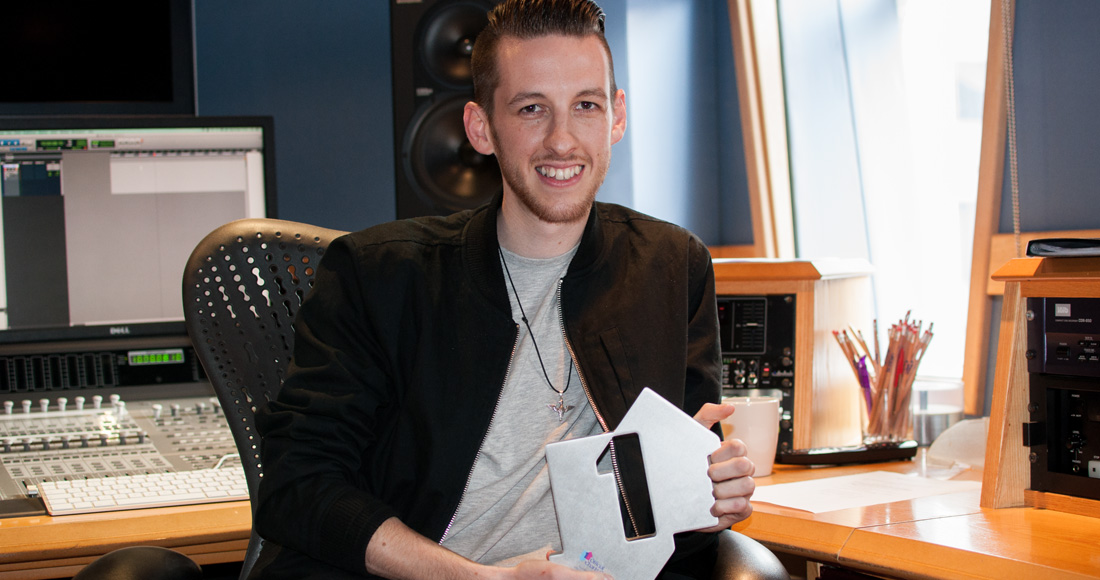 Sigala with his Number 1 Award for Easy Love.
In your music videos, we've seen basketball, boxing, skateboarding, football, rollerblading, BMXing and of course, tons of brilliant dancing! What's next? Croquet?
I'm not sure yet really. The same director [Craig Moore] has worked on the last four because we were so pleased with the first one. We've always had different options but it was a case of don't try and fix it if it isn't broken. We wanted to try something different in each but have that similar feel-good vibe.
We've haven't seen you in any of your videos though. John and Nile are on some amazing beach somewhere in the latest one but you're nowhere to be seen?
I've never really wanted to be in the limelight as such. I'm not chasing fame and glory and I'm not really wanting to be recognised. If I am, that's amazing for me to be recognised for my music but I just want to mainly let the music speak for itself.
You've just been to the US but what is next for you?
We're putting together a full band for the live shows and we're doing V Festival so that'll be an awesome one to do. I come from playing keyboards in bands when I was a teenager so this will kinda feel more like home for me than DJing. I'm excited to continue doing both.
Sigala's Give Me All Your Love is available to download and stream now.