Sainsbury's has launched its own record label to ride the wave of the vinyl revival.
The supermarket giant is releasing its own bespoke compilation albums on vinyl after setting up its own label in conjunction with Universal Music and Warner Music's Rhino.
The first two albums have been compiled with Bob Stanley from indie-pop band Saint Etienne and mostly contain music by Los Angeles-based artists recorded in the 1970s, plus a "Hi-Fidelity" record that includes Tubular Bells by Mike Oldfield and Elton John's Song For Guy.
Bob said: "Growing up, one thing I loved about the record shopping experience was the number of high street shops where you could buy new releases — not only Virgin or Our Price but Woolworths, Boots, WH Smith's.
"The opportunity to put new compilations in branches of Sainsbury's was irresistible to me."
The artwork for Sainsbury's 'own label' records uses packaging designs from its archives.
MORE: The UK's best-selling vinyl records of 2017 so far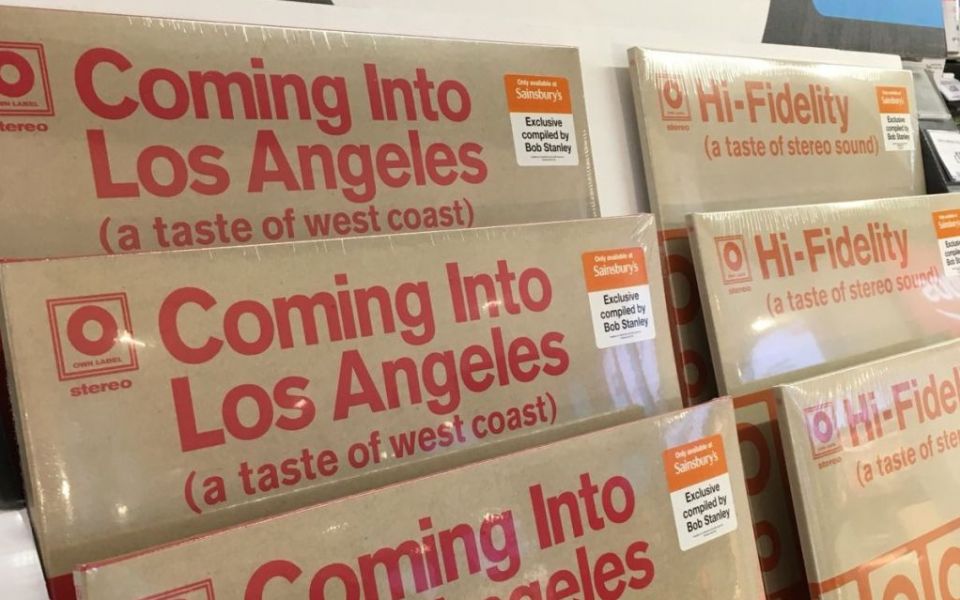 Image: Sainsbury's
The supermarket announced plans to sell vinyl in March 2016 and has since become one of the primary sellers of the format in the country, reportedly selling 120,000 to date. 
The chain sells both new and old records but particularly focuses on reissues of albums, including T-Rex and Led Zeppelin. 
MORE: Check out this week's Official Vinyl Albums Chart Top 40
Sainsbury's isn't the first high street shop to set up a record label. Starbucks launched its own music offshoot called Hear Music in 2005, counting Joni Mitchell and Paul McCartney among its roster, while Woolworths backed covers label Embassy Records in the 1950s. 
The vinyl revival is an unexpected success story for the music industry, with sales currently at their highest in 25 years. 
More than three million vinyl records were sold in the UK in 2016 and that figure is expected to rise this year, with sales currently up 30.6% year-on-year. 
Sainsbury's records: The full tracklistings

Coming Into Los Angeles - A Taste of West Coast

1. The Mamas & The Papas Dedicated To The One I Love
2. Love - Andmoreagain
3. The Monkees - As We Go Along
4. Buffalo Springfield - The Hour Of Not Quite Rain
5. Tim Buckley - Song To The Siren
6. Judee Sill - The Kiss
7. The Byrds - Full Circle
8. Flying Burrito Brothers - Wild Horses
9. Arlo Guthrie - Coming Into Los Angeles
10. Linda Perhacs - Chimacum Rain
11. Fleetwood Mac - You Make Loving Fun
12. America - Ventura Highway
13. Little Feat - Long Distance Love
14. Linda Ronstadt - Desperado
15. Michelle Phillips - The Aching Kind
16. Rickie Lee Jones - Chuck Es In Love
17. Doobie Brothers - What A Fool Believes
18. Nicolette Larson - Lotta Love
19. JD Souther - Faithless Love
20. Gene Clark - Lady Of The North

Hi Fidelity - A Taste of Stereo Sound

1. Mike Oldfield - Tubular Bells
2. Yes - Wonderous Stories
3. Moody Blues - Question
4. Roxy Music - Avalon
5. Tangerine Dream - Sequence C
6. Cat Stevens - Morning Has Broken
7. Al Stewart - Year Of The Cat
8. Andrew Gold - Lonely Boy
9. John Martyn - Solid Air
10. Elton John - Song For Guy
11. Van Der Graaf - Generator Theme 1
12. Bryan Ferry - This Is Tomorrow
13. Joe Walsh - Life's Been Good
14. Mike Deville - Spanish Stroll
15. Todd Rundgren - I Saw The Light
16. 10CC - I'm Not In Love
17. Commodores - Easy
18. Gallagher and Lyle - Showdown
19. Giorgio Moroder - Chase
20. Brian Eno - Another Green World
MORE: The Official biggest vinyl albums and singles of 2016
MORE: The Official biggest vinyl albums and singles of 2015
Article image: Rex