In a career that spans almost 25 years, Robyn has gone from teenage R&B singer to cultural-shifting pop rebel. Her lengthy absences from music (she's about to release her first album in almost a decade) only underline her importance. Her UK breakthrough hit Show Me Love was the early work of the now super-producer Max Martin. Her re-emergence in the mid-2000s as an independent artist with a chart-topping electronic sad banger sound has spawned a generation of similar acts.
Now, she's back with her sixth album Honey; a record that takes her signature sound and shifts it towards a dreamy and hypnotic dance landscape. Ahead of the record's release, we take a look at the tracks that got her here: Robyn's best-selling and most streamed songs are revealed below…
Hang With Me
The lead single from the second part of her ambitious Body Talk album trilogy, Hang With Me crystallised Robyn's knack for creating pop earworms with affectionately gawky lyrics. The track, produced by longtime collaborator Klas Åhlund, is about keeping a potential lover at arms-length for fear of ending up in "blissfully painful" heartache – in-keeping with much of Body Talk's bittersweet subject matter.
The song missed the Top 40 on its release, peaking at 54, but still ranks among her most popular in eighth place, logging 2.04 million plays across all major audio streaming services since 2014.
MORE: See where all of Robyn's singles and albums have reached on the Official Chart
Do It Again
During her often-lengthy spell between albums, Robyn delivered some stellar collaborative projects, the most popular of which is Do It Again, the titular track of a five-song EP with electronic duo Royksopp (Svein Berge and Torbjørn Brundtland). The two acts regularly appear on each other's records, but Do It Again – five minutes of strobing synths and sledgehammer beats – is their prize showpiece. The song ranks as Robyn's seventh biggest track, with 3.45 million audio streams and 48,000 downloads.
Show Me Love
After signing to RCA Records in 1994 and landing a trio of hits in her native Sweden, it was Show Me Love – the final single from her debut album Robyn Is Here – that became a global breakthrough. Critics noted its blending of US-friendly R&B with major-chord-heavy Swedish pop as the key to its success, sending it to Number 8 in the UK and 7 in America. It's Robyn's fourth biggest hit, with 113,000 sales and 1.22 million audio streams.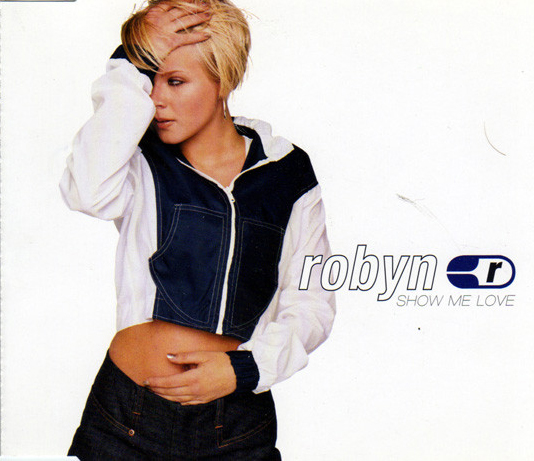 Dancing On My Own
Today's never-ending supply of sad bangers can be traced back to Dancing On My Own. Robyn may not have invented the concept, but she certainly perfected it. The lead single from Body Talk Pt. 1, it's the ultimate dancing away heartbreak song and secured her LGBTQ icon status. It's her second biggest single overall, with 340,000 combined sales, but is far and away her most streamed, with 13.8 million plays.
MORE: Why Robyn's return is important for pop
With Every Heartbeat
It's fitting that Robyn's biggest single in the UK is her only Number 1. It was an unexpected success at the time, debuting at Number 5 before taking the top spot the following week. It's appearance in the chart was the equivalent to spotting a rare animal outside of its usual habitat - ranking above heavy US hitters from Timbaland, Kanye West, Fergie and Rihanna that week. With Every Heartbeat is Robyn's best-selling song (370k sales) and second most-streamed, with six million plays.  
Robyn's Top 10 singles on the Official Chart
| | | | | |
| --- | --- | --- | --- | --- |
| POS | TITLE | ARTIST | PEAK | YEAR |
| 1 | WITH EVERY HEARTBEAT | ROBYN FT KLEERUP | 1 | 2007 |
| 2 | DANCING ON MY OWN | ROBYN | 8 | 2010 |
| 3 | BE MINE | ROBYN | 10 | 2008 |
| 4 | SHOW ME LOVE | ROBYN | 8 | 1998 |
| 5 | CALL YOUR GIRLFRIEND | ROBYN | 55 | 2011 |
| 6 | HANDLE ME | ROBYN | 17 | 2007 |
| 7 | DO IT AGAIN | ROYKSOPP & ROBYN | 75 | 2014 |
| 8 | HANG WITH ME | ROBYN | 54 | 2010 |
| 9 | WHO'S THAT GIRL | ROBYN | 26 | 2008 |
| 10 | DO YOU REALLY WANT ME | ROBYN | 20 | 1995 |
©2018 Official Charts Company. All rights reserved.
Based on UK physical, download and streaming equivalent sales.