RiRi fans eagerly awaiting the star's eighth album will have woken up to some slightly disappointing news this morning: it's not finished yet!
Rihanna is cover star of the new-look, free NME, which launched today. In an interview, Rihanna admits that 'R8', as fans have nicknamed her next release, isn't quite ready yet. "It's not done! To me it's never done until it's DONE. Until the final moment."
In fact, there's not even a tracklisting. "I have so many songs I love – and they're so different – that it's hard to actually put them all on the same album."
In the six-page interview, Rihanna acknowledges it's been a long painful wait for her loyal Navy. "No matter what I post online, within three comments there's somebody saying 'where is R8?' But it makes me excited, because I can't wait to give them something great."
And what's the hold-up? Well, according to Rihanna, it might have something to do with Kanye West, who has previously announced he'd be exec-producing the album. "We just have to wait to get back in the studio together," explains RiRi. "His schedule and mine are totally opposite right now, but I think this month we'll be back in the studio."
And what can we expect? Time to buckle up, Rihanna taking us out for a spin. "It's easy to make an album full of great songs. But I want people to go for the RIDE. The songs have to make sense together."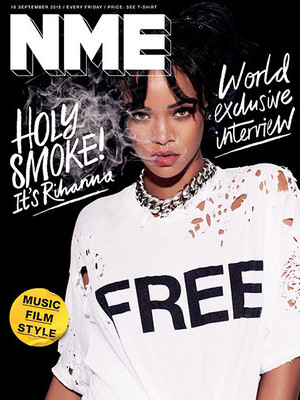 Image: NME
Rihanna also addresses the controversy over the video for Bitch Better Have My Money, which reached Number 27 in April this year. "This was not a woman empowerment video. I was making a piece of art."
And if you were hoping Rihanna was going to be a special guest on Taylor Swift's stage anytime soon, you could be in for a long wait. "Er I doubt it," says RiRi. "I just don't think it makes sense. I don't think our brands are the same: I don't think they match, I don't think our audiences are the same."
For the full interview, which includes Rihanna's retirement plans and a look back at Good Girl Gone Bad, pick up a copy of the new, free NME, which is available from today. Find out where to get yours on this interactive map
The Official Charts and the NME go waaaay back – in fact that's where it all began. NME started publishing the singles chart in 1952 and the rest, as they say, is history. ❤️
MORE: Rihanna's Official Chart Archive
Main image: WWD/REX Shutterstock