One of the closest fought battles in recent memory on the Official Albums Chart has led to Rick Astley claiming his first Number 1 in 29 years.
50, Rick's first studio album in 11 years, tussled with Tom Odell's second studio album Wrong Crowd all week, the Number 1 changing several times in the last seven days.
"It's amazing, it's incredible, it's been a very very VERY long time since this happened before! I'm ecstatic, I couldn't be happier", said Rick, who was presented with his Number 1 Award by OfficialCharts.com alongside The Sun's Associate Editor, Dan Wootton. 
MORE: View Rick Astley's complete UK chart history
Rick took an early lead during the first two days of the sales window but Tom had taken over by Monday. Tom was ahead by just 14 chart sales on Wednesday, with Rick overcoming the odds on Thursday to take back the top spot. The Never Gonna Give You Up star then enjoyed a strong final day to finish 3,700 combined chart sales ahead.
Although Tom was most purchased in independent record shops and secured more digital and streaming equivalent sales, Rick raced ahead on physical formats.
Rick told OfficialCharts.com that he is a huge fan of Tom's: "I like Tom Odell, I bought his last album, and I'm gonna buy this one as well, but I've held off from buying it this week! It's amazing to be mentioned in the same breath as him."
MORE: View the Official Albums Chart Top 100 in full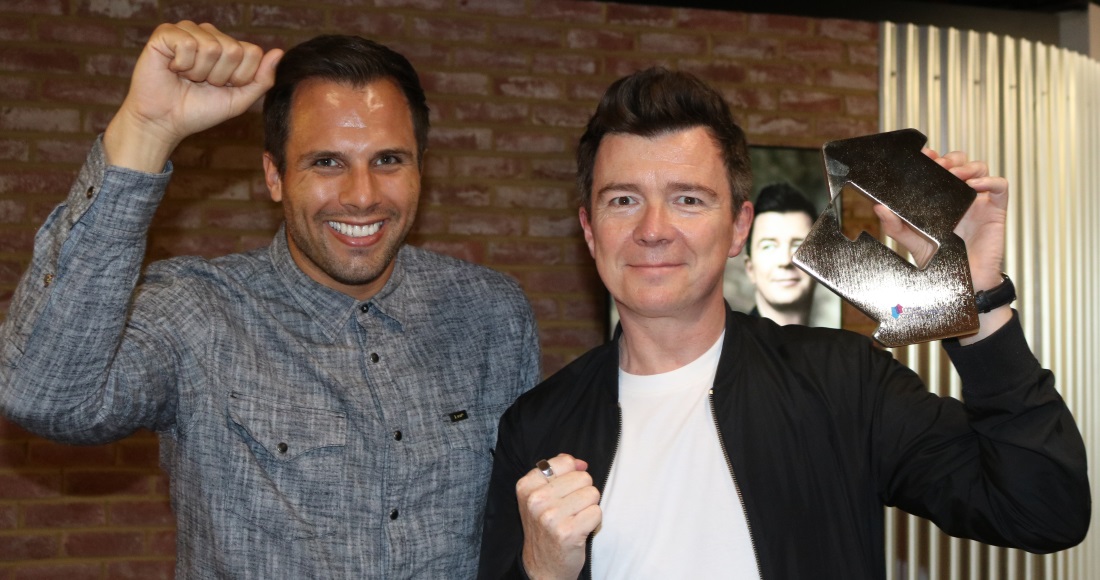 The Sun's Associate Editor Dan Wootton with Rick Astley.
50 was already certain to be Rick's first Top 10 album in 25 years, but managed to go one better, becoming Rick's first chart topper in nearly three decades. His last Number 1 album was his debut Whenever You Need Somebody, in 1988. 
New entries and high climbers 
Aside from Rick Astley and Tom Odell, another nine new albums hit the Top 40 this week. Paul McCartney's fourth compilation album Pure McCartney is new at 3, ELO's All Over The World – The Very Best Of leaps 131 places to a new peak of Number 4 ahead of their Glastonbury legends slot, and Drake's Views rounds out the Top 5.
Beverley Knight scores a fourth Top 10 album with Soulsville at 9, and Gilbert O'Sullivan's The Essential Collection makes a strong debut at 11.
Rival Sons achieve their highest charting album with Hollow Bones at 13, and following the release of their new single Beautiful Thing, The Stone Roses' The Very Best Of rockets 77 places to Number 15.
Garbage's Strange Little Birds becomes their seventh UK Top 20 (17), plus Red Hot Chilli Peppers return to the Top 40: their Greatest Hits (19) vaults 97 places ahead of the release of new album The Getaway, released today.
Nick Jonas' Last Year Was Complicated and Kaleo's A/B - are new at 25 and 27 respectively. Beach Boys are sandwiched between them; their classic album Pet Sounds climbs 63 rungs to 26 in celebration of its 50th anniversary.
Finally, Bruce Springsteen's Greatest Hits returns to the Top 40, up 19 to 29, Motorhead's final live album Clean Your Clock charges to 36 and Band of Horses' Why Are You OK is new at 37. 
Take a look back at every Official Albums Chart Number 1 in our gallery: