Rare test pressings of The Beatles' Abbey Road, Kylie Minogue's Step Back In Time and George Michael's Faith album are among 150 LPs up for grabs in a white label auction taking place in the run up to National Album Day.
Step Back In Time's test pressing is signed by Kylie herself, and the LP of George Michael's hit debut solo effort Faith is the pressing from the original 1987 version.
The auction, in aid of The BRIT Trust, features 150 lots including signed copies of Ed Sheeran's chart-topping No.6 Collaborations Project and Coldplay's The Butterfly Package, plus collectible work from David Bowie, Liam Gallagher, Clean Bandit and more.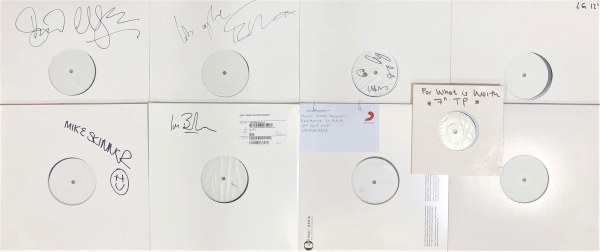 Open to collectors and fans alike, bids can be made online now and the full list can be seen on the Omega Auctions website here. 
The auction will take place on Saturday October 5, ahead of National Album Day on Saturday October 12 - now in its second year, National Album Day launched in 2018 to champion the album format and is celebrated through a series of special events.
Johnny Chandler, Catalogue A&R Director at UMC, Universal Music UK, who came up with the idea, said: "It'll be wonderful if, by auctioning these rarities, we can raise funds to support the amazing work of The BRIT Trust, whilst celebrating the 'art of the album' through National Album Day. If all goes to plan I hope as long as interest in vinyl continues, the industry can make this auction a regular event."
This year's National Album Day is themed around the idea of 'don't skip' to encourage music lovers to discover albums and listen to them as a complete body of work, as well as highlighting the mental health benefits of album listening as a form of musical mindfulness. 
An National Album Day exhibition is currently travelling across some of the UK's major National Rail train stations. Official Charts is also part of the exhibition, revealing the six biggest-selling albums of the Millennium by artists from Scotland, the North, Midlands and London & South.
Article image: Shutterstock