Rag'n'Bone Man has been named the UK ambassador of Record Store Day 2018.
As well as being the face this year's event, the singer-songwriter will release two new songs exclusively to mark the occasion, called Don't Set The World On Fire and George Has Got A Friend. The latter is about the recent birth of his son Reuben. 
"It's about my son coming into the world," he told Newsbeat. "Our friends have a little boy called George, that's the premise of the song.
"This is one of the most amazing things I've done so far. These songs don't exist anywhere else. They've never been recorded before. They're not on the last album and they won't be on the next one either."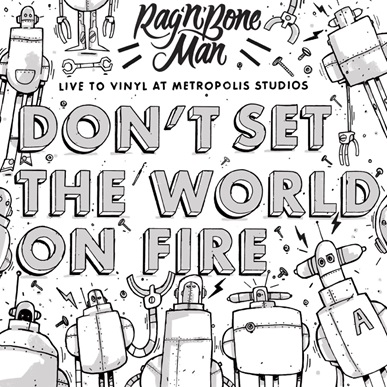 Rag'n'Bone Man's debut album has been a popular choice on vinyl since its release last February, finishing as the sixth best-selling vinyl album of 2017 and to date has sold 34,000 on the format. The record debuted at Number 1 on the Official Albums Chart and is the fastest-selling male debut of the decade, with a total of 1.1 million combined sales.
This year's UK Record Store Day takes place on April 21, where more than 500 music exclusives will be available in independent record shops across the UK. As well as Rag'n'Bone Man's one-off release, this year's list includes exclusives from Madonna, David Bowie, Prince, Niall Horan and more. Click here for the full list of special Record Store Day 2018 releases.
Watch Rag'n'Bone Man celebrate his Number 1 album with Official Charts last year below: