Prince is set for an Official Chart takeover this week as fans pay tribute to the late music icon.
Following his untimely passing last Thursday (April 21), Prince's classic works have been flooding back in to the Official Albums and Singles Charts.
His 2001 retrospective The Very Best Of is currently leading an all-Prince Top 5, followed by 2006's Ultimate (2), the Grammy Award-winning official soundtrack to the movie Purple Rain (3), The Hits/The B-Sides (4) and Sign O' The Times (5). If Prince maintains this form, The Very Best Of would be Prince's sixth Number 1 album in the UK.
MORE: See the full Top 100 Official Albums Chart Update
Another five Prince albums are on course to enter this week's Official Albums Chart Top 40: 1999 at Number 18, the Parade soundtrack at 21, Diamonds And Peals at 25, Hitnrun Phase One at 30, and Lovesexy at 39.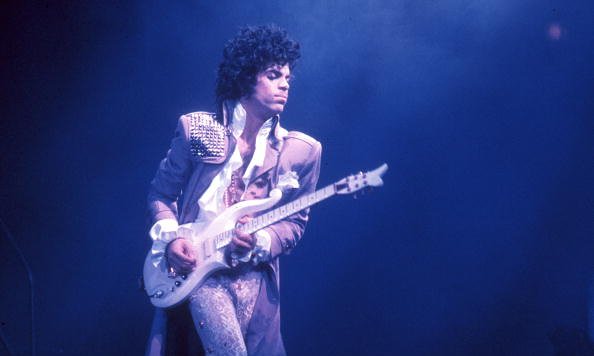 A further six of his albums are currently scaling the Top 100, with Around The World In A Day and Dirty Mind just outside the Top 40, at 42 at 46 respectively.
New entries and high climbers
Elsewhere on today's Official Albums Chart Update, eight new albums are on track to hit the Top 40, lead by Katherine Jenkins' Celebration at Number 6. Katy B's third album Honey starts at 13, and acoustic Sandy Denny album I've Always Kept A Unicorn lands at 19.
Further down, We Are Scientists' Helter Seltzer (27), Rufus Wainwright's Take All My Loves – 9 Shakespeare Sonnets (32), Julian Ovenden's Be My Love (33), Jethro Tull's Aqualung (36) and PVRIS' White Noise (40) could all earn a spot on this week's Top 40.  
Over on the Official Singles Chart Update, six of Prince's classic hits are on course to re-enter the Top 40, led by his signature hit Purple Rain, which is currently at Number 2 behind Drake's One Dance. Purple Rain reached Number 8 upon its original release in 1984, meaning the song could hit a new peak on Friday's Official Chart.
Other Prince tracks heading for a Top 40 place this Friday are: When Doves Cry (6), Kiss (11), Raspberry Beret (15), 1999 (17) and Little Red Corvette at 26. Click here to see this week's Official Singles Chart Update in full.
Prince's final positions will be revealed here on Friday's Official Chart at 5.45pm.
Look back over every Number 1 album 2016 so far below:
Article image: Rex