They're top of their game in the music world, but this week sees Harry Styles and Rihanna hit the big screen. Harry makes his cinematic debut in Christopher Nolan's blockbuster Dunkirk, but Rihanna's an old hand at acting. Riri's first major role was in Battleship, and she returns to film in Luc Besson's Valerian, playing – what else – a world-class, multi-talented singer. Must've been quite a stretch.
But popstars switching mic stands and tour buses for movie sets is nothing new. Here's a selection of some of the best pop icons-turned-movie stars.
Beyoncé
Queen Bey tends to prefer to star in her own movies alongside her albums these days, but she's also managed to sneak in a few acting roles. Her turn in Austin Powers: Goldmember divided critics but it didn't put her off, and her high-profile role in Dreamgirls gave her a chance to shine.
Justin Timberlake
The reason we have to wait so darn long between JT's albums is because he keeps sloping off to make huge Hollywood movies in between. He's done everything – lending his voice to animated characters, playing romantic lead in movies like Friends With Benefits, and a starring role in Facebook drama The Social Network. We still prefer it when he's conquering the charts, though.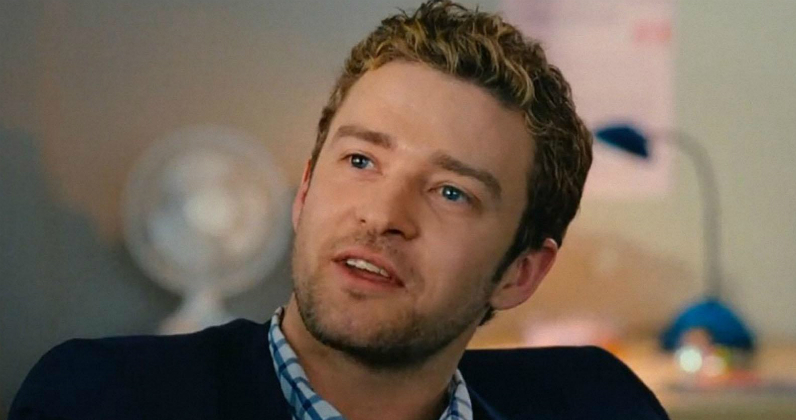 Justin doing his best "u ok hun" face in The Social Network (Columbia Pictures)
Madonna
Almost as famous for her movie flops as she is her hit singles, it hasn't all been doom and gloom for Madge's acting career. She started well, playing a streetwise free spirit with a taste for danger in Desperately Seeking Susan back in 1985, and she won critical acclaim for her role as Argetinian icon Eva Perón in biopic Evita. Let's never speak about Swept Away again, shall we?
Whitney Houston
Whitney kicked off her acting career with an impressive turn in The Bodyguard, playing a megastar singing diva, and spawning one of the biggest selling soundtracks of all time, including a record-breaking Number 1 with I Will Always Love You. Follow-up films included Waiting to Exhale and The Preacher's Wife.
Eminem
OK, so he was basically playing a version of himself in a retelling of his own life story, but Eminem still showed some impressive acting chops in 8 Mile. He even won an Oscar – although that was for Lose Yourself, a song from the soundtrack, rather than his acting efforts.
MORE: Eminem's UK chart history
Ronan Keating
This one may have gone under the radar, but the Boyzone lead singer has branched out into movies. He made his acting debut in movie Goddess back in 2014, and has also appeared wartime drama Another Mother's Son. Ronan has always had an interest in movies, though – he soundtracked Julia Roberts movie Notting Hill with this swoonsome Number 1:
Cher
Surely when you're a popstar hoping to make an impression in the movies, Cher is the one you want to emulate. She's been a true all-rounder, taking in musicals, comedies and serious dramas ans despite having one of the most recognisable faces in showbiz, has always been believable playing someone else. She even won an acting Oscar for Moonstruck in 1988. Her finest moment for us, however, will always be Mermaids, which gave us this amazing soundtrack song and Number 1, complete with a mortified Winona Ryder in the video:
Mariah Carey
Mimi didn't have the greatest of starts, playing a wide-eyed, power-lunged ingenue in flop movie musical Glitter, but she more than proved her worth in a small, yet unforgettable, role in gritty movie Precious. Complete with zero makeup, the traces of a moustache and Olympic-level eye-rolling, Mariah was unrecognisable yet totally compelling as a no-nonsense social worker.

Mariah has no time for your hot takes on Glitter, mmmmkay?
Elvis Presley
He wasn't just the king of rock and roll, Elvis was also a master at making movies, appearing in 31 films between 1956 and 1969. Although the movies tended to be vehicles for his music, Elvis wasn't acting as himself – he played a "Mike" three times – and they were genuine box office hits.
MORE: Every single hit single and album Elvis Presley scored in the UK
Tina Turner
Let's be real, someone as starry as Tina was never going to be cast as a shrinking violet. Tina has the rare distinction that a movie was actually made about her, but she's appeared in a few too. She made her film debut in 1975 in The Who's rock opera Tommy, as the fabulously monikered Acid Queen, but her finest hour is surely her performance 10 years later as Aunty Entity in Mad Max: Beyond Thunderdome. Not only that, we got this belter of a theme song too:
Diana Ross
In 1972, Diana made her big-screen debut playing another legend, jazz singer Billie Holiday in Lady Sings the Blues. Despite being nominated for an Oscar for her performance, and starring in another successful movie Mahogany, Diana has preferred to concentrate on her music career rather than stick to the movies.
50 Cent
We've been missing Fiddy from the charts for a while, but regular cinemagoers will have been seeing plenty of him – he's made tonnes of movies! He kicked off with Get Rich or Die Tryin' in 2005 and has had over 20 different roles since.
MORE: Relive all 50 Cent's UK chart hits
Debbie Harry
One way or another, Blondie's iconic singer was going to end up in the movies. She's appeared in all kinds of films over the years, but her shining moment was undoubtedly as the fearsome Velma von Tussle in John Waters' camp classic Hairspray, playing the domineering mother of Ricki Lake's arch nemesis. Yes, this movie is as amazing as it sounds.
Love movies? Take a look at the Official Video Chart or the Official Soundtrack Albums Chart.