Everybody loves a good duet or a collaboration, don't they? You get two, or more, stars for the price of one for a start, and they make the charts a bit more interesting. 
While most collabs seem pretty logical – you can usually easily work out the thought process that brought these two artists together – others are… a bit harder to get your head round.
We delved into the archive and plucked a few of the most unusual team-ups to grace the charts. 
Linkin Park and Stormzy
Metal and grime, historically, have only existed together in factories – until now. The pop world almost dropped its egg and cress sandwich when Linkin Park dropped surprise collaboration Good Goodbye, which featured Stormzy AND Pusha T. Fans and critics were divided, to say the least. What do you reckon?
Coldplay and The Chainsmokers
One of the big surprises at the 2017 BRIT Awards was this unexpected team-up between stadium gods Coldplay and dancefloor doyens the Chainsmokers. When you think about it, Coldplay have always had their disco-loving leanings, and with Chainsmokers being one of the hottest acts of the last year, it's only natural they'd collaborate. 
Janet Jackson and Cliff Richard
Janet, the pop princess of a musical dynasty. Cliff, the veteran rock n roll poster boy who goes down a storm at the over-70s club in the community centre. You'd no more put them together than you would sausage and strawberries, or custard and swordfish. And yet, this did actually happen.
In 1984, around 18 months before she stormed the Top 10 with What Have You Done For Me Lately, Janet made her very first chart appearance on this uncharacteristically non-fierce duet with Sir Cliff.
Two To The Power Of Love, which Janet originally sang with someone else when she starred in the TV series Fame, wouldn't sound out of place soundtracking a romantic montage in a cheesy '80s movie – a couple skipping along the Manhattan streets, sharing an ice cream, waggling hot dogs at each other, you know the drill – but sadly didn't make much of an impression. It stalled at Number 83.
If Janet takes requests when she finally tours the UK again, we'll be shouting out for this one.
MORE: View Janet Jackson's UK hit singles and albums in her archive
Beyoncé and Naughty Boy
OK, so we have learned to expect the unexpected when it comes to Bey, dropping surprise albums all over the place and all of a sudden being pregnant with twins and what have you. But perhaps one of the most leftfield things she's done recently was show up on a single by nine other than our very own Naughty Boy – we didn't even know they hung out together! Runnin', which also featured Arrow Benjamin, peaked at 4, giving Bey her highest charting single in over four years. A few months later, King B was at it again – this time uncredited and lending her precious pipes to Coldplay's BRIT-nominated Hymn For The Weekend.

Beyoncé was too busy being Beyoncé to appear in the video but instead we got some of this.
Zayn and Taylor Swift
When you think of Tay-tay and a 1D connection, you automatically think of her brief relationship with Harry Styles, which inspired some of her huge hit album 1989. It was a bit of a surprise, then, to see Taylor team up with someone who'd recently given up on the One Direction dream, in the shape of now-solo Zayn, on a new track for the second 50 Shades movie. We're sure they both had more important things to talk about, but we bet Harry's ears were burning. Oh well, it's nice to be missed. I Don't Wanna Live Forever reached Number 5.
Enrique Iglesias and Whitney Houston
It will come as little surprise that Enrique and Whitney didn't meet when first recording Could I Have This Kiss Forever, which started out as a ballad on Enrique's self-titled English-language debut. When the track was earmarked as a single, the pair met in a studio and re-recorded it, with the track becoming the lead single from Whitney's Greatest Hits.
Whitney tries out a bit of Spanish, Enrique looks like he can't believe how lucky he is and the result is a pretty good song, if we're honest, which peaked at Number 7. Whitney was on a roll with the duets – her previous single had been the even more 💯 If I Told You That, with George Michael.
MORE: Whitney Houston's complete UK chart history
Enrique and Kelis
Oh look who it is – Enrique's back again, with an even stranger collaboration pal. In 2004, Kelis was enjoying a career resurgence with the ballsy, gritty Milkshake from her third album Tasty. How odd it felt, then, that sandwiched in between that banger and the equally incredible next single Trick Me was… this one.
We're not saying it's not a good song, because it is. It just felt like Kelis had been on her way to kick someone's arse, as is her thing, but kind of wandered into the wrong studio by mistake so thought she might as well record a duet while she was there. It reached Number 5.
Another Level and Jay Z
Another Level, the briefest of bright flames in the saturated UK boyband market in the late '90s, were only too happy to give rising star and rapper Jay Z (or Jay-Z, as he was then, before hyphens went out of fashion) a helping hand and a feature on the remix of their hit Be Alone No More. Whether Another Level can claim sole credit for Jay Z's megastardom is up to you. We wonder if Beyoncé's ever heard this one. Does Dane ever go out for a drink with Jay? We need to know.
Blue and Elton John
Blue were arguably the biggest boyband – or should that be ladband, we're not sure – back in 2002, and when you're big, what do you really want to be? Why, bigger, of course! The band covered Elton John's classic Sorry Seems To Be The Hardest Word but didn't stop there: they got him to sing on it as well.
Blue nipped round to Uncle Elt's and caught him at the piano and the rest is history. We reckon Elton must've been thrilled that this new version managed not only to break the Top 10 – which the 1976 original did not – but actually went to Number 1. It was a bittersweet victory for Blue; this third chart-topper was their last.
Blue liked so much the idea of covering a classic song, and inviting along the original artist to watch in horror, that they did it again, with Stevie Wonder on Signed, Sealed, Delivered in 2003.
Westlife and Mariah Carey
Yes, you really did read those two names in the same heading – Mariah and Westlife hooked up on a record. This cover of the Phil Collins hit was originally a Mariah solo recording from her album Rainbow, and while Westlife were knocking Number 1s out of the park, they were looking for a big star collaboration.
Despite the video being set in a studio, Mariah didn't actually re-record her vocals for the new version – why mess with perfection – but it still became Westlife's sixth consecutive chart-topper and Mariah's second Number 1 altogether. You might think Mariah has no recollection that this song ever existed, but she actually sang it in the UK on her recent Sweet Sweet Fantasy Tour.
MORE: See all Mariah's UK hit singles and albums
Alicia Keys and Jack White
Way before he was adding a bit of zing to Beyoncé's Lemonade, White Stripes' Jack White was one half of another unexpected collab. More at home on soulful ballads and R&B jams, Alicia Keys nipped out from behind her piano to team up with Jack on the theme tune to James Bond movie Quantum Of Solace, Another Way To Die, which hit Number 9 in 2008.

Alicia didn't recognise Jack with his new hairdo – she walked straight past him in Sainsbury's
Sigma and Take That
Dance duo Sigma had long been fans of Take That, and after a chance meeting at the BBC Music Awards, they both expressed an interest in working together. As luck would have it, fate was about to deal a winning hand, as Sigma's Cam explains: "It just so happens that there was a tune floating around that we had been involved with which they did a version of. They sent it to us, we really liked what they did and the rest is history!" Cry reached Number 21 in the Official Singles Chart.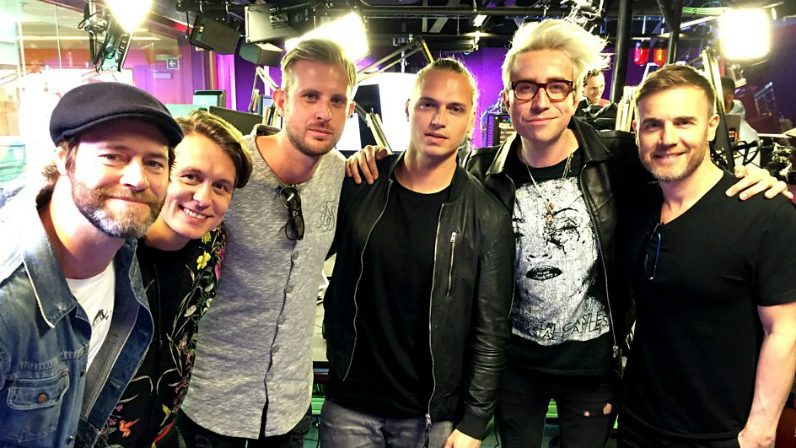 Sigma and Take That + Nick Grimshaw – the next big man-band? Let's make it happen! (BBC)
Texas and Wu-Tang Clan
At the BRITs anything can happen, and the swankiest night in UK music is famed for its innovative – and sometimes bewildering – collaborations. Perhaps the most unexpected of them all was this team-up between Glasgow pop-rockers Texas, led by Sharleen Spiteri, and NYC hip-hop outfit Wu-Tang Clan.
Texas's huge hit Say What You Want was significantly reworked with some added bite from Method Man and released as a single, hitting Number 4 in 1998. It kind of works in a raw, mashup kind of way, although it must've been quite something for the live audience. 
Dizzee Rascal and Florence + the Machine
You probably wouldn't have expected ethereal powerhouse Florence Welch and cheeky rapper Dizzee Rascal to share the stage, but the BRITs can bring the impossible right into your living room.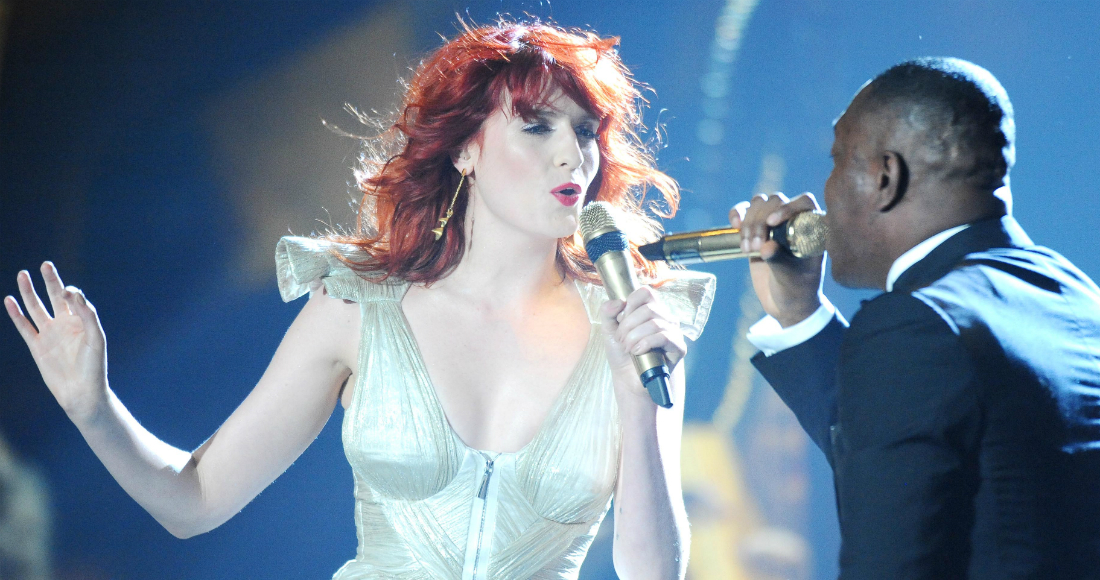 "Ooh, your gold microphone looks shinier than mine, Dizzee." (David Fisher/Rex)
Reworking Florence's cover of The Source and Candi Staton's You Got The Love to leave some space for Dizzee to work his magic, the collaboration was the standout performance of the 2010 BRITs. It even outpeaked every previous release of the song, reaching Number 2, kept at bay from the top by the Helping Haiti charity ensemble, and Jason Derulo.
James Morrison and Nelly Furtado
Heads certainly turned in 2008 when singer-songwriter James enlisted Nelly Furtado to duet on his hit Broken Strings. Nelly herself had just under gone a significant musical transformation, leaving her folky beginnings behind – for the time being, at least – and moving on to slick Timbaland-produced R&B, scoring hits with sexy bops like Maneater and Promiscuous.
James was a little more, shall we say, subdued, but, like Sandy and Danny getting together at the end of Grease, it worked, and emotional midtempo Broken Strings went to Number 2.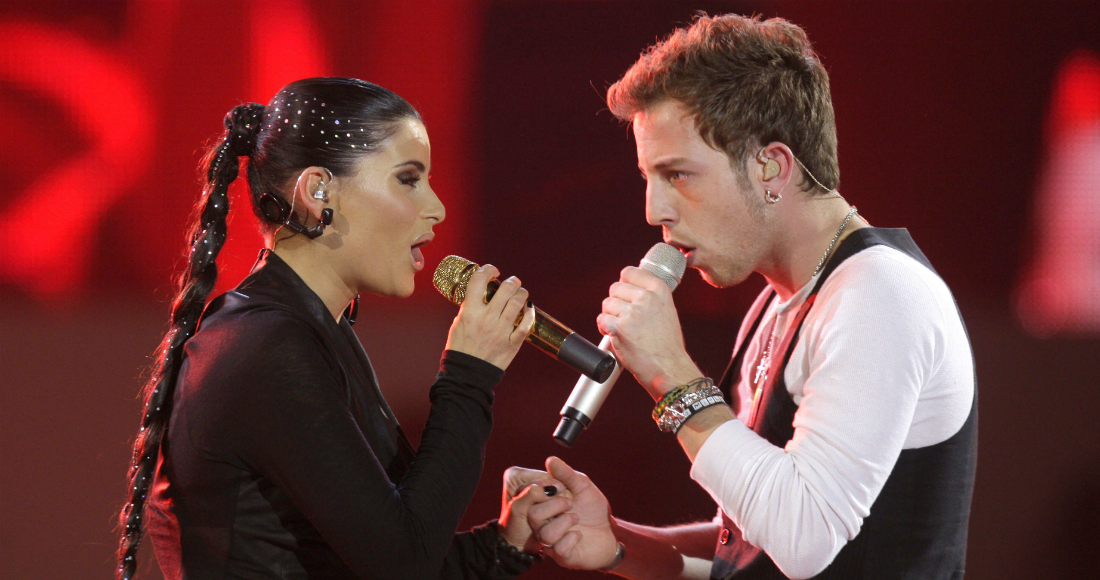 Nelly had a quick break from maneating to take James's hand and help him across the road (Agencia EFE/Rex)
James had another go at an unexpected team-up in 2011, when he brought Jessie J on board to guest on Up. It got to Number 30.
Run DMC and Aerosmith
Is this the original surprise collaboration to beat them all? Paving the way for other genre-defying joint efforts, Walk This Way not only brought rap and rock together, it became one of the first hip-hop songs to find international success. Aerosmith's original was a hit in the US in 1975, but it wasn't until hip-hop group Run DMC got their hands on it that the track found universal acclaim. While the idea of rapping and singing on the same song is pretty common in 2016, 30 years ago it was practically unheard of, and although rap and rock are genetically closer than you might think, it was the first time a mainstream audience had heard them together.
Walk This Way reached Number 8 in 1986 and was a breakthrough hit here for both acts, but it would taken an even mightier collaboration to take it to Number 1 – Sugababes and Girls Aloud teamed up for a punchy, poppy version and hit the top in 2007.
Run DMC would be half of another unusual partnership in 1998, when a Jason Nevins reworking of It's Like That spent an incredible six week at Number 1, selling over a million copies.
Rihanna (and Kanye) with Paul McCartney
Now before you write in saying "Erm, hello, Rihanna and Kanye have collaborated loads" – yes we know. But nobody expected – and we mean, nobody, fess up, you didn't – Paul McCartney to feature on a Rihanna tune. Okay, so he was working with Kanye anyway, and Kanye was then rumoured to be working with RiRi on her eighth album, but the legendary Beatle making an appearance on a Rihanna song was unprecedented.
FourFive Seconds was kind of a surprise release, and a big change in direction for Rihanna. Reaching Number 3, FourFive Seconds finished as one of the Top 20 biggest songs of 2016 and gave Paul McCartney his first solo Top 10 hit since 1989. Now that is the power of a collaboration.