It's near-impossible for a pop fan not to get a bit excited by the words "new Swedish popstar". Given the country's incredible contribution to pop already – ABBA, Max Martin and Robyn to name a few – there will never not be room in the stable for more Swedish acts.
20-year-old EEVA – Emelie Eriksson – is the latest breaking through with her debut single Jimmy From The Gym. In a nutshell it's the kind of hook-laden pure pop that doesn't take itself too seriously (something noticeably absent from the landscape of late) and in doing so, is instantly enjoyable.
We phoned up EEVA (while she was in the middle of checking in to a hotel, sorry about that) to find about a bit more about her. Here's what we learned:
EEVA already has solid pop credentials as a songwriter, which is a tricky business, by the way.
"Recently I've had songwriting cuts with Mike Perry's Bloodshot, a couple of songs on Kaiser Chiefs' latest album, Anastacia and a lot of Swedish artists who are big in Sweden.
"I've been a songwriter for six years and it's got both easier and harder over time. It's easier to get work but then there are more people doing it so it's harder to get a hit. It's really hard to cut through and become a truly great songwriter - you could have the best songs in the world but have no connections, so they won't go anywhere. I don't know much about the business side of songwriting because I don't want to lose my creative vibe. Fortunately, I can leave that to my manager and publishers. In the past I've lost my creativity thinking about how hard the business is."
Becoming a popstar was a total accident.
"I've always been a songwriter for other artists and I've always said that's what I was going to do. Releasing Jimmy From The Gym sort of happened from nowhere. My manager called me one day and said the label [indie label The Other Songs] wanted to sign me and release this song. It took me about 10 seconds to respond with, 'f**k it, let's do it!' I'm a songwriter and I'm not going to stop doing that, but hey, let's go full out on this with no regrets."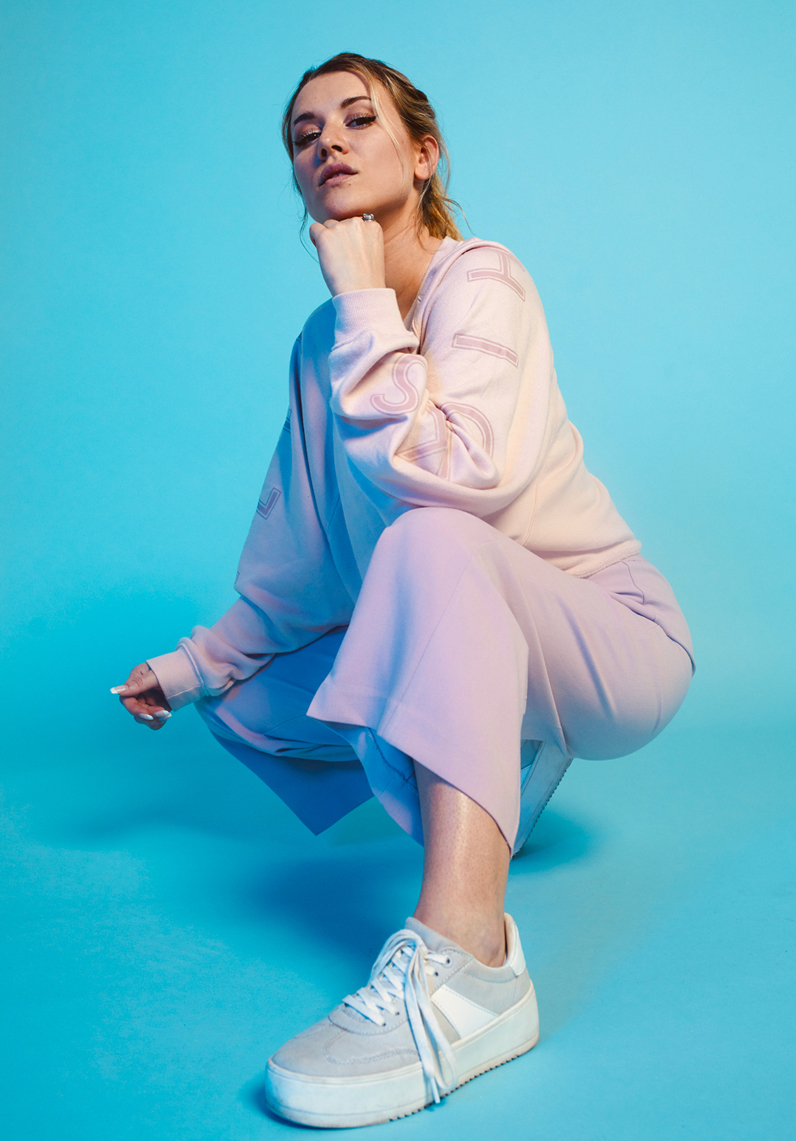 Jimmy From The Gym is not inspired by a true story, but we can all relate to it.
"I wrote this with Markus Söderberg and Jacob Skytt, who are my main writing team. I think we were just feeling very goofy that day. We started rhyming names and creating characters and a story. I wish it was true! If only I had a string of hot men after me. I hate going to the gym, I don't even go anymore. I've seen all the characters in the song there, though. Jimmy's in the gym are enough of a reason not to go, right?"
She has a thing for Phil Collins.
"Testify by Phil Collins was my favourite album growing up, which is weird now because my parents weren't fans of him! When I was 10, I was convinced I would marry him. I'm also a huge fan of Dolly Parton, Michael Jackson and Celine Dion. Those are my go-to artists."
Her next song is worth keeping in an ear out for.
"My sound is very pop, but some of it veers more into the Julia Michaels-type territory: songs that might be sad but also very uplifting. The next single has strong Britney vibes. The story behind the song is me basically making up my future that I'm going to be rich and famous - obviously it's not based on true events either. That's not even 10% of the life I'm living – and I'm not sure that's what I even want! It's a teeny part of me I wanted to explore, a fantasy, I guess."