One of the biggest challenges for TV talent show winners is breaking away from the show that made them. An album is (almost) always guaranteed, and if it's reasonably successful, the real test comes with what to do next, when those who have raised you into stardom are distracted by a new fresh face.
Will Young had huge success with his Pop Idol winner's single Evergreen/Anything Is Possible, which has sold 1.8 million copies to become one of the best selling singles of the 21st century and was followed by two Number 1s, but by 2003, it was time to move on to his second album.
No more would he have the cosy protection of his Idol win – this time he was on his own. Will never was one to follow the rules – he famously disagreed with arch judge Simon Cowell calling him "average" live on TV – and he was determined to show people he had what many critics said a reality TV star would never have: longevity.
Leave Right Now, the lead single from his second album Friday's Child, debuted at the top of the Official Singles Chart this week in 2003 and stayed there for two weeks. While it didn't manage to scale the heights of Evergreen's success, it's still his second biggest seller, with 638,000 copies sold (728,000 including streaming equivalent sales).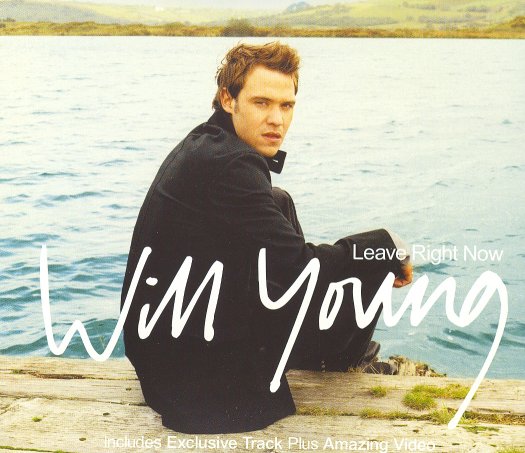 The song and its video – where Will runs into an old flame at what looked like the dullest gallery opening ever and was half heart-breaking, half unbelievably embarrassing – did their job in establishing Will as more than just a pop puppet who won a talent contest. Will was now a bona fide popstar.
Leave Right Now would be Will's fourth and final Number 1 – for now, anyway – after previous chart-toppers Evergreen/Anything Is Possible, Light My Fire and The Long And Winding Road, a cover of the Beatles' classic featuring Gareth Gates. Eight more Top 40 hits have followed, including six Top 10s. See where all of Will Young's singles and albums have reached on the Official Chart.
Elsewhere in the Official Singles Chart this week in 2003, Shane Richie landed at at Number 2, just missing out on pole position with his cover of the Wham! classic I'm Your Man, released in aid of Children In Need.
Close behind was another cover of a legendary song: Irish key-change enthusiasts Westlife slipped from Number 1 to third place with their rendition of the Barry Manilow standard Mandy. Bazza's version – itself a cover – had missed the Top 10 back in 1974, but Westlife went all the way.
At Number 4, another cover! Girls Aloud slipped two places with Jump, their fourth Top 3 hit at the time and it featured on the Love Actually soundtrack.
Rounding off the Top 5 was legend Michael Jackson with One More Chance, recorded with R Kelly for Jackson's Number Ones collection. It was the star's 37th Top 10 hit as a solo artist, and the last original single to be released by him before his death in 2009.
Listen to the UK Top 40 from this week in 2003 on our streaming channels! Subscribe to our weekly Flashback playlist on Spotify, Deezer, or click the image below: