While her career immediately after leaving the Spice Girls had been hugely successful, Geri Halliwell wasn't resting on her laurels. Her former bandmates' first album without her, Forever, had underperformed and there was the sense perhaps goodwill was running out for the more overtly manufactured pop of the late Nineties.
What better way to come out fighting ahead of a second album, then, than a spirited, pumped-up cover of a girl power-esque classic, teamed with a provocative video and debuting a dramatic new look at the same time?
Taken from the soundtrack of the huge hit movie version of Bridget Jones's Diary – although it didn't actually appear in the film – Geri's cover of It's Raining Men ramped up the camp considerably. If the Weather Girls' original – reaching Number 2 in 1983 – had been a raucous party anthem, Geri's was more of a frantic call to arms, a relentless banger that would have lesser mortals falling flat on their arse on the treadmill if they tried to keep up.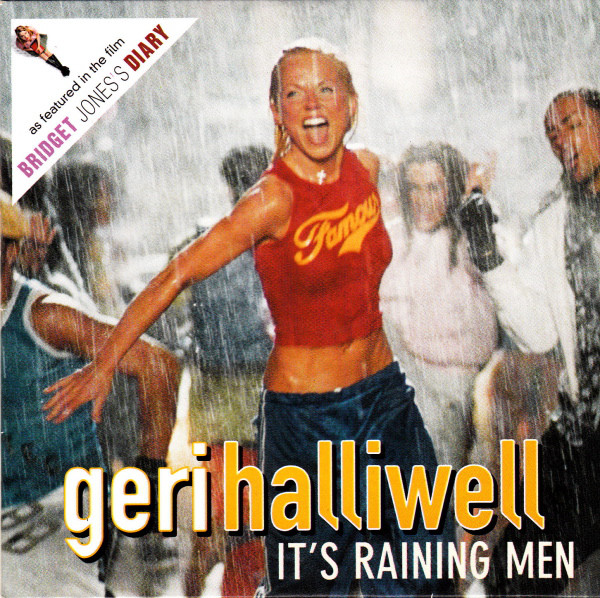 It's easy to underestimate Geri's success but sales were massive. It's Raining Men notched up a first-week tally of 154,800 copies – 35,000 ahead of former Number 1 Don't Stop Movin' from S Club 7 – and has sold 449,000 copies in total. It's Raining Men also earned her a place in the record books; her fourth consecutive chart-topper, Geri Halliwell became the British solo female artist with the most Number 1 singles. It would take Cheryl Cole 13 years to beat this record, and Jess Glynne would match Cheryl in 2015, then beat her in 2018.
Elsewhere in the Official Singles Chart 19 years ago this week, Jennifer Lopez scored a fourth Top 10 with Play, M.O.P. made a Top 10 debut with Cold As Ice, REM's Imitation was new at 6, and Boyzone's Stephen Gately landed his third and final top 20 hit with Stay. Other new entries in the Top 40 came from: Jason Downs, Push, Bel Amour, Alsou, Black Eyed Peas & Macy Gray, and K-CI and Jojo.
Listen to the UK Top 40 from this week in 2001 on our streaming channels! Subscribe to our weekly Flashback playlist on Spotify, Deezer, Apple Music.