Many a record exec will tell you they can spot a hit single a mile off, but some of the best moments in the history of pop music have been when a song defies expectations and takes off because, beyond the marketing smoke and mirrors, the general public actually warms to it.
Enter Atomic Kitten's Whole Again: a cutesy, singalong ballad released as a last-ditch attempt to keep their record deal with Virgin. It was the group's fifth single following a string of middling hits: Top 10s Right Now, See Ya, I Want Your Love and the Number 20-peaking Follow Me. Success had been reasonable, but nothing had connected on a wider scale.
So small was the budget for Whole Again's release that an old press shot was used for the artwork – Natasha Hamilton, Liz McClarnon and Kerry Katona's aesthetic had evolved by this point – and there was shoe-string budget for the video that ultimately proved effective albeit suspiciously similar to Sugababes' Overload. Then suddenly, Katona threw a spanner in the works, announcing her pregnancy and left the group. Atomic Kitten's days seemed numbered.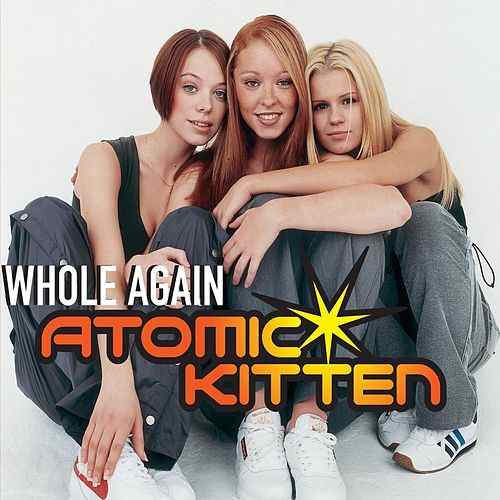 However, when her replacement Jenny Frost - formerly of Eurovision girl group Precious – was drafted in, everything seemed to fall into place. Katona's departure had raised the profile of the group and by chance they had the song to take them beyond their initial tweny bopper appeal. Whole Again charged to Number 1 with 69,000 sales and spent four weeks at the top, increasing its week-on-week sales every week to 113,000 by week four.
It now ranks among the UK's bestselling singles of all time, with 1.03 million pure sales (CD and downloads), making it the UK's fourth best-selling girl band single ever behind Spice Girls' Wannabe, 2 Become 1 and All Saints' Never Ever. Whole Again's streaming figure, tracked since 2014, stands at 26.1 million. The song's co-writers, electronic band Orchestral Manoeures in the Dark (OMD), even won an Ivor Novello Award for it, which recognises excellence in songwriting. 
While Katona was swiftly erased from song and video after her departure, a spoken-word version by her – essentially an extension of the song's middle 8 – was recorded and features on a limited number of Asian pressings of their debut album Right Now. 
Whole Again would be the beginning of a hugely successful run of hits for Atomic Kitten. Their follow-up single, a cover of The Bangles' Eternal Flame, also hit Number 1, while a further eight Top 10s followed before they called it a day in 2005. Look back at Atomic Kitten's complete Official Chart history.
Elsewhere on the Top 40 this week in 2001, Atomic Kitten beat two other big releases to the top spot: U2's Stock In A Moment You Can't Get Out Of was new at 2, and the breakthrough single from US singer Mya, Case of the Ex, landed at 3.
Further down, Italian electronic band Planet Funk landed their first and only big hit with Chase The Sun at 5, and Shining Light by Ash earned the Northern Irish rockers their fourth and final Top 10.
Listen to the UK's Official Singles Chart Top 40 from this week in 2001 on Spotify below. Also available on Apple Music | Deezer.
Look back at more Noughties pop moments in below: