Colours of the world...
Every boy and every girl...
People of the world...
In 1997, the world was in peak Spice mania. The group's debut album had sold 19 million copies worldwide and girl power had become an established movement. As such, they wanted to lead their second album with a "song for the world" - and Spice Up Your Life was it. 
As with most stories during the Spice Girls' brief but bright explosion, the story around Spice Up Your Life is a chaotic one. With their record label keen to put out a follow-up to their self-titled debut as quickly as possible, the group were forced to record between filming scenes for their upcoming film, Spiceworld.
Written by regular collaborators Matt Rowe and Richard 'Biff' Stannard, Spice Up Your Life's energetic and Latin-infused sound was said to be inspired by Bollywood films. Matt recalled in an interview that the recording of the song was riotous, with piecemeal contributions that were constantly interrupted. Mel B later revealed that all five members piled into one booth to sing the chorus rather than the traditional method of recording vocals separately and mixing them together.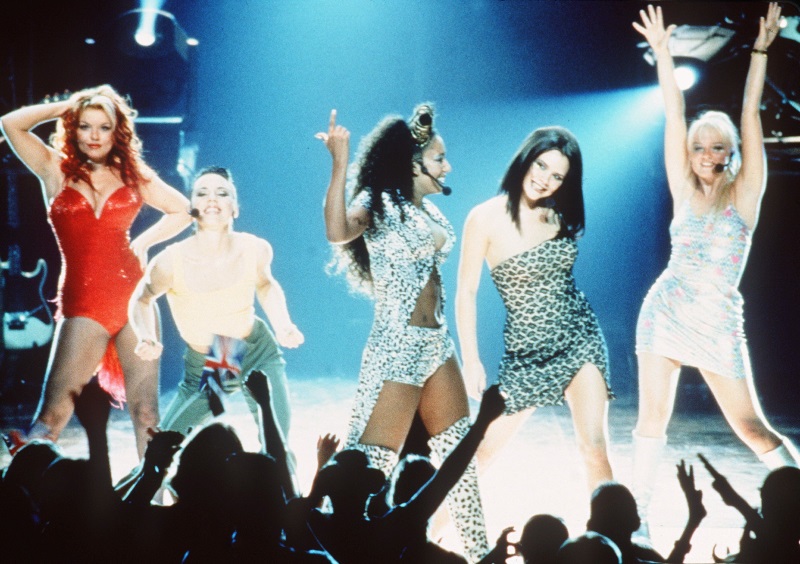 Image: Alex Bailey/Polygram/Kobal/REX/Shutterstock
If that seems rushed, the recording of the single's B-side (as was the done thing at the time to incentivise the public to pick up the CD) was even more haphazard. In the absence of any off-cuts from previous recording sessions, production duo Absolute were tasked with putting a song together in one day, so they placed four microphones in a room and told the group to talk about whatever they wanted. The result, called Spice Invaders, is as charmingly chaotic as you'd expect. 
While the reception to Spice Up Your Life and its Blade Runner-inspired music video was mixed amongst critics, the song was a huge hit with the British public, landing straight in at Number 1 this week 20 years ago. It set a new chart record, with Spice Girls becoming the first act to reach Number 1 with their first five singles (and the first to debut at the top four times in a row). 
The song opened to huge first week sales of 321,000 and finished as the 10th biggest single that year. Its total sales stand at 887,000 in the UK, while the song has been streamed 4.5 million times. 
Elsewhere in the Official UK Top 40 this week in 1997, the Spice Girls had held Danish pop band Aqua off Number 1 with their debut single Barbie Girl, though the song would reach the summit the following week. And after five weeks at the top, Elton John's Princess Diana tribute single Candle In The Wind '97 slipped to Number 3. 
Further down, Northern Irish rockers Ash were new at 10 with A Life Less Ordinary, London singer Jimmy Ray scored his one and only hit at Number 13 with Are You Jimmy Ray?, plus there were new entries from Primal Scream, US rock band Smash Mouth and Travis. 
Listen to the UK Top 40 from this week in 1997 on our streaming channels! Subscribe to our weekly Flashback playlist on Spotify, Deezer, Apple Music or click the image below: