Some songs come around at exactly the perfect time. It's not timing, it's not chance, or even luck, you might even say...it's destiny. 
Such was the case for Rita Ora and her magnificent 2014 single I Will Never Let You Down, which sounded - and still does, actually - like a hot summer's day. Written and produced entirely by Calvin Harris, time has not dulled the song's sheen, just made it shine all the more brighter.
It's production - indebted to early Whitney Houston material and buoyant 90s house - pops in the best possible way and Rita, rightfully, takes front and centre in the song; an incandescent force of light one of the most tightly-constructed pop hits of the last decade. 
It turns out...a lot of people thought the same too. This week eight years ago, I Will Never Let You debuted atop the Official Singles Chart in its first week - netting Rita her fourth UK Number 1 single in under two years. 
With a staggering 109,000 chart sales in its debut week, I Will Never Let You Down triumphantly arrived at the top of the Official Singles Chart, and helped Rita equal a record in the progress. With it, (at the time!) she equalled Geri Halliwell's record as the British female solo artist with the most UK Number 1 singles, a startling achievement and a true glance of Rita's star power and popularity in the UK.
(Although the record for British female solo artist with the most UK Number 1 singles is currently held by Jess Glynne with seven in total, before that Cheryl pipped both Rita and Geri to the post with her fifth, I Don't Care later that year). 
As it stands, I Will Never Let You Down's chart sales rack up to over 994,000 in total - also including 56 million streams and counting. Overall, it's Rita's fifth biggest record here, after Let You Love Me, Lonely Together with Avicii, Your Song and her biggest track, the melancholic Anywhere. 
At the time, it seemed that I Will Never Let You Down's success would propel Rita forwards onto what seemed like an undeniable fate; pop superstardom not just in the UK, but around the world. Unfortunately, it didn't quite work out that way - there were some disputes with Harris over the performance rights to the song (which now, thankfully, have been resolved) and Rita's second album under first label Roc Nation would never appear, although she did take a few years away and rise from the ashes with 2018's Phoenix, which contained a record-breaking 13th Top 10 single for Rita.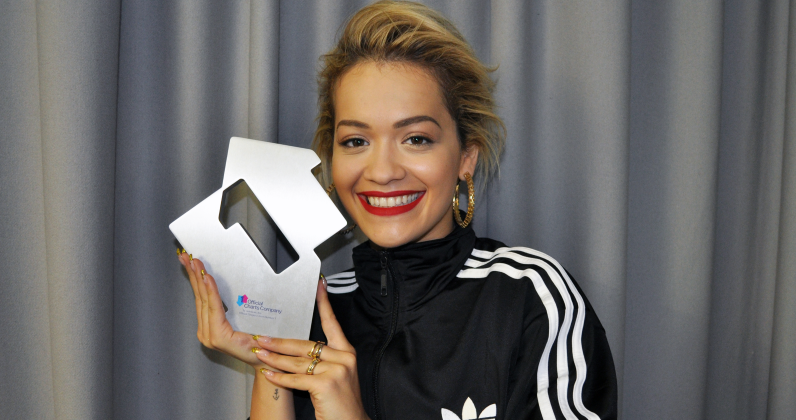 Pictured: Rita with her Official Number 1 Single Award for I Will Never Let You Down (Credit: Official Charts)
Elsewhere in the Official Singles Chart this week eight years ago, Paloma Faith's dramatic Only Love Can Hurt Like This reached its peak (6), posthumous Michael Jackson single Love Never Felt So Good entered the Top 10 (8), as did Common Linnet's After The Storm (9). 
Eurovision was also a big topic, as like this year, it was the chart week following the contest the previous weekend. Three Eurovision entries impacted the chart this week; winner Conchita Wurst (17), UK entry Molly (23) and Sweden's Sanna Nielsen (40).
Listen to the UK Top 40 from this week in 2014 on Spotify below. Also available on Apple Music | Deezer