Summer 2003 may have been a scorcher, but a mighty chill was being felt across the Official Singles Chart. The cause? American band Evanescence, whose spooky goth-rock-pop stomper Bring Me To Life swooped in at Number 1. 
Evanescence were an unlikely proposition - the Arkanas group's brand of Christian rock wasn't exactly a regular occurrence on the UK charts - but their unique blend of singer Amy Lee's ethereal soprano with head-bashing serrated guitar crunches turned out to be the perfect antidote to the scorching weather. 
Appetite for the single was so great that Bring Me To Life spent three weeks in the lower end of the Top 100 on import sales alone, before charging to Number 1 on its official UK release week, shifting 57,000 copies. The climb ended R Kelly's four-week stint at the top with his global smash Ignition (Remix), which had seen off fierce challenges from Girls Aloud's No Good Advice, Justin Timberlake's Rock Your Body and S Club's Say Goodbye, who all had to settle for Number 2.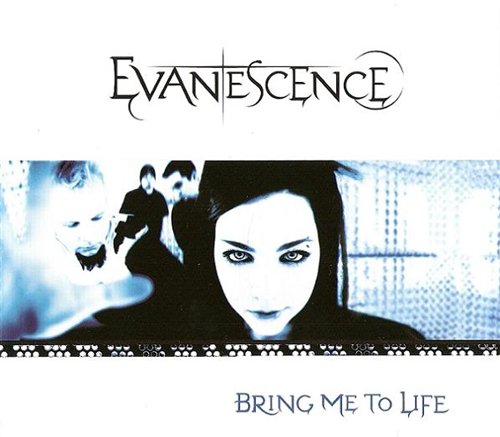 Thanks in part to its inclusion on the Daredevil soundtrack, Evanescence's Bring Me To Life proved too strong for R Kelly. To date, its sales stand at 745,000, and it's racked up 21 million plays on streaming services since records began in 2014.
See where all of Evanescence's singles and albums have charted in the UK
Elsewhere in the Official Singles Chart this week in 2003, formidable duo Busta Rhymes and Mariah Carey were at Number 3 with the surprise summer hit I Know What You Want (Mariah's first Top 3 hit in three years), S Club were at Number 4 with their double A-side swansong Say Goodbye/Love Ain't Gonna Wait For You, and the Top 5 was completed by a new entry from Michigan comedy rockers Electric Six with Gay Bar - the follow-up to their Number 2 hit Danger! High Voltage.  
There were also new entries in the Top 10 for Shania Twain's Forever And For Always (6), and Popstars: The Rivals winners (also also losers) One True Voice entered at 10 with what would be their final single, Shakespeare's (Way With) Words. 
Listen to the UK Top 40 from this week in 2002 on our streaming channels! Subscribe to our weekly Flashback playlist on Spotify, Deezer, Apple Music.