Cast you mind back to 1993: Jurassic Park and Mrs Doubtfire were big at the box office, the Queen opened Buckingham Palace to the public for the first time, and some cute stuffed toys called Beanie Babies were taking off in a big way.
In music, 1993 was the year Swedish pop outfit Ace of Base became a global sensation with All That She Wants, which topped the Official Singles Chart 24 years ago this week.
The group, which then consisted of Ulf 'Buddha' Ekberg and siblings Jonas 'Joker' Berggren, Malin 'Linn' Berggren and Jenny Berggren, had already landed a modest hit in their home country with Wheel Of Fortune the previous year, but it was All That She Wants that broke them internationally.
Inspired by the song Another Mother by fellow Swede Kayo, several versions of All That She Wants with different lyrics were recorded until the final cut was released - its dub-reggae-pop sound quickly becoming their signature style. Fun fact: the song's original title was Mr. Ace.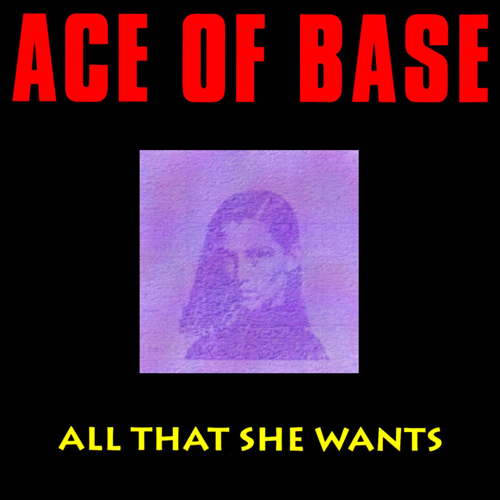 All That She Wants single artwork
All That She Wants debuted at Number 5 in the UK and climbed to the top spot two weeks later, spending three weeks at the summit. It's total sales stand at 771,323 and there's still plenty of love out there for it: last week 52 of you downloaded it and it notched up 14,000 plays on streaming services. 
The group went on to score a further 11 Top 40 singles in the UK, four of which peaked inside the Top 10, but All That She Wants was to be their only chart-topper. Check out Ace of Base's complete Official Chart history here. 
Elsewhere in the Top 40 this week 24 years ago, Ace Of Base knocked the previous weeks' Number 1, the Five Live EP by George Michael, Queen and Lisa Stansfield, down to 2, and UB40 scored the highest new entry at 4 with (I Can't Help) Falling In Love With You. 
Further down Bon Jovi's rock anthem In These Arms leaped up 15 spots to land the band their third UK Top 10 single, Tina Turner was new at 15 with I Don't Wanna Fight, and hip hop classic Jump Around by House Of Pain made its debut at 16 (it went on to peak at 8 the following week). 
Listen to the UK Top 40 from this week in 1989 in full on our streaming channels! Subscribe to our weekly Flashback playlist on Spotify, Deezer, Apple Music or click the image below: